Specifications and Feature Set Comparison
Prior to getting into the performance evaluation, we will take a look at the specifications of the WD Red Pro 6 TB and see how it compares against the other NAS-specific hard drives that we have looked at before.
The WD Red Pro 6 TB sports a SATA III (6 Gbps) interface. As is customary for the high capacity drives in this market segment, it can only emulate 512-byte sectors (natively 4K). The interesting aspect is the presence of a 128 MB cache similar to the Seagate and HGST drives, and unlike the WD Red. The obvious selling point for its price target is the 7200 RPM speed, which should easily give it the lead in most benchmarks over the WD Red. The other aspects (such as the URE ratings, MTBF, warranty etc.) are as expected for a drive targeting SMBs and SMEs. The table below presents the data for the drive against the others in our evaluation database.
Comparative HDD Specifications
Aspect
Model Number
WD6001FFWX
WD6001FFWX
Interface
SATA 6 Gbps
SATA 6 Gbps
Sector Size / AF
512E
512E
Rotational Speed
7200 RPM
7200 RPM
Cache
128 MB
128 MB
Rated Load / Unload Cycles
600 K
600 K
Non-Recoverable Read Errors / Bits Read
< 1 in 1014
< 1 in 1014
MTBF
1 M
1 M
Rated Workload
~ 180 TB/yr
~ 180 TB/yr
Operating Temperature Range
5 to 60 C
5 to 60 C
Acoustics (Seek Average - dBA)
34 dBA
34 dBA
Physical Parameters
14.7 x 10.16 x 2.61 cm; 750 g
14.7 x 10.16 x 2.61 cm; 750 g
Warranty
5 years
5 years
Price (in USD, as-on-date)
$299
$299
A high level overview of the various supported SATA features is provided by HD Tune Pro.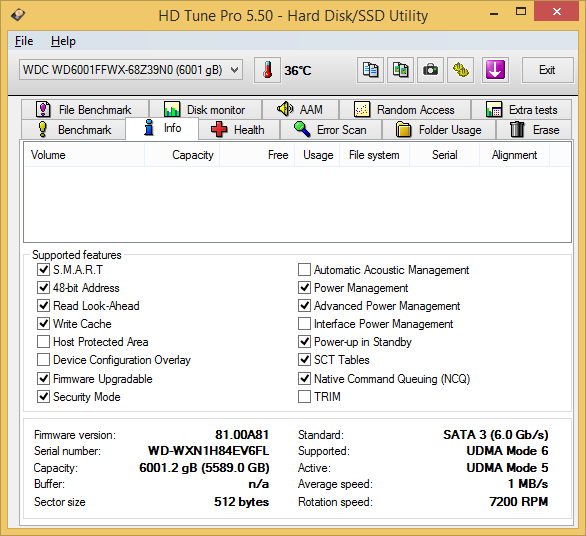 We get a better idea of the supported features using FinalWire's AIDA64 system report. The table below summarizes the extra information generated by AIDA64 (that is not already provided by HD Tune Pro).
Comparative HDD Features
Aspect
DMA Setup Auto-Activate
Supported; Disabled
Supported; Disabled
Extended Power Conditions
Supported; Disabled
Supported; Disabled
Free-Fall Control
Not Supported
Not Supported
General Purpose Logging
Supported; Enabled
Supported; Enabled
In-Order Data Delivery
Not Supported
Not Supported
NCQ Priority Information
Supported
Supported
Phy Event Counters
Supported
Supported
Release Interrupt
Not Supported
Not Supported
Sense Data Reporting
Not Supported
Not Supported
Software Settings Preservation
Supported; Enabled
Supported; Enabled
Streaming
Not Supported
Not Supported
Tagged Command Queuing
Not Supported
Not Supported