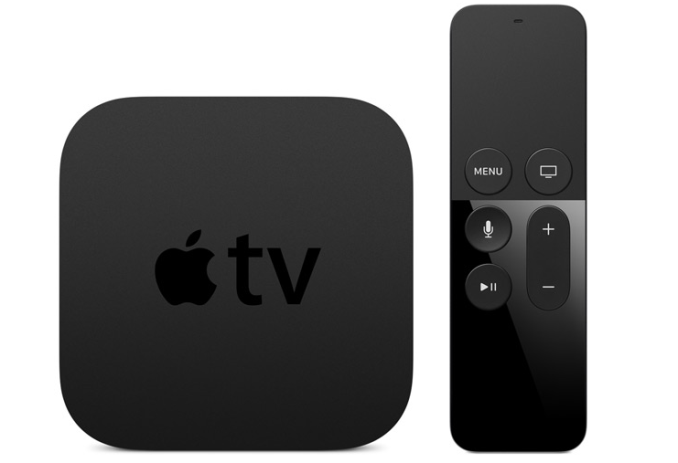 Along with new iPhones and new iPads, today's Apple event came with the launch of the long rumored update to Apple TV. It's almost incorrect to call this an update, as while it shares both a name and a form factor with the existing TV, it is different in nearly every respect. Below you can see what specifications the new Apple TV offers.
| | |
| --- | --- |
| | Apple TV |
| SoC | Apple A8 SoC, 2x 1.4GHz Typhoon |
| RAM | 2GB LPDDR3 |
| NAND | 32/64GB NAND |
| Display | N/A, HDMI 1.4 1080p60 Output |
| Dimensions | 98 x 98 x 33mm, 425 grams |
| OS | tvOS |
| Connectivity | 2x2 802.11a/b/g/n/ac + BT 4.0, USB Type-C, HDMI 1.4, IR Receiver, 10/100 Ethernet |
| Launch Price | $149/$199 32GB/64GB |
The new Apple TV receives some much needed hardware improvements. What's funny is that none of them are really required for video playback, as the old A5 chip had the ability to decode 1080p H.264 video in hardware. What the upgrades are required for is running the brand new tvOS, and all the apps and games that Apple hopes will be made for it. I'm surprised that Apple hasn't built in support for HDMI 2.0 or HEVC decoding in order to support existing 4K TV sets and future 4K content encoded with HEVC.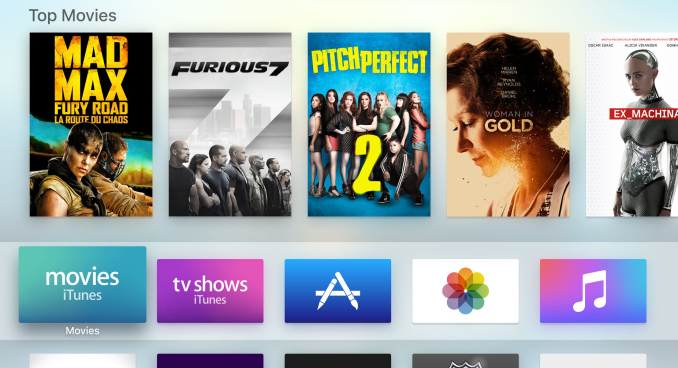 tvOS comes with a brand new interface for Apple TV. The old Apple TV UI looked like a relic of ancient history with its iOS 6 inspired UI, while this new interface looks very modern and fits in well with iOS, OS X, and watchOS.
The tvOS UI is navigated using two methods of input. The first is Siri, and in this case it's a super powered Siri that can do a lot more than the Siri on your phone. You can issue very specific commands and searches, such as finding an episode of a TV series based on a character that guest starred or an event that happened. This is something that I've wanted for a long time, especially for finding episodes of a long series like Seinfeld where it's impossible to remember each specific episode. You can also use Siri to control playback by asking to move forward or back a certain amount. Siri will even recognize questions like "What did she say?", and rewind the video while also temporarily putting on captions so you can understand something that wasn't said clearly.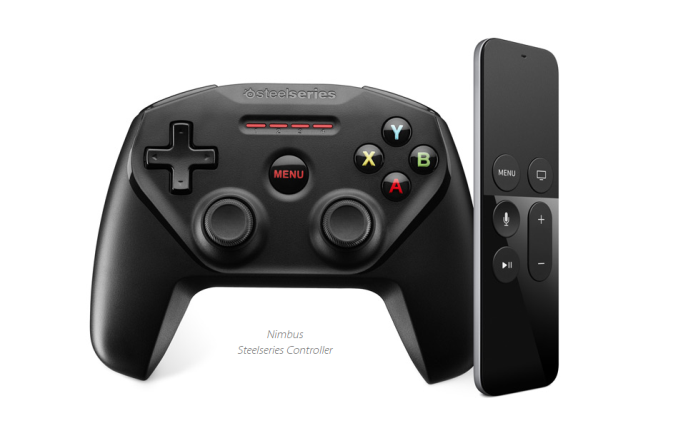 The second method of input is the new Apple TV remote. This new remote has a glass multi touch surface on the top of the display for navigating the UI. It also has a dedicated Siri button which is how you trigger voice input, as well as a play/pause button, a menu button, a home button, and volume controls. The remote is powered by a rechargeable internal battery that you recharge via a lightning port on the bottom, and Apple claims it can last for months on a single charge with typical daily usage.
Circumstances that would drain the Apple TV remote would likely be related to using it to play games. The remote connects to the TV using Bluetooth 4.0 as well as IR, and it includes both an accelerometer as well as a gyroscope. This means that it can be used as a controller for certain types of games, with other more complicated games supporting third party controllers that you will be able to buy.
It's difficult to describe all that Apple TV offers, and to make a comparison between it and other set top boxes based on what Apple has shown off. Hopefully we will be able to review it in detail in the future, and for now I would suggest taking a look at the demos Apple did on stage if you haven't so already.
Apple TV will be shipping in late October, and will be priced at $149 for the 32GB model or $199 for the 64GB model.