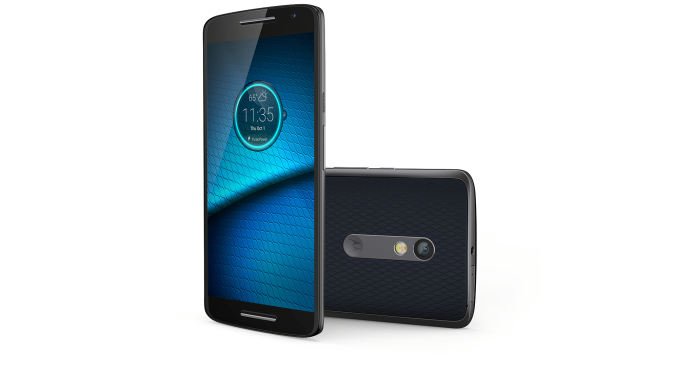 Motorola has been one of Verizon's Android device partners for many years now. Before Verizon had the iPhone, Motorola's DROID smartphones provided several alternatives for users who didn't want to leave Verizon, or who wanted the features or differentiation provided by Android smartphones. While the DROID line isn't what it once was, there are still DROID branded smartphones made by Motorola launched on Verizon every year. Today Verizon and Motorola announced two devices that follow up on the original DROID Turbo and DROID Maxx. Appropriately, the new phones are called the DROID Turbo 2 and the DROID Maxx 2, and you can view their specs in the chart below.
DROID Turbo 2
DROID Maxx 2
SoC
Qualcomm Snapdragon 810
Qualcomm Snapdragon 615
GPU
Adreno 430
Adreno 405
RAM
3GB LPDDR4
2GB LPDDR3
NAND
32/64GB + MIcroSDXC
16GB + MicroSDXC
Display
5.4" 2560x1440 AMOLED
5.5" 1920x1080 IPS LCD
Dimensions
149.8 x 78 x 7.6-9.2mm, 169g
148 x 75 x 8.9-10.9 mm, 169g
Camera
21MP Rear-Facing, F/2.0
5MP Front-Facing
Battery
3760 mAh
3630 mAh
OS
Android 5.1.1 Lollipop
Cellular Connectivity
2G / 3G / 4G LTE (Qualcomm UE Category 7/9)
2G / 3G / 4G LTE (MDM9x25 Category 4)
Other Connectivity
2x2 802.11a/b/g/n/ac + BT 4.0, microUSB 2.0, GNSS
2x2 802.11a/b/g/n + BT 4.0, microUSB 2.0, GNSS
SIM
Nano-SIM
Price
32GB: 24 months @ $24 ($576 Total)
64GB: 24 months @ $30 ($720 Total)
16GB: 24 months @ 16 ($384 Total)
It's clear that the DROID Maxx 2 is positioned as more of a mid-range device, with the DROID Turbo 2 at the high end. Both devices are similar as far as their size, mass, and battery capacity is concerned. While the Turbo 2 is actually slightly thinner and has a smaller display than the Maxx 2, the height and width of the chassis are a bit longer. The display on the Turbo 2 is also a QHD AMOLED panel, while the Maxx 2 is a 1080p IPS LCD.
The display on the DROID Turbo 2 is actually the device's selling point, although when saying the word display it's not necessarily referring to the display panel used. Instead, the unique part about this display is the fact that Motorola claims that it's shatterproof. Unlike a typical smartphone display stack, the Turbo 2's Moto ShatterShield display consists of several layers which are designed to absorb the shock of an impact. Instead of a single cover glass, the Turbo 2 has an exterior lens that sits overtop of an interior lens, with both being significantly more flexible than traditional cover glass. Motorola also has an additional touch layer to create redundancy if one is damaged during an impact, and the flexible AMOLED display also works to protect from damage.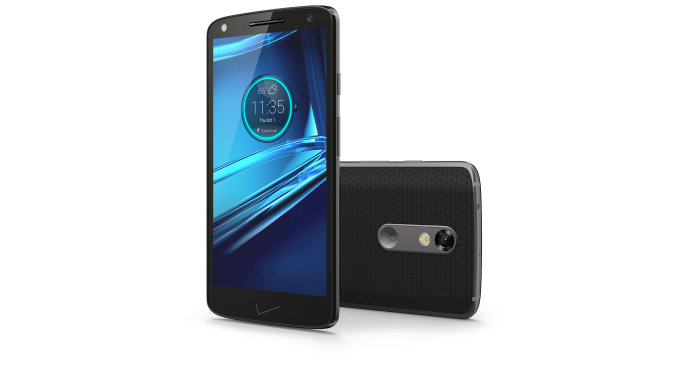 Motorola DROID Turbo 2
Motorola claims that the exterior and interior lenses are designed to have the highest degree of optical transmissivity, but it's likely that there will be some degree of reduction in transmissivity when compared to standard smartphone displays. Reflections will also be amplified, and since there are gaps between the layers you'll be dealing with internal reflection which could make the display more difficult to use in heavy ambient lighting. As of right now it's really hard to say what impact Motorola's ShatterShield display has on visual quality, but it seems safe to assume that both Motorola and Verizon are confident about its ability to protect against damage as they are providing a four year warranty specifically for if the display does crack or shatter.
Since the DROID Turbo 2 is a Verizon exclusive smartphone, it's hard to say if or when we'll see Motorola bring their ShatterShield displays to products that ship on a wider scale. It's possible that the launch in the DROID Turbo 2 is a method of testing how consumers respond to the feature and how much demand there will be. I personally have done well by just not dropping my phones, but obviously accidents do happen and it only takes a single drop to ruin a perfect record and leave you with a shattered display.
Anyone interested in the DROID Turbo 2 or DROID Maxx 2 can get them in two days if they're on Verizon in the US. On a 24 month installment plan the Turbo 2 is $24 per month for the 32GB model, or $30 per month for the 64GB model, while the DROID Maxx 2 is $16 per month.