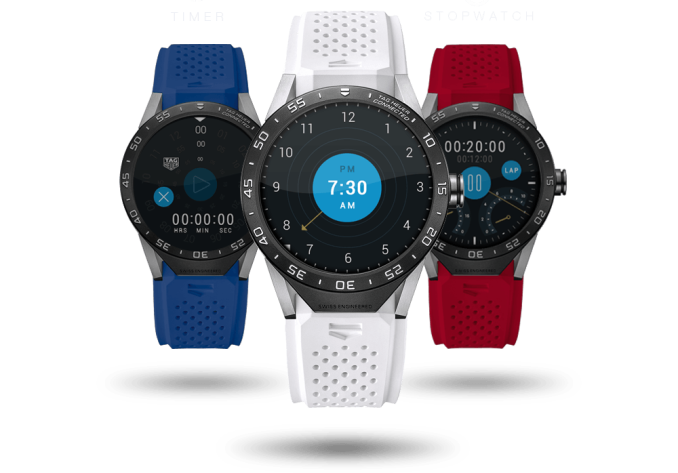 Today TAG Heuer, a traditional Swiss watchmaker, announced their entry into the world of smartwatches with the TAG Heuer Connected. This is really the first example of a luxury Android wear watch, and also the first example of a traditional mechanical watch manufacturer moving into the smartwatch space.
The TAG Heuer Connected has a diameter of 46mm, a thickness of 12.8mm, and a mass of 52 grams. The chassis of the watch is made of titanium, and the LCD display is covered by a sheet of sapphire glass. The display itself is a 1.5" 360x360 fully circular transflective LTPS LCD, which means it can use the reflection of light to improve visibility and drive down power consumption. The last time I remember hearing about these sorts of displays was Pixel Qi's transflective LCDs, but the tech hasn't really gone anywhere since that time. It'll be interesting to see who is making the panel for the TAG Heuer Connected and how it fares in bright light compared to other smartwatches, as well as compared to a traditional mechanical watch which doesn't use an LCD at all.
| | |
| --- | --- |
| | TAG Heuer Connected |
| SoC | Intel Atom Z34xx |
| RAM | 1GB |
| NAND | 4GB |
| Display | 1.5" 360x360 LCD, 240ppi |
| Diameter / Mass | 46mm / 52g |
| Battery | 410mAh |
| OS | Android Wear |
| Other Connectivity | 802.11b/g/n + BT 4.1 |
| Price | $1499 |
Interestingly, the TAG Heuer connect is powered by an Intel SoC rather than the Snapdragon 400 chip that has shown up in most Android Wear devices. More specifically, it's an Intel Z34xx series SoC, which has a peak frequency of 1.6GHz but TAG Heuer notes that the nominal frequency will be more like 500MHz. The SoC is paired with 1GB of RAM and 4GB of NAND, which puts it ahead of the 512MB of RAM found in most Android Wear watches. The sensors include an accelerometer and a gyroscope, but no heart rate monitor which is definitely a letdown for fitness-oriented buyers. The watch is also advertised as having IP67 water resistance.
Because 30% of the Connected's parts are made outside of Switzerland the watch isn't officially "Swiss made", and I don't expect that's going to be an easy problem to overcome when there are now many electrical parts inside the watch being made overseas. Something interesting is that the Connected is modeled off of TAG Heuer's Carrera mechanical watch, and after two years the company will allow you to trade in your Connected along with $1500 to receive an actual Carrera. To me that move seems a bit pessimistic about the company's own future in the smartwatch space, as it seems like there's an assumption that users will give up a smartwatch and go back to owning a mechanical watch. It would make more sense to me if you could trade up to newer versions of the Connected.
The last, and possibly most important detail about the TAG Heuer Connected is the price. TAG Heuer's mechanical watches can cost several hundred dollars, and so it's no surprise that the TAG Heuer Connected will have a retail price of $1500