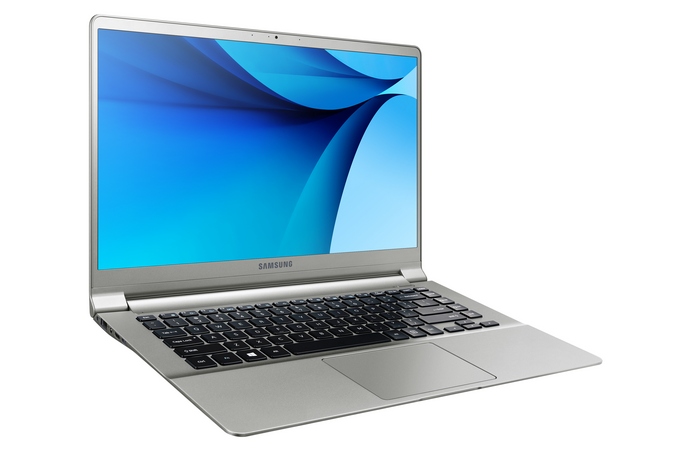 Samsung has been somewhat of a small player in the notebook market lately, but today they are announcing two new devices which should appeal to anyone looking for a very portable laptop. The new Notebook 9 series laptops, in both 13.3-inch and 15.6-inch sizes, come in at a very svelte 1.85 lb (840 g) and 2.84 lb (1.29 kg) mass, respectively. The 13.3 is one of the lightest notebooks around, and the 15.6-inch model is, as far as I know, the lightest 15-inch laptop yet. As well as being light, the magnesium framed devices are also very thin, with the smaller model just 13.4 mm thick, and the larger model only 14.5 mm.
So they are small. Both of them are powered by Intel Skylake-U series processors, which have a 15 Watt TDP. Normally 15.6-inch notebooks can sport quad-core H series due to the extra size and mass, but Samsung has clearly made an effort to keep these as thin and light as possible. RAM is 4-8 GB, and storage is 128-256 GB SSDs, which is pretty typical for an Ultrabook.
Despite the ultra-thin design, the keyboards are backlit, and feature 1.5 mm of key travel, which should mean a pretty decent typing experience.
Both versions have two USB 3.0 ports, but the 15.6-inch one also has a Type-C connector with DisplayPort capability and USB 3.1 Gen 1 speeds (which are the same as 3.0).
The displays are both 1080p PLS models, so unlike last year's Samsung notebook, there is no longer a 16:10 offering here. That's too bad, but the new models do feature thin bezels, reducing the overall footprint of the entire notebook. Samsung claims the 15.6-inch model fits in the same footprint as a traditional 14-inch device.
Samsung claims "all-day battery life" but the battery is the one area where the march to thin and light has been impacted. The 13.3-inch model has just a 30 Wh battery, and the larger version only goes up to 39 Wh. Compared to something like the XPS 13, with a 56 Wh battery, you can see that battery life is going to be impacted.
However, if a light notebook with a full Core U series processor is what you are after, the Samsung Notebook 9 series is likely one to check out. We'll try to get some hands-on time with the new devices at CES.
Source: Samsung