APUs
Even though the main focus this month has been on AMD's upcoming launch of its Ryzen 7000 desktop series processors based on the Zen 4 architecture, AMD is also in the process of launching its 7020 series of processors designed for entry-level mobile, codenamed Mendocino. It has launched four new SKUs for mobile, including two Ryzen series models and two Athlon variants, all based on its Zen 2 architecture. As we learned in May, AMD's Zen 2 based 'Mendocino' APUs are designed as part of its lower-end mobile processor stack for entry-level thin notebook and laptop solutions. The affordable APUs incorporate up to 4 Zen 2 CPU cores, as well as AMD's integrated Radeon 610M graphics, all with a maximum TDP of 15W. Focusing specifically on...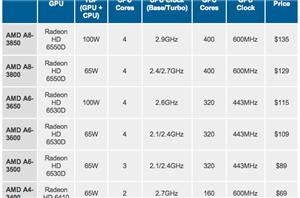 Today AMD introduced its first dual-core Llano APUs: the A4-3400 and A4-3300. These APUs have only 758M active transistors, a bit over half of the transistors in the bigger...
14
by Anand Lal Shimpi on 9/7/2011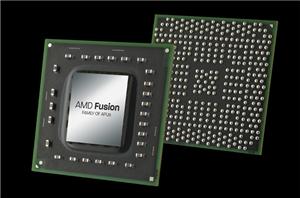 HP has accidentally leaked three AMD A-series APUs while updating the service guide for HP Pavilion g7. The update simply includes SKUs and specs for three yet to be...
5
by Kristian Vättö on 9/7/2011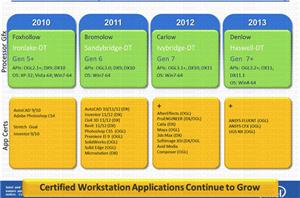 Intel's integrated graphics processors have long had a poor reputation when it comes to gaming, and while the IGPs get a little closer to competitiveness with each iteration, that...
9
by Andrew Cunningham on 8/5/2011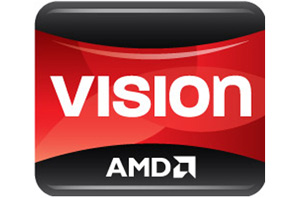 While AMD does not have a true SoC to combat the likes of Intel, NVIDIA, and ARM, this doesn't mean they're completely ignoring the market for the type of...
8
by Ryan Smith on 6/1/2011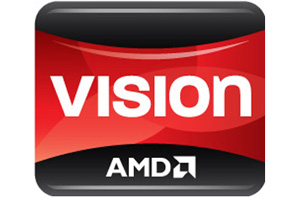 AMD's Computex 2011 conference just wrapped up. Computex is not AMD's traditional grounds for major new announcements – they'd rather have their own events for that – but alongside...
26
by Ryan Smith on 6/1/2011