CPU Performance
The Venue 8 is a unique device among the Android devices that we have tested. While most Android smartphones and tablets employ ARM based SoCs, Dell has opted to use Intel's Atom Z3580 processor. Z3580 is part of Intel's Moorefield line, built on Intel's 22nm process and sporting four Silvermont cores with a max burst frequency of 2.33GHz. To test CPU performance we turn to our standard web based benchmarks, along with Basemark OS II. For our 2015 benchmark suite we've removed Sunspider as it's become too much of an optimization target.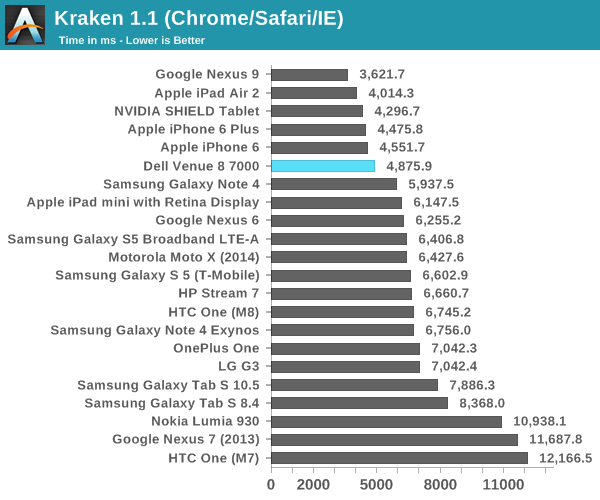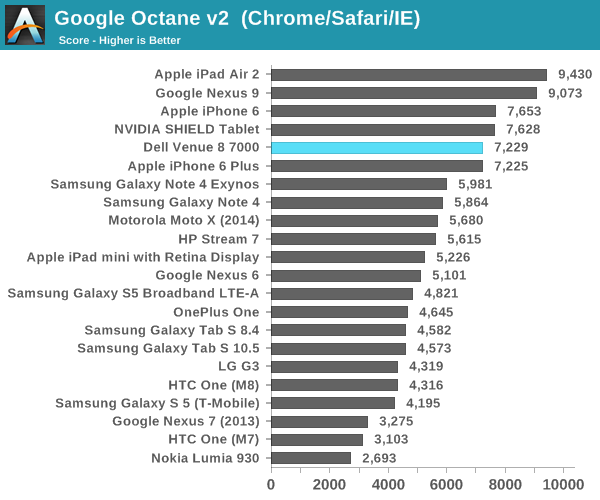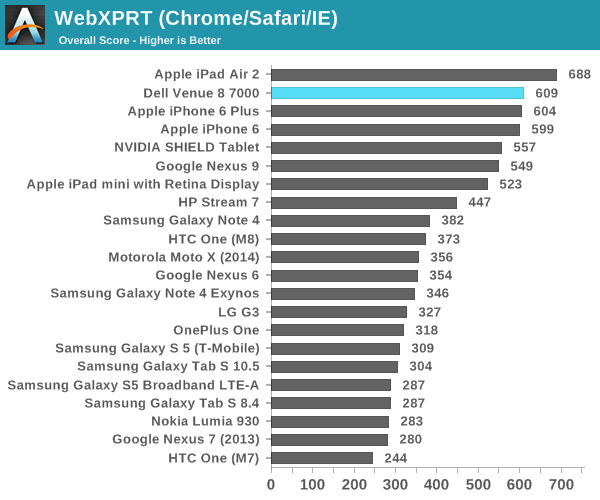 The Z3580 performs very well in all of our web based benchmarks. Its scores are in the same range as devices with Apple's A8 and NVIDIA's Tegra K1 which currently hold the best scores of the devices we've tested.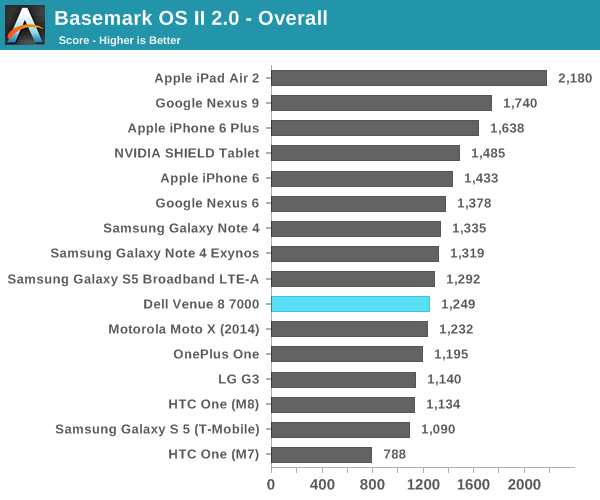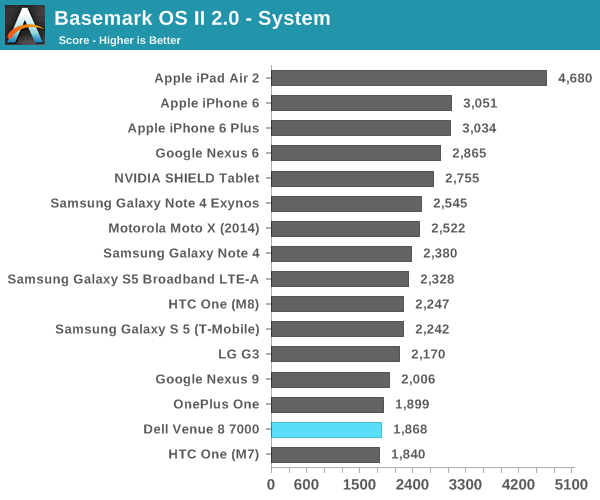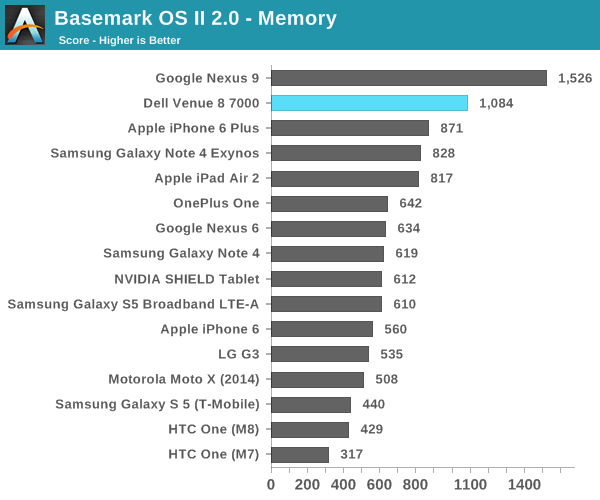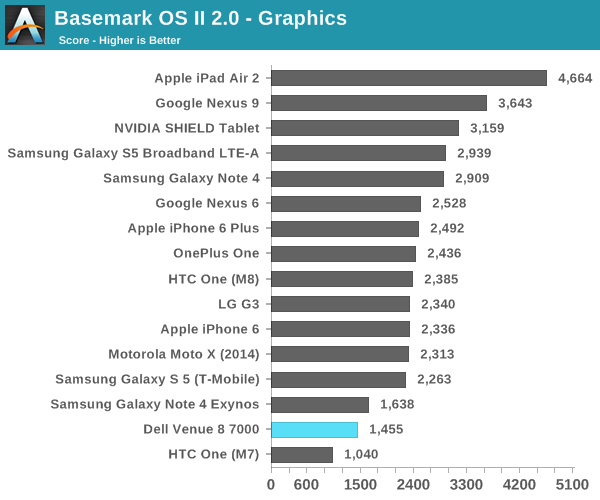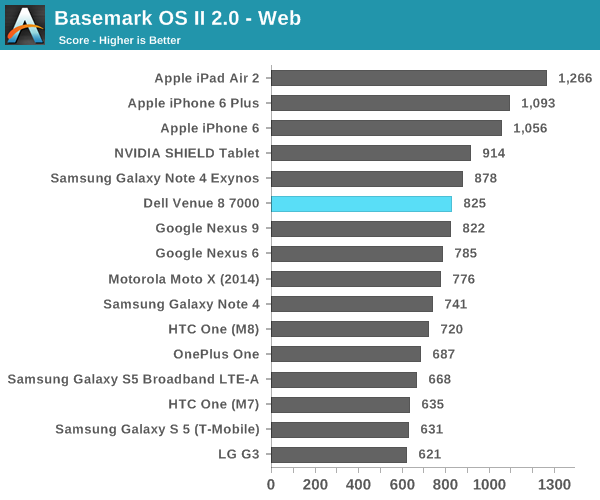 The performance in Basemark OS II is a mixed bag when compared to the consistently good results from our web benchmarks. We see fairly good performance in the web and memory sections of the benchmark, but less impressive scores in the system and graphics categories. This leads to an overall score that sits in the middle of the results from other devices we've tested.
Whether a tablet's performance is acceptable or not will often be based largely on how much the tablet costs. Class leading performance can't really be expected from inexpensive tablets, and for expensive ones having class leading performance is a must. At $399, the Venue 8 is priced at the same point as the Nexus 9, and it trades blows with it across our different tests. With generational improvements to their processors, it's not hard to imagine Intel becoming a major performance leader in the mobile space. Performance isn't the only metric considered when a manufacturer is deciding on the processor for their device, but I wouldn't be surprised if we end up seeing more design wins for Intel in the future.
Device Performance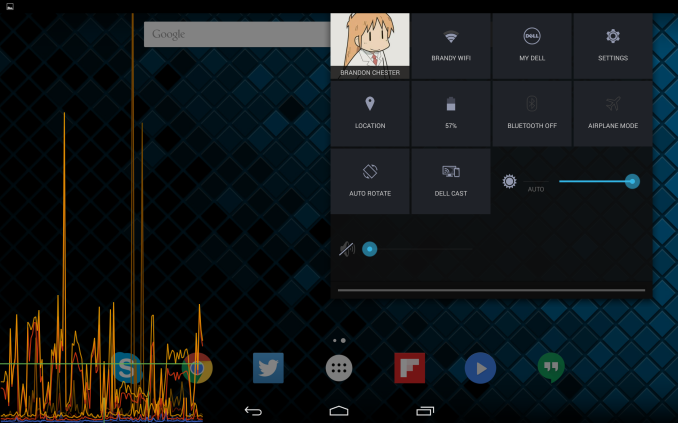 A device's performance in benchmarks is a fairly objective measurement of performance, but it may not necessarily be representative of how a device actually feels to a user. Issues with performance in the real world can fall under many categories, which range from long loading times to stutters and sluggish framerates. The "jank" that has historically existed on Android devices has typically fallen under the latter category rather than the former. With each iteration of Android, Google has made improvements to this perceived smoothness in the Android interface. The recently released Android Lollipop brought large increases to framerates in many key areas, but the Venue 8 ships with KitKat and can not take advantage of them.
Unfortunately, the Android 4.4 KitKat experience on the Venue 8 is not always as free from jank as one would expect based on its CPU performance. Many issues manifest themselves as stutters or drops in framerate, even in common animations like bring down the notification shade and rotating the device. Turning on any live wallpapers is also guaranteed to bring the animations in the launcher well below 60fps, and even below 30fps. Many scrolling lists also suffer from the jank that was commonly seen on pre-Lollipop versions of Android. It's unfortunate that the Venue 8 didn't ship with Lollipop, as I don't think I would have to discuss performance issues like these if it had. Hopefully a Lollipop update arrives for the Venue 8 soon.