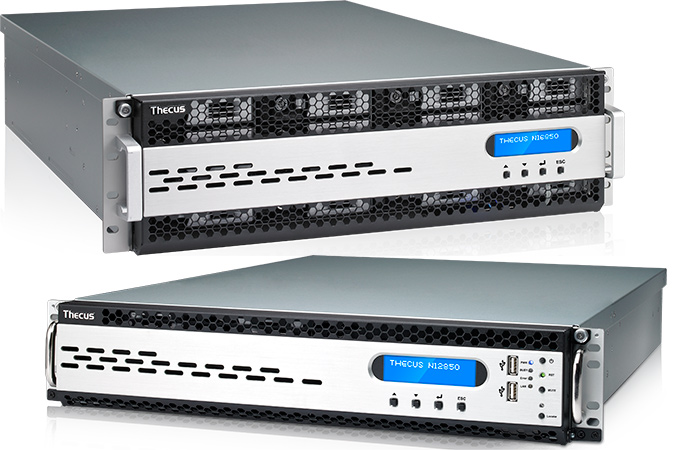 Thecus has introduced two new commercial off-the-shelf (COTS) rackmount enterprise-class NAS servers with 12 and 16 bays. They both run the latest version of Thecus's Linux-based OS. The systems are based on the Intel Xeon processors, feature SAS 12 Gbps ports and are 10 Gb Ethernet-ready. The units come with usual virtualization certifications, volume encryption and Intel security technologies.
The N12850 and the N16850 NAS rackmount servers from Thecus are powered by the Intel Xeon E3-1231 v3 (Haswell, four cores with Hyper-Threading, 3.40/3.80 GHz, 8 MB cache, 80 W TDP) processor with the Intel C224 PCH and a LSI SAS 12 Gbps HBA card. The OS implements software RAID (support for RAID 0, 1, 5, 6, 10, 50, 60 and JBOD). The systems come with four DIMM slots for up to 32 GB of DDR3 ECC memory, three spare PCIe 3.0 slots (x8, x4 and x1) for additional controllers and can fit in 12 (N12850) or 16 (N16850) 3.5-inch hot-swappable HDDs with SAS-12G or SATA-6G interface. The N12850 comes in 2U form-factor, whereas the N16850 uses 3U form-factor. Both servers feature 650W redundant power supply units. The servers also have D-Sub outputs for displays we well as USB 2.0/3.0 ports for peripherals.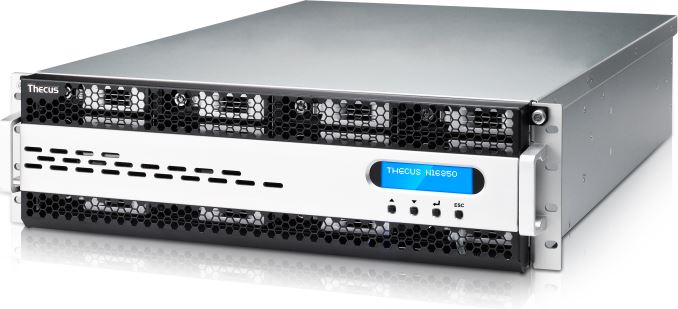 Both models can be equipped with 10 GbE adapters to connect to enterprise networks and other machines. Like previous-generation NAS systems from Thecus, the N12850 and the N16850 support the company's HA (high availability) and Daisy Chaining technologies. The HA keeps data on two identical NAS machines and if one fails or needs maintenance, the other will still be available to users. According to Thecus, 'Daisy Chaining' allows connecting up to four D16000 DAS systems using SAS wide port 8088 cables as slaves to one NAS server. This can significantly expand storage capacities (up to 640 TB).
Thanks to the usage of Intel Xeon E3 processors featuring AES-NI, the new NAS systems from Thecus support volume AES encryption technology with up to 256-bit keys. Additionally, the servers fully support virtualization and multiple file systems (users can simultaneously use Ext3, EXT4, Btrfs and XFS file systems across multiple RAID volumes).

The N12850 and the N16850 servers support real-time remote replication and system disaster recovery and come bundled with Acronis Server Backup and Intel Security software.
Thecus will start to ship its new NAS servers in April. Prices are unknown.
Source: Thecus