Quantenna this week introduced the industry's first 802.11ax Draft 1.0-compliant Wi-Fi chipset for access points. The QSR10G-AX is pin-to-pin compatible with Quantenna's commercial QSR10G Wave 3 802.11ac-compliant Wi-Fi platform and can thus be easily integrated into existing APs (e.g., routers). The next-gen 802.11ax Wi-Fi standard promises to improve spectral efficiency of Wi-Fi operation in dense deployments and also to increase maximum theoretical bandwidth of Wi-Fi networks to around 10 Gbit/s.
Wi-Fi nowadays is a pervasive technology that is used by loads of different devices. Every office or residential building has tens of Wi-Fi APs visible and many people carry two or more of Wi-Fi-enabled devices with themselves (a smartphone, a laptop, most recently, smart watches). As a result, the number of connections that every AP needs to handle is getting higher every year, which requires higher spectral efficiency and more channels to connect devices. In the recent years the 802.11 standard introduced multiple ways to improve spectral efficiency of Wi-Fi, including multiple-input multiple-output antennas (MIMO), multi-user MIMO (MU-MIMO), higher order modulation and so on. The next-gen 802.11ax will add OFDMA (Orthogonal Frequency-Division Multiple Access) to allow different devices to be served by one channel, by dedicating different sub-carriers for individual client devices.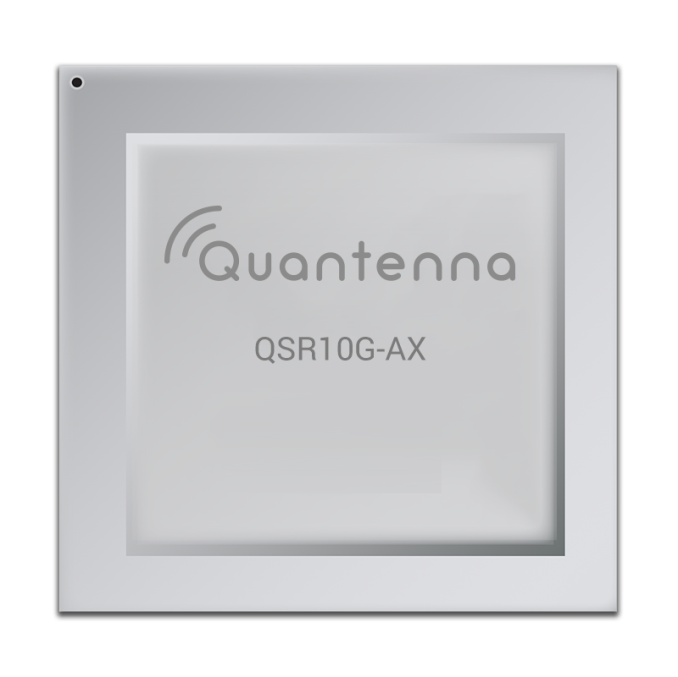 Quantenna's QSR10G-AX is one of the industry's first 802.11ax Draft 1.0-compliant Wi-Fi chipsets, and supports the major features of the upcoming standard (including OFDMA, 1024-QAM and so on). Furthermore, to simplify deployment, it can be installed into existing designs due to pin-compatibility with the current QSR10G chipset. From a physical standpoint, devices based on the QSR10G-AX will use Quantenna's 12-stream Wave 3 802.11ac dual-band Wi-Fi platform, which offers 8 streams in the 5 GHz band and a further 4 streams in the 2.4 GHz band. This essentially means that manufacturers using the QSR10G can simply throw in a more advanced chip and build an 802.11ax Draft 1.0-compliant router.
Right now, Quantenna does not specify the speeds that devices based on its QSR10G-AX will be able to provide, primarily because a lot will depend on actual client equipment. In the best case scenario with the currently available devices we are looking at 1733 and 2167 Mbps using four 802.11ac streams with 600, 800 and 1000 Mbps per stream. Nonetheless, keep in mind that the whole point of the 802.11ax is not to skyrocket maximum bandwidth (even though, maximum bandwidth remains important and does improve), but to ensure the ability to robustly serve the greatest number of clients using a single AP.
Meanwhile, the availability timeframe for such routers is unknown. Quantenna plans to make the QSR10G-AX chip available to its partners in early 2017. Then, it is going to take them some time to ensure that everything operates as planned (an uneasy thing to do due to lack of 802.11ax-compliant client equipment) and only then actual devices are set to hit the market.
Source: Quantenna