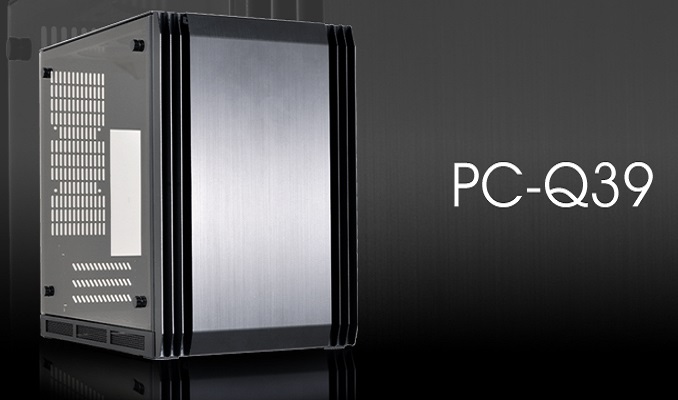 On Tuesday, Lian-Li announced a new Mini-ITX Tower chassis with its PC-Q39. A progression from the PC-Q37 case, the PC-Q39 is a bit larger and can now house an ATX form factor PSU, up to 2x120mm radiator, and a triple slot graphics card. The outside of the chassis uses tempered glass on the side with an updated aluminum front panel giving it a high-end look many are after.
Lian-Li PC-Q39
Like its predecessor, the PC-Q39 maintains a dual chamber design separating the motherboard, video card, and heatsink/radiator from the HDD/SSD and power supply. Lian-Li strategically placed dedicated grommets for liquid cooling tubes at the top and bottom of the motherboard tray. Along with five other holes, there are plenty of places to route tubing for the reservoir and pumps, as well as other wiring in the wider second chamber. This setup can make for a much cleaner look and allows for less obstructed airflow in the main chamber. The front panel, located on top of the Q39 (was on the front of the Q37), has been modernized to include a single USB 3.1 Gen 2 Type-C connector, as well as two USB3.0 ports.
The PC-Q39's additional size, 15mm wider, allows it to use the more familiar ATX form factor for PSUs, up to 160mm in length. The second compartment also contains a tool-less drive rack holding two 3.5" and one 2.5" drive. Two additional spaces for 2.5" drives are found in the back and on the motherboard tray, for a total of three 2.5" drives.
At the top of the chassis, there is room for two 120mm fans or a 240mm radiator. Additionally, there is space on the bottom of the case for two 120mm fans or a single 140 mm fan for increased airflow in the main chamber. All fan mount points come with a magnetically attached dust filter to slow the buildup of dust inside the case. There are three expansion slots for PCIe devices allowing owners to use video cards with a triple slot cooler and up to 300mm in length. Working in the small case shouldn't be an issue due to the front, top, and side panels all being removable.
Below is a complete specifications table:
Lian-Li PC-Q39 Mini-ITX Chassis
Model
PC-Q39G WX
Case Type
Mini Tower Chassis
Dimensions
(W)252mm x(H)348mm x(D)346mm
Color
Black
Front/Side Panel
Aluminum / (L) Tempered Glass, (R) Aluminum
Body Material
Aluminum
Net Weight
5.3kg
External Drive Bays
None
HDD/SSD Bays
2x 3.5", 3x 2.5"
Expansion Slots
3
Motherboard Type
Mini-ITX
System Fan (Optional)
2x 120mm(top), 2x 120mm or 1x 140mm(bottom)
I/O Ports
2x USB3.0, 1x USB3.1 Type-C, HD Audio
VGA Card Support
(L)300mm x (D)60mm
CPU Cooling Support
(H)120mm
PSU Support
ATX PSU,(L)160mm
Radiator Support
Top: 240mm x 80mm x 120mm
The PC-Q39 is available now at newegg.com for $209.99.
Related Reading:
Source: Lian-Li