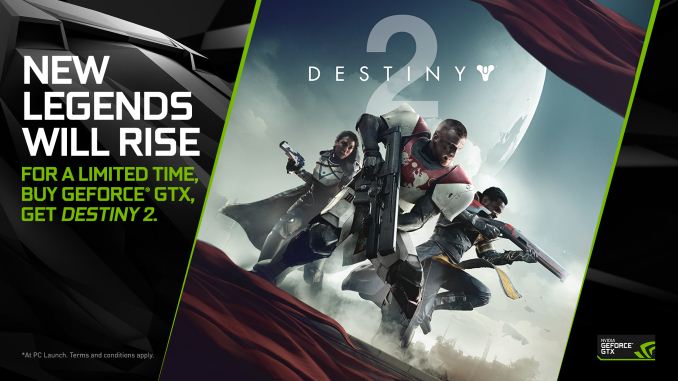 From today to September 5th (or while supplies last), NVIDIA is bringing back June's Destiny 2 bundle for GTX 1080 and 1080 Ti cards, systems, and laptops, a week ahead of Destiny 2's PC Beta launch on August 28th. As a reminder, eligible systems include NVIDIA's own GeForce GTX Battlebox products. The bundle includes Destiny 2 at its October 24th launch date, as well as three in-game items: the Coldheart Exotic Rifle, Kill Tracker Ghost, and Salute emote. These items may also be redeemed by people who purchased the bundle in June.
The upcoming massively multiplayer online sci-fi first-person shooter, a concept Bungie previously described as a "shared world shooter", will be preceded by an August 24th NVIDIA Game Ready driver. Additionally, Destiny 2 will support High Dynamic Range (HDR) and SLI, a result of NVIDIA's collaboration with Activision and Bungie. HDR itself will available to test during the PC Beta.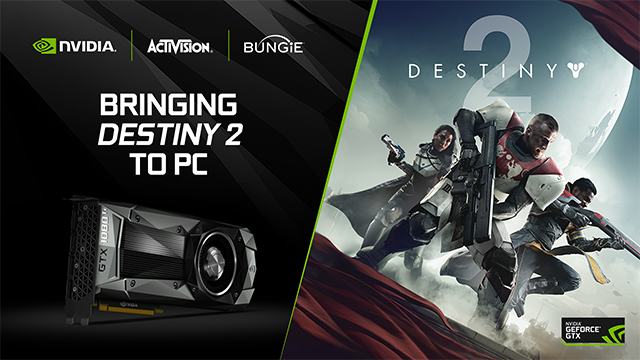 This latest iteration of the bundle does not mention Early Access codes for the PC Beta, although Bungie does state that Destiny 2 preorders through the Blizzard store come with Early Access. In context, Destiny 2 has an exclusive Early Access PC Beta on August 28th, with the general Open Beta running from the 29th to 31st. In any case, NVIDIA is also giving away Early Access codes in celebration of Gamescom, and will announce winners through GeForce Experience on August 25th.
As of August 2017, this is the only active NVIDIA promotional bundle. As before, Destiny 2 game codes may only be redeemed until 30 days after PC launch date.
Codes must be redeemed through GeForce Experience (3.2.2 or higher). After redeeming through GeForce Experience, Destiny 2 must be subsequently redeemed with a Blizzard account. Be sure to verify the participation of any vendors purchased from as NVIDIA likely will not give codes for purchases made from sellers that are not participating.
Source: NVIDIA