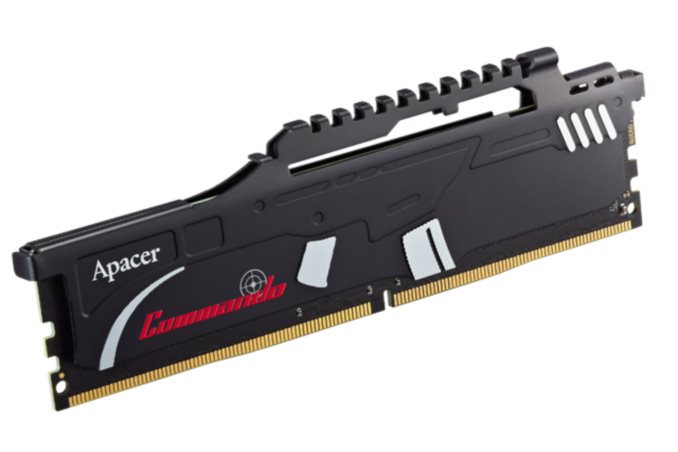 The new Apacer Commando series DDR4 comes in 16 GB (2x8GB) dual-channel kits with frequencies reaching up to DDR4-3466 CL16 and DDR4-3600 CL17. The sticks were announced late last year but with different, looser (CL18), timings. The new SKUs run at slightly tighter timings with the same voltage and same unique heat spreader from their Armory design which looks like the rail and iron sites on some assault rifles. The kits do not include RGB LEDs but rely on the unique design aesthetic of the heat spreader to set itself apart from the rest.
The Commando Series from Apacer uses a gun theme on these sticks with an AR body printed on the side of the heatsink. The heat spreader, outside of the gun impressed on it, is black with the Apacer and Commando names printed on the side in white and red respectively. The top rail and iron sites extend up just a bit over the memory's black PCB and rest of the heatsink, but this design shouldn't get in the way of too many CPU coolers. As always, check on the dimensions for proper fitment.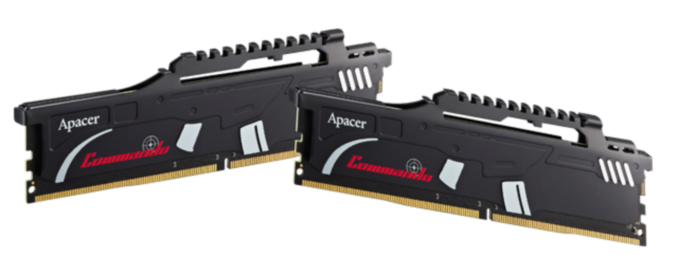 We are unsure what IC's are exactly under the hood, however, judging from the timings/speed, as well as Apacer's propensity to use SK Hynix in the past, that is where I am placing my bet. . As mentioned earlier, the new revision of the DDR4 3466 sticks hit the scene with tighter timings at 16-18-18-36 versus 18-18-18-42. The DDR4 3600 kit come in at 17-19-19-39 with both of the kits supporting XMP 2.0 profiles and running at 1.35V.
The new sticks should be a good fit for the latest Intel platforms as they are able to support these speeds, typically, by simply enabling the XMP profile. AMD's AM4 platform has been maturing nicely over the past several months on many fronts, including memory compatibility, but kits this fast may be overkill for that platform and also require manual entry of speed and timings. Perhaps Zen+ will change that when it releases here in the coming months.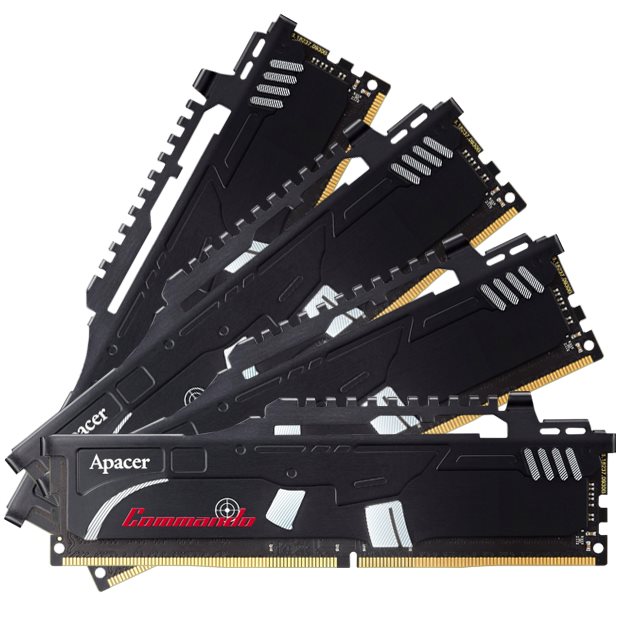 Both kits and the rest of the DDR4 Commando series are available now. We were unable to find the new kits here in the US, however. The DDR4 3466 CL16 sticks were priced at 254€ (~$312+) and the DDR4 3600 will cost 379€ (~$465+). Compared to other DDR4 3600 CL17 kits, these are priced on the high side as many at Newegg are around the $250 mark, some of which include RGB LEDs and have lower timings.
Apacer Commando Series
Speed
CL Timing
Voltage
Capacity
*DDR4-3466
CL16 18-18-36
1.35 V

8GB / 16GB / 32GB

*DDR4-3600
CL17 19-19-35
1.35V
DDR4-2400 / DDR4-2666
CL16 16-16-36
1.2 V
8GB / 16GB / 32GB
DDR4-2800
CL17 17-17-36
1.2 V

8GB / 16GB / 32GB

/ 64GB

DDR4-3000
CL16 18-18-38
CL16 -16-16-38
1.35V
DDR4-3200
CL16 18-18-38
1.35V
DDR4-3466
CL18 18-18-42
1.35V

8GB / 16GB / 32GB
* - Denotes new SKUs
Related Reading:
Source: Apacer