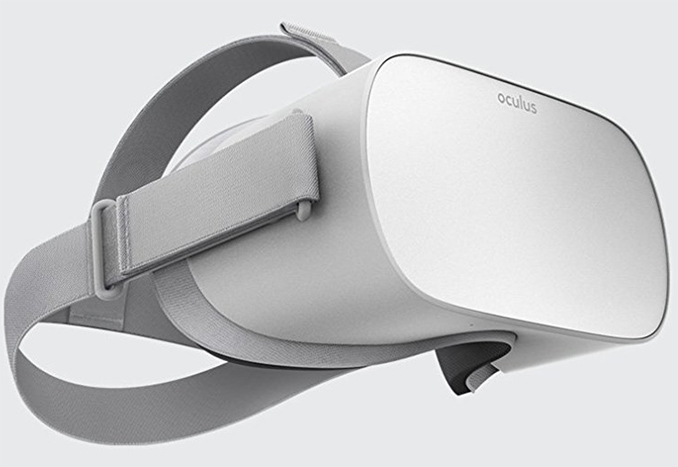 Previously announced back in October, Oculus VR this week has begun to sell its mainstream-focused Oculus Go standalone VR headset. With a price of just $199 for the base unit, the Oculus Go is the first in a new generation of far more affordable standalone headsets, eschewing some performance and features of other, more expensive headsets in order to bring the price down for the mass market. As a result the Go is positioned to serve as an entry-level headset in the VR space, giving many more users their first look at the world of VR.
1440p, Spatial Audio, 3DoF, 2 Hours of Gaming
Under the hood, the Oculus Go VR headset features a 5.5-inch display panel with a 2560×1440 (538 ppi) resolution, a 60 – 72 Hz refresh rate (application dependent). The HMD also features a technology called Fast Switch, which is meant to "improve clarity," though Oculus VR does not provide any additional details about it (most probably we are dealing with a tech that enables a faster response time, though it is unknown whether it helps to reduce GtG response time, or black-to-white rise time). Interestingly, Oculus claims that the Go features the best optics of any VR headset available today - despite it's entry-level positioning - in particular aiming to reduce the screen door effect.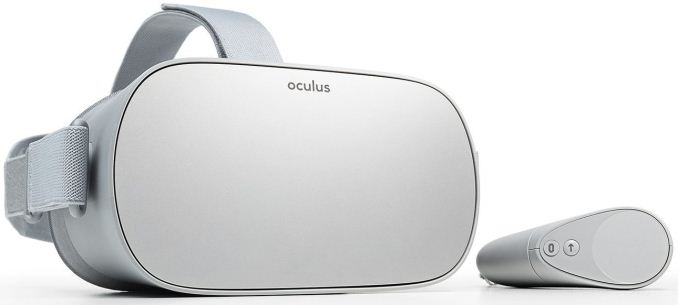 Being a standalone device, the Oculus Go comes with integrated spatial audio with speakers built-in to the sides of the headset and there is also a 3.5-mm audio jack for private usage of the headset. The untethered VR gear from Oculus features the 3-degree-of-freedom tracking (3DoF) for the headset and the controller, but does not support positional tracking at all. From this point of view, the product is not going to offer the same level of immersion as the Oculus Rift or even the Vive Focus do as they support positional tracking, with this being one of the tradeoffs Oculus has made to get a headset out at such a low price. In practice this means that the headset is going to be a reasonable choice for seated or static-standing activities, but isn't well-positioned for roomscale uses.
When it comes to battery, the manufacturer equipped the Oculus Go with a 2600 mAh battery that provides up to two hours of gaming, or 2.5 hours of video playback.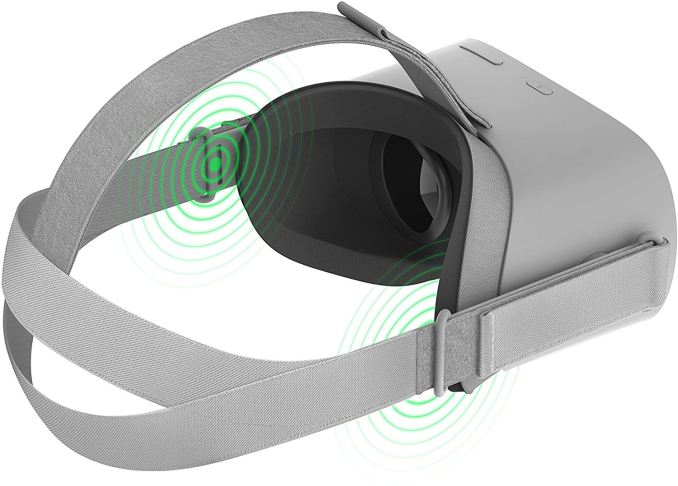 Overclocked Snapdragon 821 with Dynamic Throttling, Foveated Rendering & 72 Hz Mode
Driving the headset itself is Qualcomm's Snapdragon 821 SoC (four Kryo cores running at 2.15 – 2.3 GHz, Adreno 530 GPU with ~500 GFLOPS performance, 64-bit LPDDR4 memory, 14LPP). This is accompanied by 3 GB of RAM, 802.11ac Wi-Fi, and 32 or 64 GB of NAND flash storage. It's worth noting that the headset does not feature a microSD card slot or other removable storage, so the capacity made available via integrated storage is all that's available.
Broadly speaking, the processing hardware of the Go is similar to that of 2016 flagship smartphones. Which is to say that it's not underpowered, but it's also not going to be cutting edge - nor would one expect so for the price. But it does mean that the Go will be a step behind newer headsets, such as those devices compatiable with Google's Daydream ecosystem. Meanwhile, Oculus Go has a number of performance optimizations as well as quality enhancements that promise to ensure a fine user experience.
The Snapdragon 821 chip runs its CPU cores at higher frequencies than it does when installed into smartphones in a bid to provide higher performance. Meanwhile, in order to dynamically maintain CPU and GPU performance while both sustaining a target framerate and keeping power consumption/battery life in check, the Oculus Go comes with a Dynamic Throttling feature. The latter was co-developed by Oculus and Qualcomm in a bid to simplify hardware management for app developers (something they have to do when they build apps for the Gear VR platform) and provide some performance enhancements.
Just like the Gear VR, the Oculus Go platform allows game developers to set CPU and GPU performance levels (i.e., clocks) required for their apps between 0 and 3. Meanwhile, the Oculus Go can dynamically adjust clocks of Kryo and Adreno to ensure a better experience and even turn on the level 4 mode if needed. The device will not clock CPU and GPU below the specified frequencies. However, it can clock the SD821 higher in a bid to maintain a smooth framerate. For example, if the Oculus Go detects a lot of missed frame rates in an app that is not GPU-bound (there are separate counters for missed frames and CPU/GPU load), it automatically amplifies CPU clocks as the latter may be the cause of the problem.
In addition to Dynamic Throttling, the Oculus Go also supports Fixed Foveated Rendering (i.e., FR without eye tracking) that reduces resolution of tiles located on the edge of the display in a bid to save GPU horsepower for advanced graphics effects as well as memory bandwidth for high-res textures in the center. Oculus VR provides an API that enables game developers to adjust fixed FR according to their requirements (see the picture below with a very basic explanation from the company of how fixed FR works in the case of the Oculus Go) and says that it can be used with Unreal Engine 4, Unity and other engines. According to the developer, fixed FR can boost performance by up to 25% on "pixel intensive apps."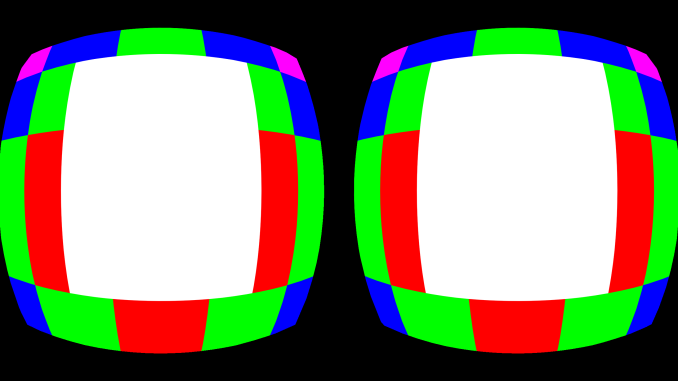 As described by Oculus: The screenshot shows the tile resolution multiplier map for a 1024x1024 eye buffer on Oculus Go with FFR's cranked up its maximum foveation level. In the white areas at the center of our FOV, the resolution is native: every pixel of the texture will be computed independently by the GPU. However, in the red areas, only half of the pixels will be calculated, 1/4th for the green areas, 1/8th for the blue areas, and finally 1/16th for the magenta tiles. The missing pixels will be interpolated from the calculated pixels at resolve time, when the GPU stores the result of its computation in general memory.
Usage of fixed FR on an untethered VR platform makes a great deal of sense. The Adreno 530 GPU offers around ~500 GFLOPS of compute horsepower (a level near AMD's Radeon HD 2900 XT/Radeon HD 3870 from 2007) along with a tile rendering architecture to reduce memory bandwidth requirements. Despite architecture peculiarities, physical memory bandwidth available to this GPU is miniscule when compared to said graphics cards (up to 29.8 GB/s vs. 100 GB/s vs. 79 GB/s), so optimizations are required, particularly when it comes to bandwidth-hungry things (e.g., resolution) and compute-intensive content (shaders). Over time Oculus VR will most likely incorporate foveated rendering with gaze tracking into its future headsets, but for now even fixed FR makes sense as it saves GPU horsepower and memory bandwidth, with the obvious caveat that this is going to strongly encourage users to look straight-forward in order to get the best experience.
Last but not least, app developers can choose to target 72 frames per second instead of the usual 60 FPS in a bid to improve the motion quality of their titles. 72 Hz will naturally improve smoothness of games, but this will come with a performance penalty because the GPU will have to render everything at least 2.8 ms faster than usual. In a nutshell, the 72 Hz mode may require additional performance tuning (e.g., playing with fixed FR and Dynamic Throttling, or even alter the app itself), so this may not be something that many developers will opt for before the Oculus Go becomes a widespread product and the additional investments will pay off.
Meanwhile, 72 Hz will make 24 fps videos (23.976 fps to be more precise) run smoother because the video processor will display each frame three times (there are some nuances here, but generally it works like this) and it will not have to perform any conversions that it has to do to display a 24P content on a 60 Hz display (and cause flickering). Though I admit I'm not sure whether there are a lot of viewers who would like to enjoy 24P content in an HMD, as most content released on other platforms thus far has focused on 60fps to maximize immersion.
An interesting peculiarity of the 72 Hz mode is that besides increasing refresh rate of the display, it also alters its brightness and "causes colors to pop up" without adding a perceptible flicker. Brighter and more saturated colors will be welcome in games as they will intensify their "wow" effects, but it remains to be seen how they will look in case of videos (especially those shot in 24P).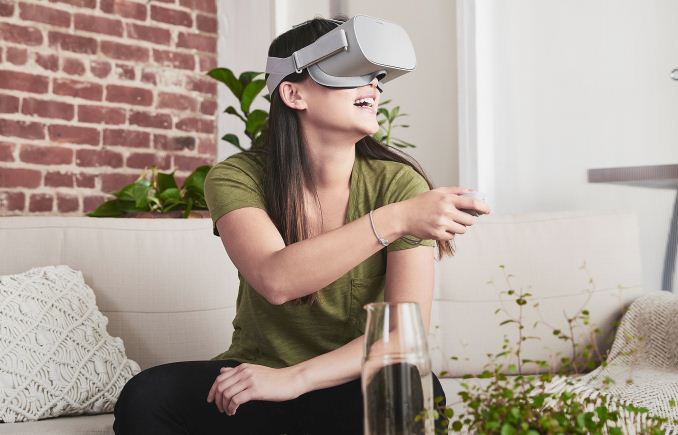 Over 1,000 Titles
Oculus VR claims that the Oculus Go platform supports over a 1,000 of various titles, including games and entertainment apps like Discover VR, Hulu, and Netflix (it is unclear whether 72 Hz mode is supported by these for 24 Hz videos that they offer). In addition to general apps, the Oculus Go will support social programs like Oculus Rooms, and Oculus Venues. Besides, Oculus Go will also support Oculus TV and Oculus Gallery.
Since the Oculus Go is binary compatible with the Gear VR platform, virtually all titles designed for the latter can run on the former, so the platform will not starve from the lack of content even early in the lifecycle. There is a caveat though. Because some titles developed for the Gear VR platform are developed with minimum performance requirements common for this platform (which is Galaxy S6/S7), they are not going to look any better on the Oculus Go and/or take advantage of its features. Though the similar specifications between the two platforms means that they should at least run smoothly.
Starts at $199
The Oculus Go is already available in the U.S. from leading retailers like Amazon, BestBuy, and Newegg. Oculus VR charges $199 for a 32 GB version of the headset, whereas the 64 GB model retails for $249. Amazon also sells the Oculus Go in other countries and regions, so it is safe to say that the device is available practically worldwide. Meanwhile, Oculus VR itself can ship its standalone VR headset to 23 countries on different continents.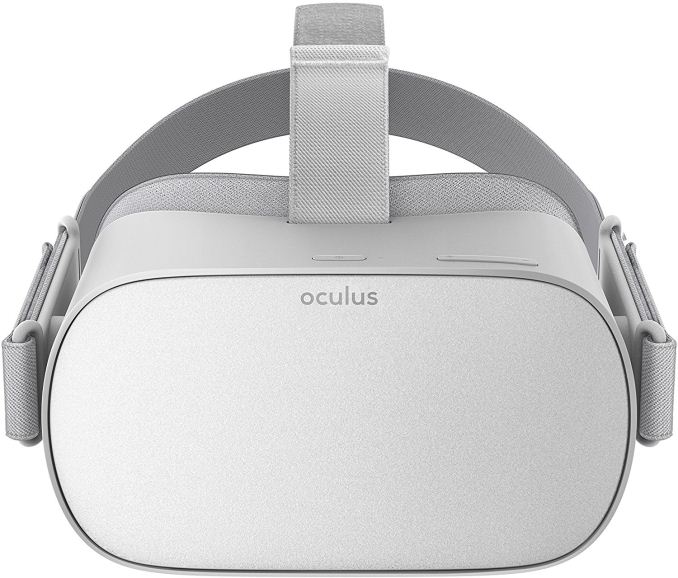 Related Reading:
Source: Oculus