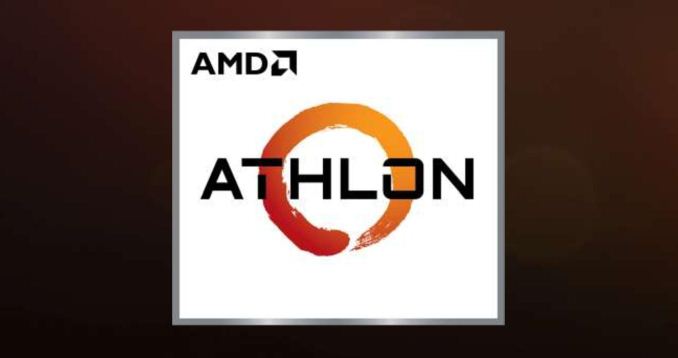 Everyone likes discussing headlines: the latest mainstream processor, or super 32-core behemoth, are topics ripe for deep discussion. Despite this, a lot more volume occurs in the mid-range and low-end of the product stack. Never mind $299 for a CPU, there is a lot of action that occurs under $100. With that in mind, AMD is announcing its new $55 processor with integrated graphics, designed to sit under the Ryzen 5 2200G that we tested earlier this year. The Athlon 200GE by comparison has two cores with simultaneous multi-threading, three compute units for graphics, and a 35W TDP, all for $55.
Expanding The Low Cost Product Line
With this new product, AMD is changing what Athlon stands for – in previous generations, Athlon was for a processor that has its integrated graphics disabled. Now AMD is using it in the same way that Intel uses the Pentium or Celeron brands: for low cost, high volume products. This new part is designed to be a more cost-effective solution for users that need both a processor and graphics in a single system. Add in 4GB of memory and some storage, and the aim is a very competent system for very little money.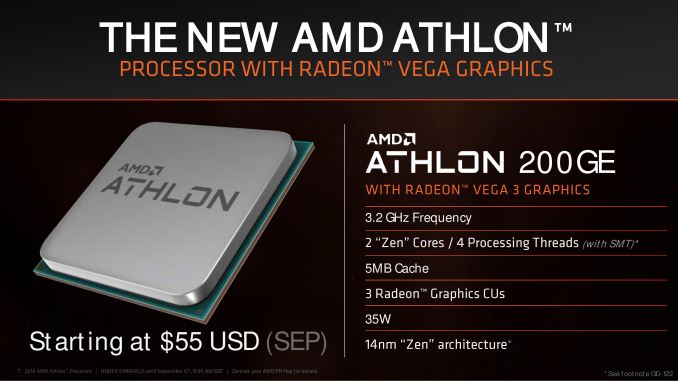 The introduction of the Athlon 200GE puts AMD's current lineup as follows:
AMD's Mainstream Stack
AnandTech
Zen
Cores
w/HT
Base
Freq
Turbo
Freq
Vega
CUs
TDP
MSRP
Ryzen 7 2700X
Zen+
8 / 16
3700
4300
-
105W
$329
Ryzen 7 2700
Zen+
8 / 16
3200
4100
-
65W
$299
Ryzen 5 2600X
Zen+
6 / 12
3600
4200
-
95W
$229
Ryzen 5 2600
Zen+
6 / 12
3400
3900
-
65W
$199
Ryzen 5 1500X
Zen
4 / 8
3500
3700
-
65W
$159
Ryzen 5 2400G
Zen
4 / 8
3600
3900
11
65W
$169
Ryzen 5 2400GE*
Zen
4 / 8
3200
3800
11
35W
*
Ryzen 3 1300X
Zen
4 / 4
3500
3700
-
65W
$114
Ryzen 3 2200G
Zen
4 / 4
3500
3700
8
65W
$99
Ryzen 3 2200GE*
Zen
4 / 4
3200
3600
8
35W
*
Athlon 240GE
Details to be disclosed in Q4
Athlon 220GE
Details to be disclosed in Q4
Athlon 200GE
Zen
2 / 4
3200
-
3
35W
$55
* Released but not at retail
The Athlon 200GE is a dual core processor with simultaneous multi-threading, and no turbo: it will run at 3.2 GHz at all times. The TDP is the biggest adjustment, with AMD offering a low-cost low-power 35W product. The three compute units will be plenty for all office tasks and some light gaming. However that $55 price point means that AMD believes it will be competing with products like the Pentium G4560 (despite it being a generation old) and replacing the popular Bristol Ridge-based A6-9500E. As this is an APU, the cores are still 'first generation Zen', however AMD is aiming to align the part with its second generation family.
Update: AMD has updated its materials to include that it will be releasing an Athlon 220GE and Athlon 240GE later this year. The table has been updated.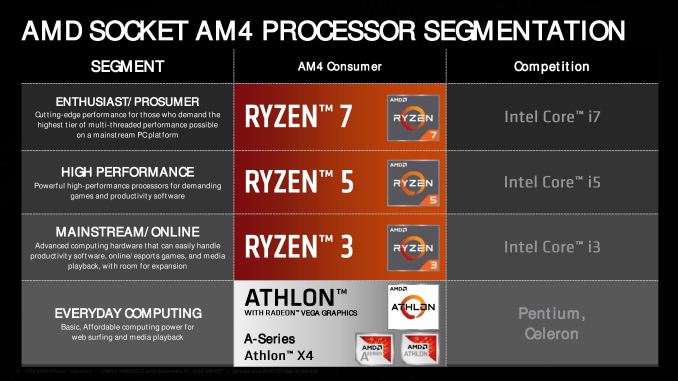 AMD states that the new part will offer 4K display output (due to the integrated Vega graphics), native USB 3.1 support, as well as NVMe SSD support. The processor is AM4 socket compatible, which means that it can be enabled for at least DRAM overclocking (AMD confirmed that the CPU is locked for frequency overclocking though, like the Pro CPUs).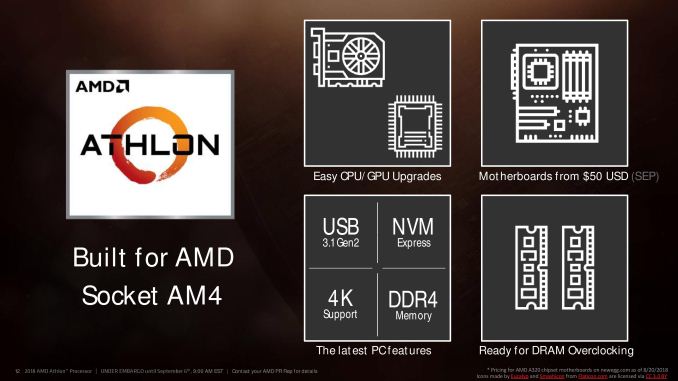 At $55, it fits in at just under half the price of the quad-core Ryzen 5 2200G with under half the graphics and just over half the TDP. For anyone looking at a low cost system, AMD now has a good Zen-based competitor, where before there was none.
There Are Also Some New Pro CPUs
In line with the consumer launch, AMD is also expanding its Pro processor line. The Pro processors are the professional/enterprise versions of the consumer parts, designed for business deployments and offer additional management features as well as reliability / availability and a commercial warranty. Businesses looking to deploy Ryzen will look at these parts over the standard consumer parts in order to have control and knowledge of guaranteed support.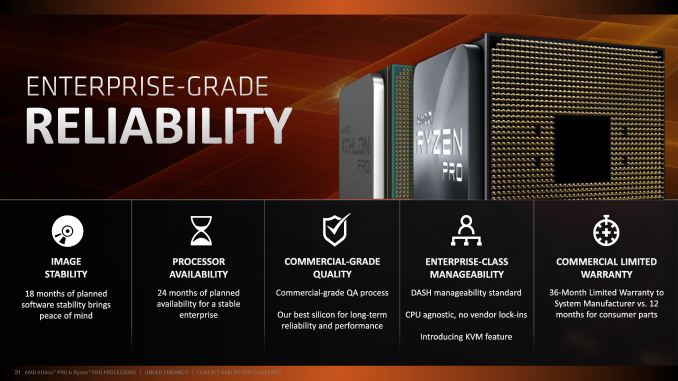 The new parts are from AMD's second generation of Ryzen, and thus are built on the 12nm process with additional tweaks for faster cache accesses. In our review of the second generation Ryzen parts, we showed that AMD's claim of +3% clock-for-clock performance held true, and ballooned to +10% when the higher frequencies came into effect. The lead time to make these processors ready for commercial is longer, hence the difference in timings between the consumer and professional launches.
AMD's Pro Stack
AnandTech
Zen
Cores
w/HT
Base
Freq
Turbo
Freq
Vega
CUs
TDP
Ryzen 7 Pro 2700X
Zen+
8 / 16
3700
4300
-
105W
Ryzen 7 Pro 2700
Zen+
8 / 16
3200
4100
-
65W
Ryzen 5 Pro 2600
Zen+
6 / 12
3400
3900
-
65W
Ryzen 5 Pro 1500
Zen
4 / 8
3500
3900
-
65W
Ryzen 5 Pro 2400G
Zen
4 / 8
3600
3900
11
65W
Ryzen 5 Pro 2400GE
Zen
4 / 8
3200
3800
11
35W
Ryzen 3 Pro 1300
Zen
4 / 4
3500
3700
-
65W
Ryzen 3 Pro 2200G
Zen
4 / 4
3500
3700
8
65W
Ryzen 3 Pro 2200GE
Zen
4 / 4
3200
3600
8
35W
Athlon Pro 200GE
Zen
2 / 4
3200
-
3
35W
The four new processors are the Ryzen 7 Pro 2700X, 2700, 2600X, and the Athlon Pro 200GE, the latter matching the consumer product also announced today. AMD's Pro product stack is now filling out with APUs and the latest generation parts, which will be good news to OEMs that deploy systems based on these. The low-cost 200GE should also help with thin clients that require video output.
Availability
The Athlon 200GE should be on shelves within weeks, while the Pro lines will be integrated into OEM systems when those OEMs have analyzed their product strategies, perhaps in Q4.
Can We Talk About the New Athlon Logo
The first thing that struck me with this announcement was that the Athlon logo had been adjusted. Several exhibits as shown in reverse chronological order:
Having the name Athlon in the 'Ryzen' font just doesn't look quite right. The chip isn't called a Ryzen, like the regular CPUs, Threadripper, or like EPYC. Maybe it's just me. It makes me wonder how good/bad the Opteron name would be in this font. Thoughts?
Related Reading