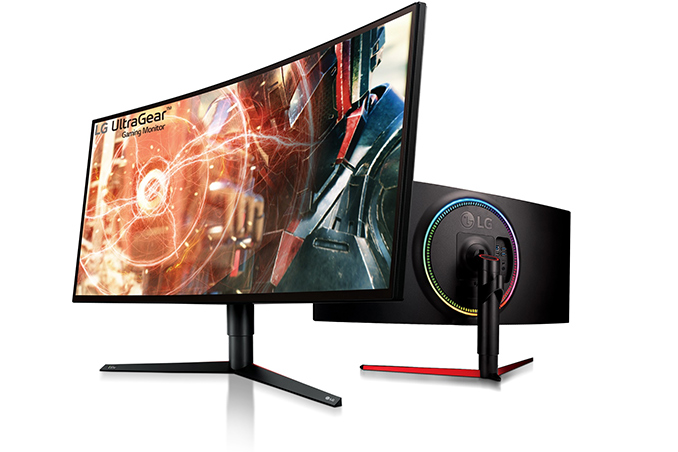 LG has introduced its new UltraGear trademark for gaming monitors, which are intended to complement its UltraWide and UltraFine-branded displays. Among LG's Ultra displays, the UltraGear LCDs will be specifically designed for gamers and will be equipped with features to match. The first two monitors in the new lineup will be the UltraGear 34GK950-series 34-inch curved displays, one with FreeSync 2 and one with G-Sync.
LG's Nano-IPS Treatment Gets to Gaming Displays
Both UltraGear 34GK950-series monitors are based on LG's 34-inch 3440×1440 resolution IPS panel, offering a 21:9 aspect ratio and 5 ms GtG response times. LG does not disclose curvature radius of the monitors, but considering their sizes and positioning, it is reasonable to expect something standard like 1800R or 1900R. Meanwhile, paired with LG's LED backlighting, the complete display can hit 400 nits of brightness and a 1000:1 contrast ratio.
The main thing about both UltraGear 34GK950-series monitors is LG's backlighting featuring its Nano-IPS technology, which LG yet has to explain in detail. As the name implies, the tech relies on nanoparticles applied to the screen's LED backlighting to absorb excess light wavelengths and improve intensity, purity, as well as the accuracy of the on-screen colors. Fine-tuning spectral output of backlighting enables LG to improve color reproduction and the company claims that both LCDs can display 1.07 billion colors while covering 98% of the DCI-P3 color gamut (which is a better result than that of LG's professional-graded 31MU97-B, at least on paper).
In theory, adjusting backlighting spectral output should also improve contrast ratio: however the UltraGear 34GK950-series displays both are rated for 1000:1, which in normal for IPS-type displays. Meanwhile, both monitors carry VESA's DisplayHDR 400 badge, which mandates rather light requirements for both HDR brightness and blacks/contrast ratio. By contrast, LG's 'non-gaming' 32UK950 monitor featuring a Nano IPS backlighting announced last year features a 1300:1 contrast ratio and is DisplayHDR 600-certified, which means that it can hit a tunnel maximum limit of 0.1 nits max.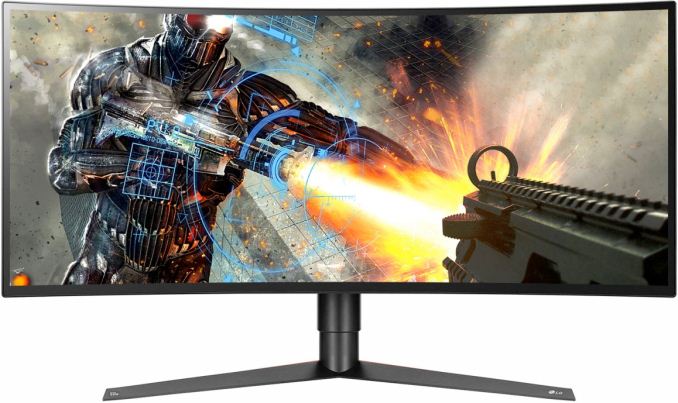 G-Sync at 120 Hz or FreeSync 2 at 144 Hz?
Moving on to the key difference between the two UltraGear displays: the UltraGear 34GK950G-B supports NVIDIA's G-Sync dynamic refresh rate technology, whereas the UltraGear 34GK950F-B features AMD's FreeSync 2.
The UltraGear 34GK950G-B (G-Sync model) supports a native refresh rate of 100 Hz and can be overclocked to 120 Hz. It is unclear whether LG had to use a panel with such a refresh rate because it was compatible with NVIDIA's G-Sync scaler, or it is a limitation introduced by the combination of the panel and the scaler. LG does not disclose the range of variable refresh rate.
The LG 34GK950-Series Displays
34GK950G-B
34GK950F-B
Panel
34" IPS
Native Resolution
3440 × 1440
Refresh Rate
Native: 100 Hz
Overclocked: 120 Hz
144 Hz
Dynamic Refresh Rate
Technology
NVIDIA G-Sync
AMD FreeSync 2
Range
?
?
Response Time
4 ms (gray-to-gray)
5 ms (gray-to-gray)
Brightness
400 cd/m²
Contrast
1000:1
Color Gamut
125% sRGB
98% DCI-P3
?
Viewing Angles
178°/178° horizontal/vertical
Curvature
?
?
Inputs
1 × DisplayPort 1.2
1 × HDMI 2.0
1 × DisplayPort 1.2
2 × HDMI 2.0
USB Hub
3 × USB 3.0 Type-A
2 × USB 3.0 Type-A
Audio
1 × 3.5-mm audio jack for headphones
1 × 3.5-mm audio jack for input
Proprietary Enhancements
-
-
Stand
Height
110 mm
Tilt
+
+
Swivel
+
+
Power Consumption
Idle
0.3~0.5 W
Typical
95 W
Maximum
140 W
By contrast, the UltraGear 34GK950F-B (the FreeSync model) supports a native refresh rate of 144 Hz, though FreeSync range is also unknown here. Besides a higher refresh rate, the 34GK950F-B is FreeSync 2 certified, which means that it supports Low Framerate Compensation, and select applications can tone map directly to this monitor's native dynamic range, reducing input lag and improving quality.
Gaming Specials
Since LG's UltraGear 34GK950-series displays are aimed at gamers, the company has equipped them with a number of gaming-related features.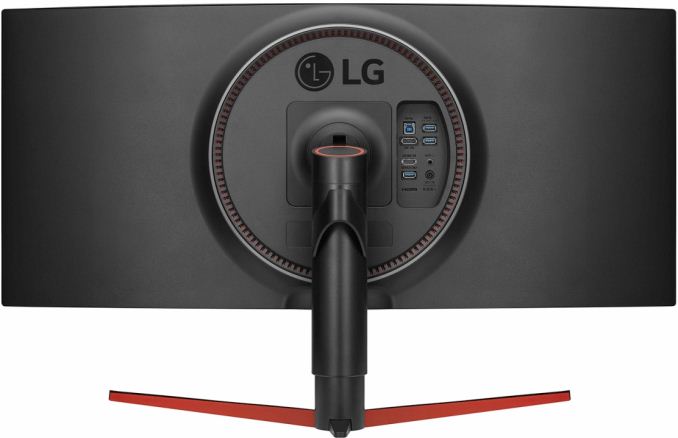 First up, both monitors are outfitted with techniques to reduce motion blur in fast-paced gaming actions in a bid to make them look sharper. LG does not say whether it uses NVIDIA's ULMB method for the UltraGear 34GK950G-B and something similar for the UltraGear 34GK950F-B, but this scenario looks quite likely. ULMB inserts a black image between each video frame to reduce time each frame is displayed, therefore making everything look sharper. A number of display makers (ASUS, Acer, BenQ, etc.) have introduced a similar technology for AMD FreeSync-supporting LCDs, so LG could do something similar as well. In any case, both monitors advertise "1 ms motion blur reduction" feature.
Next up is LG's proprietary Dynamic Action Sync (DAS) technology that reduces input lag by eliminating certain internal processing of the display. A number of other makers of gaming displays have introduced their input lag reducing techniques, so it is natural that LG wanted to add the feature to its UltraGear displays.
In addition, just like previous-gen gaming LCDs from LG, the new monitors support brightness presets for FPS and RTS games as well as the Crosshair feature. The only difference here is that the UltraGear 34GK950G-B features three presets for FPS and RTS genres, whereas the UltraGear 34GK950F-B supports the so-called Black Stabilizer technology that adjusts brightness in dark scenes. LG does not explain whether the Black Stabilizer simply ups brightness when it detects a dark scene, or uses a more sophisticated technique, but the point is that owners of the UltraGear 34GK950F-B will not get lost in dark tunnels of Doom or Metro 2033.
Same Chassis, Same Look, But There Are Differences
LG's UltraGear 34GK950G-B and UltraGear 34GK950F-B monitors use the same chassis that features very thin borders on all sides and a stand that can adjust tilt, height, and swivel.
On the connectivity side of things, the monitors have DisplayPort and HDMI inputs (two HDMI inputs in case of the 34GK950F-B), a dual/triple-port UBS 3.0 hub, an audio input, and a headphone output.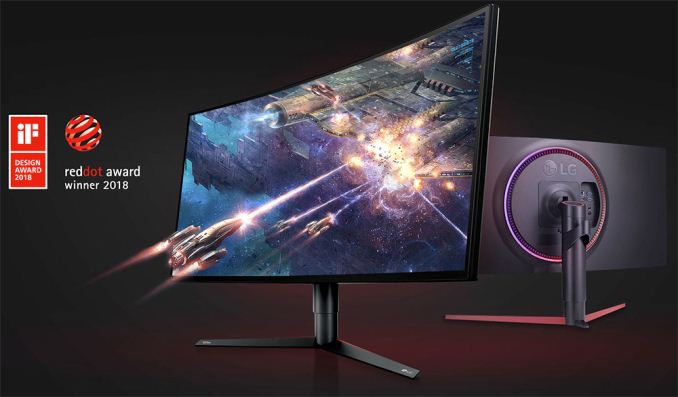 The key difference between the G-Sync and FreeSync-supporting UltraGear 34GK950-series displays is that the G-Sync model has Sphere Lighting — a ring of RGB LEDs with six color settings — on the back. By contrast, the FreeSync model has red inlays on the back to emphasize its gaming nature, a method used by a variety of hardware manufacturers.
Pricing and Availability
LG does not disclose availability timeframe for its UltraGear 34GK950-series monitors; for the moment it's only saying that they are "coming soon", which is a very flexible definition that may equally mean by holiday season 2018 or sometimes post-CES 2019. As for pricing, LG's non-gaming UltraWide 34UC98-W featuring a WQHD resolution and a 60/75 Hz refresh rate used to cost $1000 (it is currently available for $800). Keeping in mind more advanced panels and higher refresh rates of the UltraGear 34GK950-series, we are definitely talking about prices that are north from the previous series.
Related Reading
Source: LG