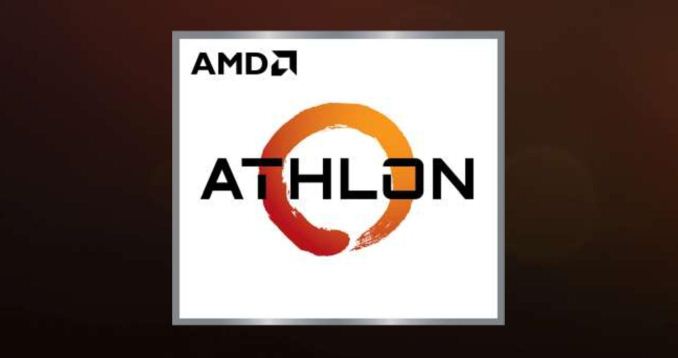 AMD this week started selling its entry-level Athlon 200GE APUs designed for the most affordable PCs. The Athlon 200GE costs less than $60 at retail and happens to be the cheapest processor carrying AMD's Zen cores as well as the Radeon Vega iGPU. It also has a 35 W TDP and is therefore compatible with virtually all AM4 motherboards and cooling systems.
The AMD Athlon 200GE carries two SMT-enabled Zen cores running at 3.2 GHz frequency, a Radeon iGPU featuring 192 stream processors operating at 1 GHz, 1 MB L2 cache, 4 MB L3 cache, a dual-channel DDR4-2667 memory controller, and so on. The APU can power affordable PCs that do not need a lot of compute horsepower and enables AMD to compete against Intel's entry-level Celeron and Pentium processors for this market segment using its latest technologies (Zen and Vega).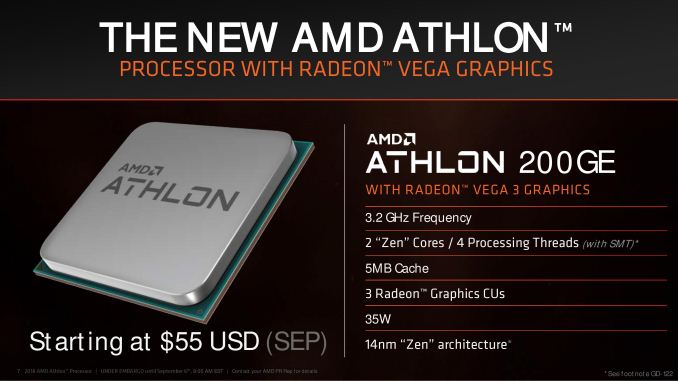 Notably, even with the low price, AMD isn't holding back on feature support here. Since the CPU is drop-in compatible with AMD's 300 and 400-series platforms, systems based on the CPU will support high-performance NVMe SSDs, USB 3.1 Gen 2 interface, 4Kp60 display output(s) and so on. As an added bonus, AMD's AM4 platforms also support DRAM overclocking and an upgrade path all the way to eight-core Ryzen 7 CPUs.
AMD's Retail Stack
AnandTech
Zen
Cores
w/HT
Base
Freq
Turbo
Freq
Vega
CUs
TDP
MSRP
Ryzen 7 2700X
Zen+
8 / 16
3700
4300
-
105W
$329
Ryzen 7 2700
Zen+
8 / 16
3200
4100
-
65W
$299
Ryzen 5 2600X
Zen+
6 / 12
3600
4200
-
95W
$229
Ryzen 5 2600
Zen+
6 / 12
3400
3900
-
65W
$199
Ryzen 5 1500X
Zen
4 / 8
3500
3700
-
65W
$159
Ryzen 5 2400G
Zen
4 / 8
3600
3900
11
65W
$169
Ryzen 3 1300X
Zen
4 / 4
3500
3700
-
65W
$114
Ryzen 3 2200G
Zen
4 / 4
3500
3700
8
65W
$99
Athlon 240GE
Details to be disclosed in Q4
Athlon 220GE
Details to be disclosed in Q4
Athlon 200GE
Zen
2 / 4
3200
-
3
35W
$55
* Released but not at retail
In addition to the Athlon 200GE processor, AMD is gearing up to release its higher-performing Athlon 220GE and Athlon 240GE processors later this year, which will further improve its competitive positions in the entry-level segment.
While AMD has formally started to sell its Athlon 200GE processor, its actual availability is a bit of a mixed bag. In the U.S., the Athlon 200GE can be pre-ordered for $59.99 only from Newegg. Other stores may follow shortly, but right now the chip is a rare animal in the U.S. The processor is more readily available in the U.K., but prices vary greatly from £50 to £73 ($65 - $96). The situation is much better in mainland Austria and Germany: the Athlon 200GE can be purchased from multiple retailers at prices that make sense. Meanwhile, Amazon seems to overprice the chip in France and Spain.
AMD Athlon 200GE Availability and Pricing
As of 8 AM EST September 21, 2018
Retailer
Country
Local Price
Equivalent in USD w/o VAT
Amazon
U.S.
-
-
B&H Photo Video
U.S.
-
-
Fry's Electronics
U.S.
-
-
Newegg
U.S.
$60
-
Amazon UK
U.K.
£73
$80
Ebuyer
U.K.
£55
$60
Overclockers UK
U.K.
-
-
Scan
U.K.
£50
$54
Amazon DE
Germany
-
Amazon ES
Spain
€67
$65
Amazon FR
France
€73
$72
Alternate
Austria
€54
$53
Cybersport
Austria
€56
$55
Proshop
Austria
€54
$53
Bora Computer
Germany
€59
$58
CaseKing
Germany
€60
$60
K&M Computer
Germany
€59
$58
Komplett
Denmark
Finland
Sweden
-
-
Proshop
Denmark
506 kr
$64
Proshop
Finland
€64
$60
Proshop
Norway
579 kr
$60
Proshop
Sweden
643 kr
$58
Related Reading: