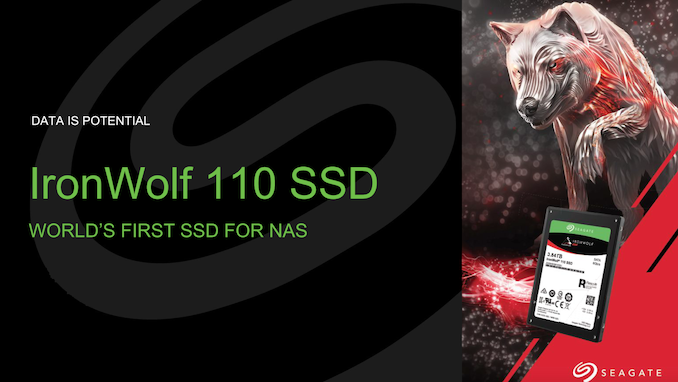 The recent drop in flash pricing has resulted in high-performance SSDs at wallet-friendly price points. NAS units currently being introduced also come with tiering support, allowing the flash-based storage devices to act as caches and improve the performance for real-world workloads. SMBs and SMEs are currently using enterprise SSDs for this purpose, while home consumers / prosumers have no qualms about using consumer SSDs for this purpose. The current trends indicate that there is a market for SSDs specifically targeting the NAS market, as long as it is at the right price point.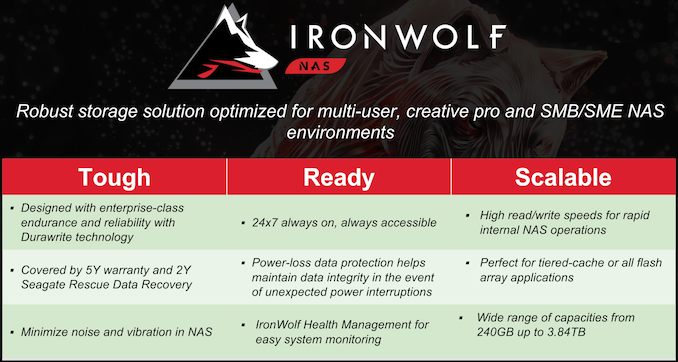 Seagate is introducing the IronWolf 110 SATA SSD series at CES 2019, with retail availability slated for late January. Available in capacities ranging from 240GB to 3.84TB, the new SSDs are touted to be enterprise-class. They come with DuraWrite technology, pointing to a Seagate controller based on SandForce technology. The SSDs use 3D TLC and have sustained performance numbers of 560 / 535 MBps sequential reads / writes across the 480GB - 3.84TB capacity class. Detailed specs for each capacity are available below.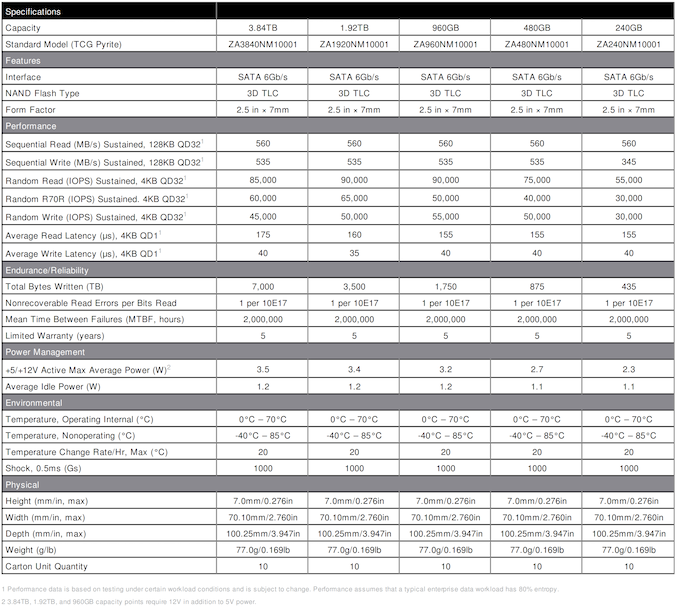 The IronWolf 110 SSD series supports 1 DWPD endurance, which implies that Seagate expects them to be used for the typical read-heavy NAS scenarios (which is characteristic of most prosumer / SMB use-cases). Many readers might recognize that the IronWolf 110 seems very similar to the Seagate Nytro 1351, and in fact, they both share the same hardware design - right down to the 1TB and higher models requiring a 12V rail. The controller (Seagate proprietary, with DuraWrite technology similar to the compression scheme used in the SandForce controllers) and PCB are the same. However, the firmware is slightly different to target NAS use-cases and enable easier qualification with NAS OEMs. The IronWolf SSDs also supports the NAS Health Management utility and comes with 2 years of Rescue service (which is not available with the Nytro series).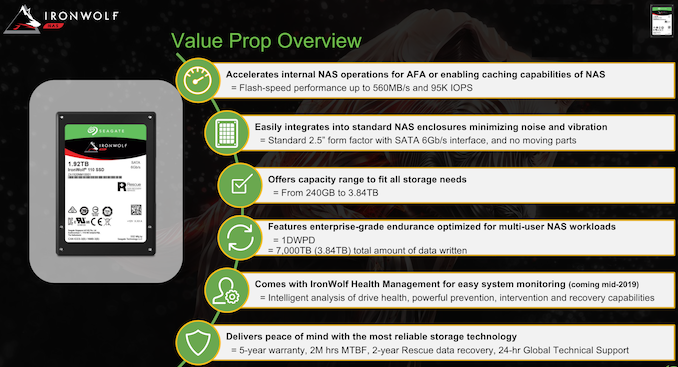 Seagate is hoping to sell the IronWolf SSDs to prosumers, creative pros, SMB, and SME NAS users. Prosumers and creative professionals with 10G-capable NAS units are bound to benefit from flash-equipped bays. While enterprise SSDs are the way to go for all-flash arrays with write-heavy workloads, other SSD-in-NAS use-cases in the SMB and SME space can benefit from SSDs such as the IronWolf 110. The warranty and bundled data-recovery services are key value additions in this market. However, pricing will be key when it comes to choosing between the IronWolf 110 and other enterprise / high-end consumer SATA SSDs in the market.
Source: Seagate