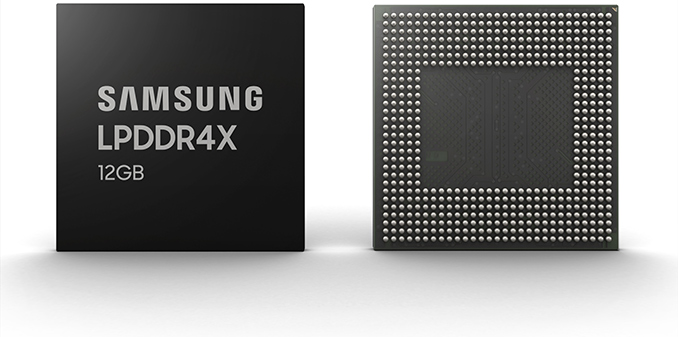 Samsung announced late on Wednesday that it had started volume production of 12 GB LPDDR4X-4266 memory for high-end smartphones. The chip is currently the highest-density DRAM for mobile applications. The first smartphone to use Samsung's 12 GB LPDDR4X DRAM package will be the company's own Galaxy S10+ handset formally announced last month.
Samsung's 12 GB LPDDR4X package integrates six 16 Gb memory devices featuring a 4266 MT/s data transfer rate at 1.1 Volts and produced using the company's second-generation '10nm-class' process technology (also known as 1y-nm). The 12 GB memory module is 1.1 mm tall, which is a bit higher than standard quad-die LPDDR4X packages (which are thinner than 1 mm), but Samsung has managed to incorporate the device into its latest premium smartphone.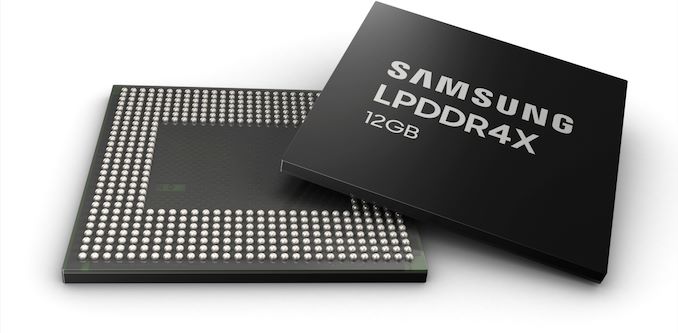 Samsung's 16 Gb LPDDR4X devices have been in mass production for well over half a year now, so it was a matter of time before Samsung assembled a 12 GB package for smartphones using these chips. However, integrating six 16 Gb LPDDR4X memory devices into a single package was not a straitforward task.
Standard LPDDR4/LPDDR4X modules use one, two, or four memory devices (for simplicity, we are going to use terminology from Synopsys here). Single-die and dual-die "Standard Packages" contain one or two x32 DRAM devices featuring two independent x16 data buses per die. There are also "Byte-Mode Packages" because they use dies connected using two x8 data buses to the host memory controller. Finally, there are "Mixed Mode Packages" that contain DRAM devices that are accessed differently in different ranks.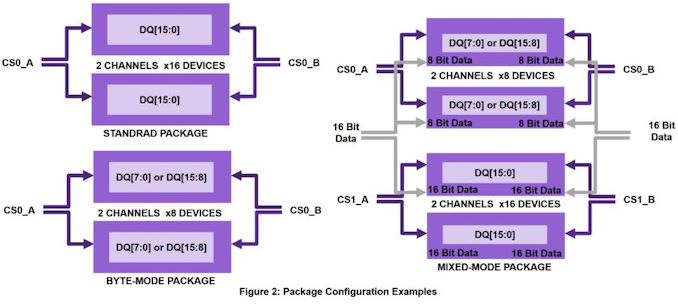 Image source: Synopsys
Samsung's 12 GB LPDDR4X package is among the industry's first LPDDR4X MMP products that provides a peak memory bandwidth of up to 34.1 GB/s. The package uses a dual-rank topology along with x8 and x16 data buses. Samsung calls this "mixed" byte and non-byte mode.

Traditionally, DRAM makers announce start of mass production after they ship the first batch of devices to a customer. Keeping in mind that Samsung introduced its Galaxy S10+ last month and the phone is about to hit volume production, it is not surprising that the company's 12 GB LPDDR4X packages have already been supplied. It is noteworthy that Samsung promises to boost production of 8 GB and 12 GB LPDDR4X packages in the second half of the year to meet "the anticipated high demand".
Related Reading
Source: Samsung