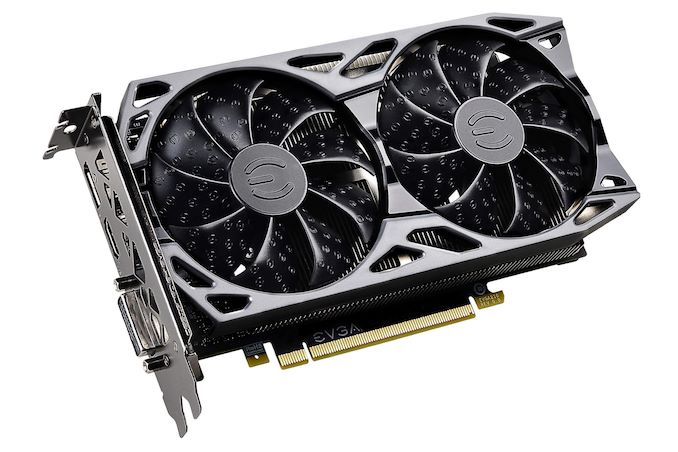 After taking a break following the launch of NVIDIA's GeForce RTX 20 series Super cards, as well as AMD's new RDNA architecture-based Radeon RX 5000 series cards, the video card market is heating back up again just in time for the all-important holiday shopping season. Looking to fill in the mainstream portion of the market, AMD is already shipping its Radeon RX 5500 series cards to OEMs – with retail to follow shortly – and meanwhile NVIDIA is making its own machinations for the market.
Kicking off the first of the actual hardware launches for this holiday rumble is NVIDIA, who is announcing their GeForce GTX 1660 Super. This is a relatively minor, but none the less interesting revision to the GTX 1660 family that adds a 1660 (vanilla) SKU with faster GDDR6 memory for improved performance. Along with the GeForce GTX 1650 Super (shipping in late November), these two cards are going to be the backbone of NVIDIA's mainstream efforts to close out the year. And while NVIDIA's other GTX 1660 cards aren't going anywhere, as we're going to see today, with its $229 price tag, the GDDR6-equipped GTX 1660 Super is pretty much going to make the other 1660 cards redundant.
The fourth Super card to be launched by NVIDIA, the GTX 1660 Super is a bit of a harder read than the high-end cards that launched this past summer. In terms of performance, the card is just shy of the GTX 1660 Ti, and priced just north of the GTX 1660 (vanilla). But unlike the other Super cards, this launch isn't the same kind of transparent price shuffle that the earlier launch was; NVIDIA isn't discontinuing any cards this time, and the retail shelves will be shared by all three GTX 1660 series cards for the months to come. None the less, this latest card does at least fill the same basic role of serving as a kind of mid-generation kicker – even if the original GTX 1660 only launched 7 months ago.
NVIDIA GeForce GTX 1660 Series
Card
Configuration
Price (10/29)
GTX 1660 Ti
Full TU116
w/12Gbps GDDR6
$279
GTX 1660 Super (New)
Cut-down TU116
w/14Gbps GDDR6
$229
GTX 1660
Cut-down TU116
w/8Gbps GDDR5
$219
The wildcard factor here, as is often the case, is AMD. The company has already announced some of its RX 5500 product family. However it's not clear just what to expect from the cards in terms of performance, especially as AMD has been framing it relative to NVIDIA's lower-end GTX 1650. So while at face value, the GTX 1660 Super seems like an NVIDIA counter to AMD's impending launch, outside of the AMD and NVIDIA testing labs, it's remains to be seen where things end up.
The one thing that is clear, however, is that this may as well be a de facto price cut for NVIDIA's GeForce GTX 1660 Ti. Set to be released at $50 less than NVIDIA's fastest GTX 1660 card, the GTX 1660 Super is only the slightest bit slower than the GTX 1660 Ti, delivering around 96% of its performance – barely outside of our regular run-to-run variation. When NVIDIA went about cutting down the GTX 1660 Ti to create the original GTX 1660, the single biggest change there was swapping out GDDR6 for cheaper GDDR5. Now that they've effectively undone this – and then some – most of the performance that NVIDIA shaved off for the GTX 1660 has come back in the lower-priced Super card. As a result, while the GTX 1660 Super doesn't offer anything in terms of performance that we haven't seen before, it brings this level of Turing performance down to a lower price, and, NVIDIA hopes, something that's more enticing to GTX 10 and 9-series owners who have been put-off by the relatively high prices of recent cards.
NVIDIA GeForce Specification Comparison
GTX 1660 Ti
GTX 1660 Super
GTX 1660
GTX 1060 6GB
CUDA Cores
1536
1408
1408
1280
ROPs
48
48
48
48
Core Clock
1500MHz
1530MHz
1530MHz
1506MHz
Boost Clock
1770MHz
1785MHz
1785MHz
1708MHz
Memory Clock
12Gbps GDDR6
14Gbps GDDR6
8Gbps GDDR5
8Gbps GDDR5(X)
Memory Bus Width
192-bit
192-bit
192-bit
192-bit
VRAM
6GB
6GB
6GB
6GB
Single Precision Perf.
5.5 TFLOPS
5 TFLOPS
5 TFLOPS
4.4 TFLOPs
TGP
120W
125W
120W
120W
GPU
TU116
(284 mm2)
TU116
(284 mm2)
TU116
(284 mm2)
GP106
(200 mm2)
Transistor Count
6.6B
6.6B
6.6B
4.4B
Architecture
Turing
Turing
Turing
Pascal
Manufacturing Process
TSMC 12nm "FFN"
TSMC 12nm "FFN"
TSMC 12nm "FFN"
TSMC 16nm
Launch Date
02/22/2019
10/29/2019
03/14/2019
07/19/2016
Launch Price
$279
$229
$219
MSRP: $249
FE: $299
So what exactly is the GeForce GTX 1660 Super? In short, take a GTX 1660 (vanilla), replace the 8Gbps GDDR5 with 14Gbps GDDR6, dial up the TDP a few watts to accommodate the increased power needs, and you have a GTX 1660 Super.
On the GPU front, nothing has changed relative to the GTX 1660. It's the same TU116 GPU in the same partially-disabled configuration with the same clockspeeds. Truthfully, I'm not even sure NVIDIA's GPU binning operations changed for this product, or if they just had partners slap TU116-300 GPUs on a PCB wired for GDDR6. Either way, the net result is that on-paper performance hasn't changed from GTX 1660, as the GPU itself can process just as many pixels, texels, and data elements as before.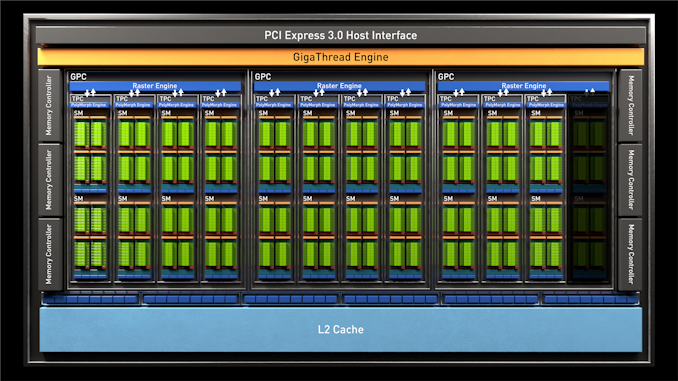 Instead, what has changed is the memory support, and this is where the vast majority of GTX 1660 Super's performance gains lie. Whereas the original GTX 1660 shipped with 8Gbps GDDR5 as both a means to cut costs and differentiate/segment the card from the full-fledged GTX 1660 Ti, GTX 1660 Super gets all the memory bandwidth it can handle. NVIDIA has given it 6GB of 14Gbps GDDR6, the fastest grade of memory they currently have available. This gives the GTX 1660 Super 336GB/sec of memory bandwidth, 75% more bandwidth than the original GTX 1660, or as much as the RTX 2060. And this extensive amount of bandwidth is almost entirely responsible for the 12% performance gains we see over the original card.
In fact, the GTX 1660 Super actually has more memory bandwidth than the higher-end GTX 1660 Ti. That card shipped with slightly slower (and cheaper) 12Gbps GDDR6, giving the GTX 1660 Super a bandwidth advantage that further erodes the small lead that the GTX 1660 Ti holds on to. As thing stand, TU116 is almost overfed by GDDR6, which is why GTX 1660 Super isn't overtaking GTX 1660 Ti despite its advantage; at this level of performance, the extra memory bandwidth isn't nearly as important as the extra two SMs that GTX 1660 Ti gets.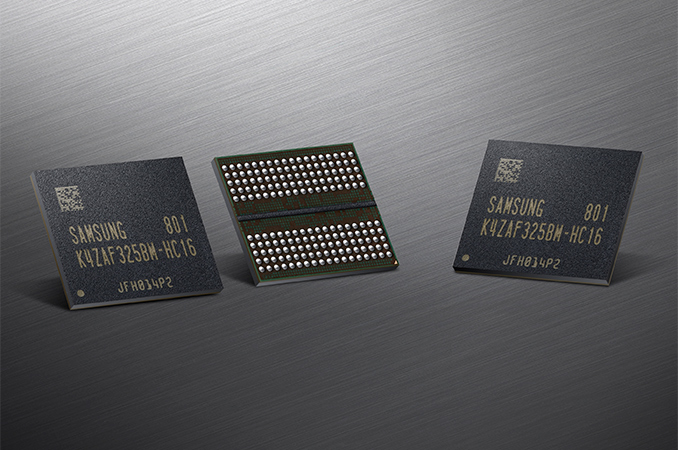 Finally, as a member of the GTX 1660, the latest card gets a very similar, but not quite identical TGP of 125W. This a small 5W increase over the GTX 1660 and 1660 Ti (as well as the GTX 1060/960 families), and appears to be mostly here to accommodate the greater power needs that come from shipping with fast GDDR6 memory – GTX 1660 Super would otherwise lose a bit of clockspeed versus the original GTX 1660. It's also a small enough change that board vendors should have no problem accommodating the increased power needs with their existing GTX 1660 Ti designs, meaning that GTX 1660 Super cards can be readily built with current parts. The only drawback in this case is that the higher TDP and lower performance versus the GTX 1660 Ti means that GTX 1660 Super isn't quite as power efficient as the card it otherwise renders redundant.
The Messy State of NVIDIA's Product Stack
If it feels like NVIDIA has launched a lot of GeForce video cards over the past year, that's because they have. In the 13 months going back to the initial launch of the Turing architecture and the GeForce RTX 20 series of cards, NVIDIA has now launched 12 different GeForce SKUs. And even if we toss out the RTX 2080 and RTX 2070, which were formally discontinued but still sit on some store shelves, NVIDIA's current product stack is still 10 cards deep.
NVIDIA GeForce 20/16 Series (Turing) Product Stack
RTX 20 Series
GTX 16 Series
RTX 2080 Ti
GTX 1660 Ti
RTX 2080 Super
GTX 1660 Super
RTX 2080 (Discontinued)
GTX 1660
RTX 2070 Super
GTX 1650 Super
RTX 2070 (Discontinued)
GTX 1650
RTX 2060 Super
RTX 2060
By comparison, the GeForce GTX 10 series product stack was only 8 cards deep at its messiest point, and that was after the GTX 1070 Ti was launched some 16 months later.
To be fair to NVIDIA, some of this is because the GeForce product stack goes higher in price than before, especially with the $1100 RTX 2080 Ti. Still, NVIDIA has launched more cards at a faster pace than at any point in the past half-decade. The Super cards in particular have added significantly to this count, with NVIDIA shipping what amounts to a mid-generation refresh for their lineup not even a year into its launch. Compared to the GTX 9 series and GTX 10 series, where NVIDIA had distinct two-year product cycles and launched very little filler in between, the RTX 20 series and GTX 16 series has essentially brought us back to yearly card launches aliased over two-year GPU cycles.
Ultimately this means there are a very large number of NVIDA video card options on the market, with NVIDIA offering 5 SKUs below $300. Factor in the board vendors doing their own factory overclocks for their premium cards, and we're looking at a GeForce for every price. As a sales strategy, market saturation is definitely a viable method to maximize sales – making sure there's always a card at a price someone is willing to spend – but it does make something of a mess of NVIDIA's product stack, especially now with three different GTX 1660 cards.
Product Positioning & The Competition
Shifting gears, let's talk about the hardware behind today's launch. As the new GTX 1660 Super cards are a mid-generation kicker of a mainstream card, there aren't any reference cards to speak of here. Instead, this is a pure virtual launch, with all of the cards on the market being partner designs.
At this point, the partners have been shipping TU116-based cards for over 6 months, so they have been able to hone their GTX 1660 family designs. This means that they're hitting the ground running, using their existing card designs for the GTX 1660 Super. At this point I haven't seen any new designs specifically for the Super card, and I'm not expecting any either. So these cards will look and perform similarly to the GTX 1660 cards already on the market.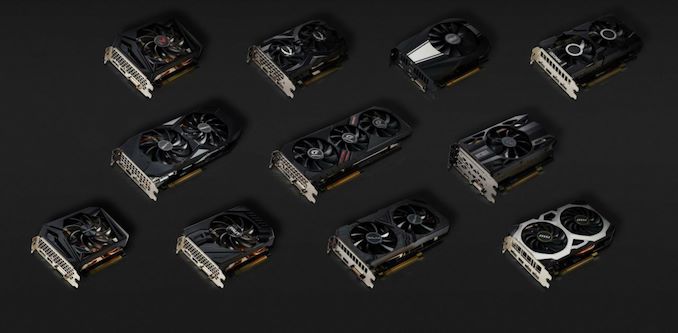 Unsurprisingly, the GTX 1660 Super occupies the same general slot within NVIDIA's product stacks as the easier GTX 1660 cards. Which means that for system builders and upgraders alike, NVIDIA is pitching the card at the same general audience as before. That the GTX 1660 Super offers better performance for the price is definitely an improvement here, and it will presumably ensure NVIDIA gets to stay ahead of AMD's impending cards.
Upgraders however will likely end up being a bit more discerning; Turing isn't a whole generation ahead of the Pascal-based GTX 10 series cards with respect to performance, and the GTX 1660 Super doesn't change this. So while it's around 35-40% faster than a GTX 1060 6GB, GTX 1660 Super is going to be much more enticing to GTX 960 owners and the like, where the new card delivers more than twice the performance.
Meanwhile, as I mentioned towards the start of this article, while NVIDIA is launching the new GTX 1660 Super card today, they are not going to be retiring any of their other cards in its wake. So, on paper, the GTX 1660 Super is going to be positioned very narrowly between the GTX 1660 Ti and the GTX 1660 (vanilla).
At current prices, the $229 GTX 1660 Super is $50 cheaper than the GTX 1660 Ti. And with the card only trailing NVIDIA's top 1660 card by about 4%, I would argue that the GTX 1660 Ti has been rendered redundant at this point; the GTX 1660 Ti isn't far enough ahead to provide much in the way of value. Instead, the next real step up after the GTX 1660 Super is the GTX 2060, which is 22% faster, but running at around $100 more expensive.
Otherwise, coming from the other direction the vanilla GTX 1660 is still regularly found for around $219. With just a $10 price gap between it and the GTX 1660 Super, the Super card is the obvious choice right now, as 12% more performance is more than worth the $10. Despite all of this, NVIDIA insists that they and their partners are going to keep selling the vanilla GTX 1660. So it will be interesting to see what NVIDIA actual does here, both in terms of card supply and pricing. The GTX 1660 has to come down in price to have any future; and if that were to happen, then it might make for a decent sub-$200 spoiler.
It's also worth noting here that NVIDIA isn't doing any bundles or other promotional offers for any of the GTX 16 series cards, so what you see is what you get with the new cards.
Finally, the competitive situation for the GTX 1660 Super is a mixed bag. AMD is still doing what they can, and in this case is pitching the Radeon RX 590 as their closest GTX 1660 Super competitor. The admittedly awkward, late-cycle Polaris card was originally created to beat GTX 1060 6GB on performance (while throwing power efficiency out the window), which it certainly did. However this means it's outgunned by the GTX 1660 Super by around 20% (and a whole lot less power), which is why AMD is instead using the card to stake their claim to the $199 price point. So for buyers who absolutely can't go above $200, it's an option; but at this point GTX 1660 Super doesn't face any major competition.