Introduction
Over the past couple of years, we have reviewed a few laptops that qualify as ultraportables. With a name like that, it's little surprise that in terms of size and weight, these laptops often set themselves apart from the rest of the market. The problem is that getting all of the functionality people want into a package this small generally requires compromises. There is definitely a market for small, highly portable laptops that offer good battery life. Just don't expect to get all of that with performance that can come anywhere near matching larger notebooks - let alone desktops.
Several factors frequently limit the performance we find in ultraportables. First, heat is obviously going to be a problem, and for this reason we usually find much slower processors and a complete lack of discrete graphics. Space is also at a premium, which ties into the first point by making it difficult if not impossible to fit the necessary heat sinks and fans into a small chassis. The reduced size often means that other features are cut, and it's not unusual to see ultraportables that lack optical drives.
In the quest to reduce component footprints, companies have created smaller standards over time, one of the latest being 1.8" hard drives. The problem with such a small physical hard drive size is twofold: storage capacity is obviously lower, but performance suffers as well. Finally, tying up all of the above points is the topic of battery life. What's the point of making a small notebook if you still have to lug around a large battery in order to get reasonable battery life? Thus, performance is often further reduced in order to keep power requirements in check.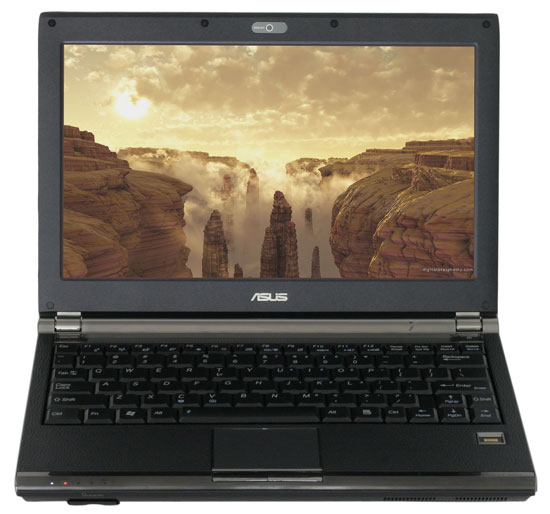 All of the above means that ultraportables often disappoint users who don't know what to expect. A good example of this is the MacBook Air, which at first blush looks like a very sleek, sexy laptop.Dig a little deeper, however, and many people will discover that the missing features are just too important. Small keyboards, lack of integrated optical drives, and lackluster performance all play a role, and then you still end up having to pay a price premium for the privilege of owning an ultraportable. Still reading? Good. Let's see how ASUS tries to avoid some of these pitfalls and whether or not they can succeed.