Introduction
We recently received Toshiba's latest X305-Q725 laptop, which targets the mobile gaming sector. We have our own thoughts on what is best in this sort of market, and we know plenty of people that think this sector is a joke, to put it bluntly. However, while many people have no interest in desktop replacement notebooks, there are users that want this sort of system, and this review is targeted at that audience. Everything clear? Good, let's continue.
This is the first laptop we've been able to test that ships with a quad-core CPU, and moreover it's a Penryn-based mobile quad-core chip as opposed to one of the larger units that simply uses a desktop CPU. The processor isn't left without a supporting cast, though, with NVIDIA's current top-end mobile GPU, a 64G SSD backed by a 320GB HDD, 4GB RAM, and Windows Vista 64-bit Ultimate. How does the laptop perform and where are its strengths and weaknesses? That's what we're here to find out.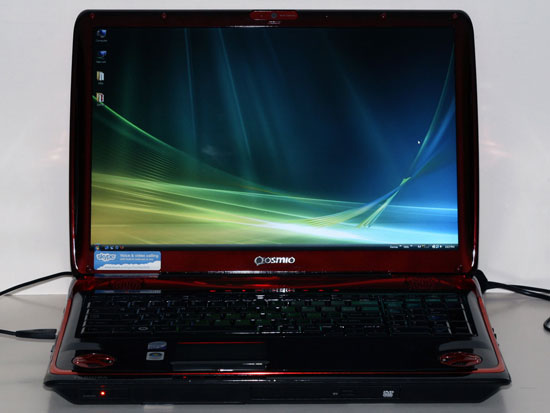 Right from the start, we know that this isn't going to be a laptop for everyone. When we mentioned battery life testing, our marketing contact was quick to point out that mobility wasn't a primary focus of this system. We agree with that assessment, but that doesn't mean we don't think gaming laptops inevitably have to have poor battery life. NVIDIA has worked with Intel and other companies to provide for hybrid graphics solutions where the discrete GPU can be disabled to conserve battery life, turning over graphics duties to the integrated solution. With high-end mobile GPUs using 10-20W even when idle, the ability to shut off such components could prove extremely useful. Unfortunately, Toshiba didn't attempt to provide such functionality, so the 9800M GTX is a constant drain on the battery. Couple that with a quad-core CPU, dual hard drives (one SSD and one 7200RPM drive), and plenty of other extras and we're once again looking at a laptop that is far more of a transportable desktop replacement (DTR) as opposed to a mobile computing solution.
There's nothing wrong with that sort of design, of course: plenty of people could use a portable workstation they can easily move between the home, clients, and office. We still think Toshiba could do more to address battery life, but the fact is all of the other components would still keep battery life under two hours in all likelihood. Until we get quad-core CPUs that can fully power down extra cores, plus supposedly better power management courtesy of Windows 7, the ability to get top-end AC performance without killing battery life remains out of reach.
So, what exactly does the Toshiba X305-Q725 offer, how much does it cost, and is it worth it? Let's get to it and find out.