Many people have no desire for anything other than a moderately fast laptop -- in fact, these people are certainly the majority by a huge margin. They would rather have reasonable performance and improved battery life, preferably in a package that doesn't weigh as much as a small car. On the other hand, there are users out there who want as much performance as possible in a mobile workstation. If you happen to be a member of the latter group, various companies are about to launch a substantially faster mobile behemoth.
The first we heard of this new laptop is courtesy of Eurocom, who will begin shipping their new Phantom-i7 sometime in April. We snagged images off their website, which you can see in the following gallery.
If that laptop looks familiar, you might recognize it as the descendent of the Clevo D901C that we first looked at in August 2008. While the exterior looks about the same, the inside has received some notable upgrades. In place of desktop Core 2 Duo/Quad processors, the new D900F will support Core i7 desktop processors, up to and including the Core i7 965. That means in addition to a quad-core processor -- able to run eight threads courtesy of with Hyper-Threading -- you also get triple-channel DDR3 memory support via three SO-DIMM slots capable of supporting up to 12GB of DDR3-1333 memory. In addition, graphics have been upgraded to support the latest mobile NVIDIA GPUs, including dual GTX 280M cards in SLI.
Other areas remain essentially unchanged from the D901C. Three 2.5" hard drives are still supported, along with RAID 0/1/5, allowing up to 1.5 TB of storage with the latest laptop hard drives. Sadly, the keyboard also remains unchanged, which means you get perhaps the most unintuitive 10-key layout we've ever used. Clevo seriously needs to rethink the keyboard design -- Dell's XPS M1730 layout would be a good place to start.
Is this sort of notebook overkill? For some, certainly, but if you happen to need the ability to perform demonstrations of CAD/CAM/CAE, 3D rendering, video processing, or other professional applications away from the office on a regular basis, a mobile workstation is far more convenient than trying to haul around a 30+ pound desktop chassis. Pricing has not been announced, but it's a safe bet that these notebooks will start at well over $3000. You can view additional details of the system on Eurocom's website. The full text of the press release is included below.
UPDATE: So apparently there was some confusion on my part with the information sent. I'm leaving the original text, but there's plenty of errors that need to be corrected. First, the images above are NOT from the D900F but instead show the original D90xC chassis. Changes have been made, which means that the final product will look different from the above and have some other spec changes. Eurocom informed me that they are looking to support four physical hard drives, but it's not clear if that will really happen. Second, the D900F will have an HDMI port (presumably along with DVI) and an eSATA port. Finally, the D900F is not yet confirmed to support SLI (or CrossFire). Below is an image courtesy of Gophn at the NotebookReview forums. Now if you'll pardon me, I have some egg to wipe off my face....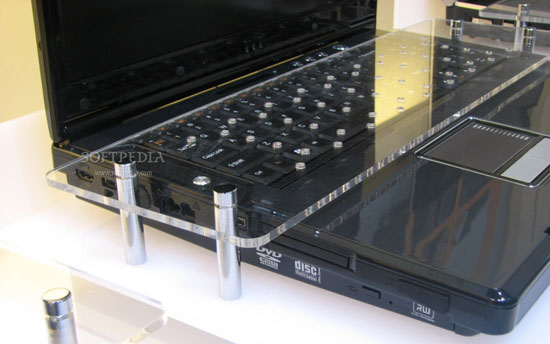 An actual picture of the D900F
---
March 1, 2009
Eurocom launches World's First i7 Notebook with Intel i7 Quad Core and Xeon Processors; 1GB NVIDIA GeForce Go GTX 280M or Quadro FX3700M; 1.5TB of storage with RAID 0/1/5 for On-the-Road Mobile Workstation or Mobile Server use.
The World's First workstation and server-class notebook with Intel i7 Quad Core or XEON processor; 1.5 Terabytes of storage, RAID 5 and internal 1 hour Battery!
Eurocom, the world's leading developer of highly personalized, high-performance notebook PCs and energy efficient All-in-One PCs, introduced the EUROCOM D901C PHANTOM-i7 Mobile Workstation/Server powered by Intel's newest line of Quad Core and XEON LGA1366 processors.
EUROCOM PHANTOM-i7 provides workstation and server-caliber capabilities with 1.5 Terabytes of storage with three physical SATA-300 hard drives and RAID 0/1/5, super-powerful 3.2GHz Intel Core i7 Processor Extreme Edition I7-965; 3.2GHz XEON X5580 processors running at 2x 6.4GT/sec bus speed or 2.93GHz Intel Core i7 Processor I-940 running at 4.8GT/sec with 8MB L3 cache, Gigabit Ethernet port on-board, HDMI, eSATA, DVI ports, with a 17" WUXGA LCD display and full size keyboard.
Featuring workstation-class or server-class Intel Core i7 or Xeon Processor and up to 16GB of DDR3-1366 memory, the D900F PHANTOM-i7 also features the largest storage capacity on the market today - a whopping 1.5TB with RAID 0/1/5 - making it the perfect mobile workstation or server laptop for users who demand extra-large capacity storage and reliability for true portable server / workstation experience.
EUROCOM PHANTOM-i7 supports most of 64-bit operating systems available on the market for XP Pro 64-bit, Vista 64-bit or Microsoft Server 2008 and Red Hat.
Driving the system is Intel Core i7 the newest 130W 3.2GHz Extreme Edition i7-965 processor with bus speeds of up to 2x 6.4GT/sec and 8MB of L3 cache, which delivers exceptional multi-tasking and multi-threaded performance. It also supports the newest line of Intel Core i7 Xeon processors X55xx series.
The PHANTOM-i7, which measures 15.8" x 11.9" x 2.05" and weights under 12lbs, also supplies tremendous SATA-300 storage (up to 1.5TB using three hard drives). Customers may also choose between RAID 0, RAID 1 or RAID 5 for the ultimate transfer rates and application load times or redundancy.
"It's a server or workstation-caliber computer complete with built-in Uninterrupted Power Supply (UPS) in a 12pounds notebook form factor," said Mark Bialic, President of Eurocom. "This is one extremely fast notebook that offers server or workstation caliber capabilities. It is designed to replace traditional desktop based workstations. It offers incredible high ROI by allowing companies to be more productive and offer new "on the go" CAD/CAM services while greatly reducing overall IT management costs".
Definition of Mobile Workstation
Mobile Workstation is a new category of notebooks designed to replace a desktop-based workstation for a professional user. With unrivalled power, unsurpassed features and portability, the Mobile Workstation is the ultimate evolution of the Desktop Replacement notebook. With the release of mobile workstations, Eurocom has taken the next step in the evolution of the desktop replacement by combining workstation like features, power and flexibility with desktop replacement technology. Mobile Workstation is the most powerful notebook on the market. With the arrival of 64-bit Operating System technology, mobile workstations run two times faster 64-bit applications than 32-bit desktop PCs. Featuring the most innovative computer technologies, they are engineered for the highest quality, best performance, long-term stability and serviceability. As a single computing solution, mobile workstation provides a perfect alternative to a traditional workstation class desktop computer system.
EUROCOM High-End Mobile Workstations
EUROCOM mobile workstations are designed specifically for high-end professional and graphics users demanding maximum performance and power when running professional applications such as CAD/CAM/CAE, 3D animation, 3D simulation, engineering, financial simulations, math, forensic, 3D imaging, mapping and charting, satellite image processing, GIS, or medical software, or graphics work.
Key Benefits of Mobile Workstations
Reduced IT Management costs (one piece of equipment to move around)

Improved Productivity (anytime, anywhere)

Increased Revenue Growth (allows introduction of new services, i.e. CAD/CAM/CAE consulting/training on-the-go)

Improved reliability of data (internal battery = built-in UPS)

Reduced equipment cost (single computer solution)

Reduced litigation costs due to intellectual properties rights (out-of-the office consulting)
Specific Vertical Markets:
Aerospace (CAM/CAE/CAD)

Car Manufacturing

Architecture

Education (Departments of Architecture, Engineering, Geography, Animation, Video Production; GIS)

Financial sector

Forensic (i.e. FBI)

Governments (Department of Fisheries and Oceans; Army; Navy; Public Works/Engineering; GIS)

Military (Mapping, Charting, Imaging, Navigation)

Medical (Imaging)

Software Development (Databases, CRM, Operating)

Training
Mobile workstations feature the most advanced computer technology, such as:
High-performance Processors: Intel Core i7 Extreme Edition or XEON processors

64-bit hardware and multiple operating systems support (Windows Pro 64, Vista64, Server2008, Red Hat)

16 GB of high performance memory,

Up to 1.5GB of storage with multiple high performance SATA-300 hard

RAID 0/1/5 for extra performance, data redundancy or automatic backups

High performance VGA graphics including NVIDIA's SLI GTX 280M

Up to 1GB of video and the fastest graphics with OpenGL NVIDIA Quadro FX3700

Large displays (17" or 18.4") in a portable form factor

Blu Ray and DVD Burning on the go

High Performance 1 Gigabit LAN on-board and support for 2nd 1Gigabit LAN interface

102-key desktop-like full size keyboards with separate numeric keypad

Multiple I/O Ports: 4 or 5 USB 2.0 ports, FireWire ports, serial and parallel ports, DVI ports for multiple external monitors, S-Video In ports for digital video cameras, media card readers, Optical digital and analog audio I/O, built-in microphone and stereo speakers

Excellent Wireless: internal up to 450Mbps WLAN 802.11a/b/g/n and Bluetooth 2.0

Internal battery allows uninterrupted operation in case of power failure.

Excellent Surround Sound System with SRS WOW technology

Optional internal TV Tuner for Digital and/or Analog Video Input