When we reviewed the LG Optimus 2X a while ago, we weren't quite sure what carrier it would wind up on when it came stateside. T-Mobile seemed the most likely (and heavily rumored) suspect, but the picture wasn't entirely clear at that point. Today T-Mobile officially announced at CTIA 2011 that the LG Optimus 2X is coming to the soon-to-be-acquired carrier as the T-Mobile G2x.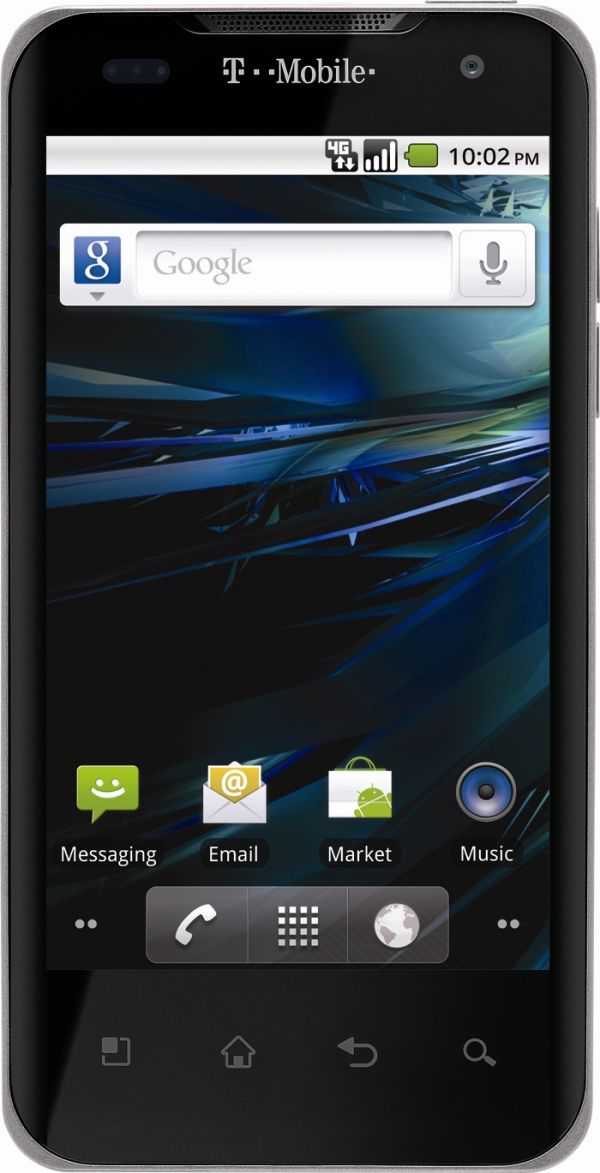 Probably the only non-stock thing about this photo and screenshot is that 4G status indicator up top, which I don't belive is official Android 2.2.x iconography from the AOSP
Superficially it appears there's nothing physically different between the G2x and the Optimus 2X. The front side has the exact same button layout and subtly curved capacitive touchscreen. There's a T-Mobile logo up top instead of LG, but everything else remains the same. The backside appears to be the same earth-tone soft touch material, and likewise the sides retain the silver metallic texture. I didn't think anything needed changing with the Optimus 2X, it's nice to see that nothing is changed with the G2x.
T-Mobile G2x - Network Support
GSM/EDGE Support
850 / 900 / 1800 / 1900 MHz
UMTS Support
1700 (AWS) / 2100 / 1900 / 850 MHz
HSDPA/HSUPA Speeds
"HSPA+" 14.4 / 5.6 (?)
Baseband Hardware
(?)
Unsurprisingly, the G2x also trades 900 / 1900 / 2100 MHz UMTS support for some T-Mobile friendly AWS 1700 / 2100 MHz support, but interestingly keeps the 1900 / 850 MHz around. Maybe that isn't so surprising considering the imminent acquisition of T-Mobile by AT&T, who will likely repurpose nearly all the carrier's AWS 1700 / 2100 MHz spectrum for its LTE buildout, and transition T-Mobile customers to AT&T's existing 850 / 1900 MHz 3G UMTS/HSPA. That band support is according to the current T-Mobile specs page, at least. HSPA+ support is noted, but no specific HSDPA class or speed is given. I think that's a notable improvement from the HSDPA 7.2 kicking around in the Optimus 2X.
The G2x also differs from the Optimus 2X in that it foregoes the LG skin for a pure Android 2.2.x (Froyo) experience. I didn't find the LG theme nearly as claustrophobia-inducing as say motoblur, but it's definitely nice to see T-Mobile demanding unskinned Android on so many smartphones. The G2x still comes with a number of software preloads, including a trial version of N.O.V.A., full version of NFS Shift HD, T-Mobile TV and Qik video chat, Zinio eReader, and some DTS software audio enhancements. It's still not quite as stock as the Nexus line, but pretty close, and dual-core to boot. The G2x also will be the first smartphone to launch with NVIDIA's Tegra Zone preinstalled.
Along those lines, I guess it's worth noting that all the other hardware choices remain the same: it's still packing a Tegra 2 AP20H 1 GHz dual-core A9 SoC with GeForce GPU, 8 MP rear camera with LED flash and 1080P video capture, 1.3 MP front facing camera, 800x480 4" LCD capacitive touchscreen, 8 GB internal NAND, microSD card slot, and 802.11n WiFi and Bluetooth 2.1.
The T-Mobile G2x will be available later this spring. Nvidia has a blog post up about the G2x and T-Mobile G-Slate as well.