I've been a loyal T-Mobile user for the last five years, so the logjam of sorts at the top of The Big Magenta's smartphone linuep is particularly interesting to me. On one side, there's the excellent Sensation 4G that Brian reviewed recently. On the other, there's the dual-core MyTouch 4G Slide, which is set to launch in the coming weeks. And then there's the G2x. The G2x is T-Mobile's version of the LG Optimus 2X, better known as one of the first shipping Tegra 2 phones on the market. The best way to describe the G2x is that it's an Optimus 2X with a different baseband and the stock Android UI, so Brian's excellent Optimus 2X review offers a solid background for what I'll cover in this article. It's been on the market for some time now, but the long-awaited Gingerbread update has finally started being pushed to devices earlier this week, so let's take a look to see how it stacks up.
Physical Comparison
Apple iPhone 4
HTC Thunderbolt
T-Mobile G2x (LG Optimus 2X)
HTC Sensation
Height
115.2 mm (4.5")
122 mm (4.8")
123.9 mm (4.87")
126.3 mm (4.97")
Width
58.6 mm (2.31")
67 mm (2.63")
63.2 mm (2.48")
65.5 mm (2.58")
Depth
9.3 mm ( 0.37")
13.2 mm (0.52")
10.9 mm (0.43")
11.6 mm (0.46")
Weight
137 g (4.8 oz)
183.3 g (6.46 oz)
139.0 g (4.90 oz)
148 g (5.22 oz)
CPU
Apple A4 @ ~800MHz
1 GHz MSM8655 45nm Snapdragon
1 GHz Dual Core Cortex-A9 Tegra 2 AP20H
1.2 GHz Dual Core Snapdragon MSM8260
GPU
PowerVR SGX 535
Adreno 205
ULP GeForce
Adreno 220
RAM
512MB LPDDR1 (?)
768 MB LPDDR2
512 MB LPDDR2
768 MB LPDDR2
NAND
16GB or 32GB integrated
4 GB NAND with 32 GB microSD Class 4 preinstalled
8 GB NAND with up to 32 GB microSD
4 GB NAND with 8 GB microSD Class 4 preinstalled
Camera
5MP with LED Flash + Front Facing Camera
8 MP with autofocus and dual LED flash, 720p30 video recording, 1.3 MP front facing
8 MP with AF/LED Flash, 1080p24 video recording, 1.3 MP front facing
8 MP AF/Dual LED flash, VGA front facing
Screen
3.5" 640 x 960 LED backlit LCD
4.3" 800 x 480 LCD-TFT
4.0" 800 x 480 LCD-TFT
4.3" 960 x 540 S-LCD
Battery
Integrated 5.254Whr
Removable 5.18 Whr
Removable 5.6 Whr
Removable 5.62 Whr
T-Mobile G2x - The Hardware, Part I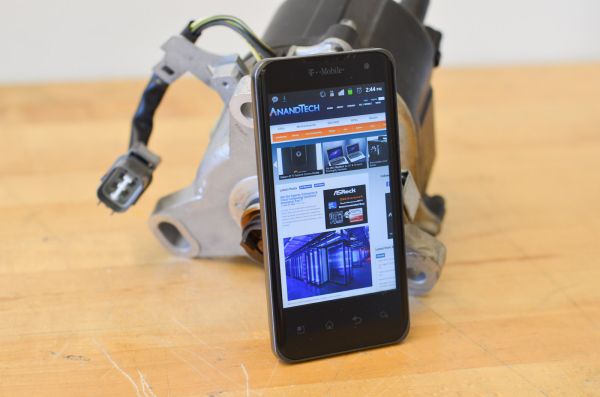 The device hardware is nearly identical to the international version that we reviewed earlier in the year. It's a fairly conservative design, with mildly curved edges and corners softening an otherwise rectangular body. The front side is a continuous glass surface, with a slight curve on the right and left sides. The bezel is thin on the two sides and larger on the top and bottom. The upper bezel contains the front facing camera, proximity and ambient light sensors, earpiece, and a silkscreened T-Mobile logo. The bezel underneath the screen is significantly larger and contains the four capacitive touch buttons, but there doesn't seem to be a readily apparent reason for why there is so much wasted space on the surface.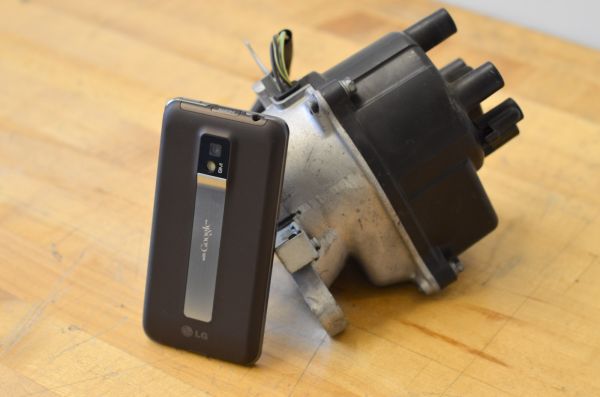 The battery cover takes up the entire backside of the phone. It's matte soft touch plastic in a colour that T-Mobile refers to as "Mocha Brown," and has an aluminum strip down the middle. The camera resides under a slightly recessed window in the battery cover, and there's a cutout next to it for the single LED flash. Unfortunately, this results in dust getting all over the inside of the battery cover, and especially between the camera module and the lens window. Common sense and good design decision, this was most definitely not.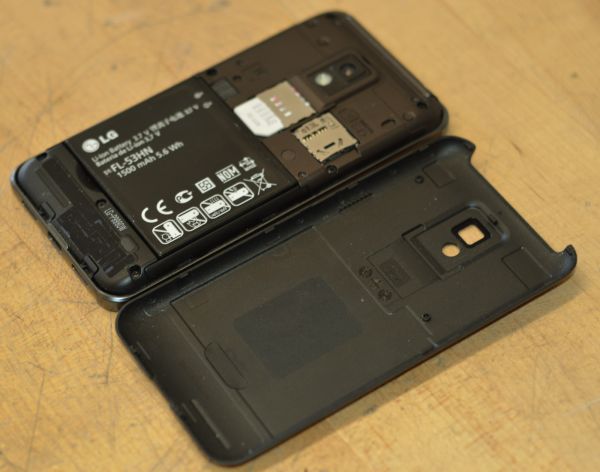 The matte metallic silver ring around the four sides of the device bridges the glass front and the battery cover. As with the aluminum strip on the back, it gives the device a touch of brightwork to keep things visually interesting. LG devices in recent times have used variations of this design language, with a lot of rectangles, radiused edges, and a metal or mirrored chrome strip down the backside of the device. You can see in the Revolution, Optimus 3D, and even the Optimus Pad/G-Slate tablets. It's a no-nonsense aesthetic with a bit of subtle visual flair. It seems a bit staid at first, but the more you use it, the more you're drawn in. Count me a fan.