Sprint customers almost always get the short end of the stick. In exchange for some of the more reasonable smartphone plans in the US, Sprint customers typically enjoy a mediocre selection of phones. Over the years there have been a few that have stood out. The Palm Pre and EVO 4G both come to mind. But generally speaking, all of the cool phones go elsewhere. In fact, the last Sprint phone we reviewed was the Samsung Epic 4G and that was almost a year ago. Of course more phones have debuted on Sprint since then, they just haven't been all that interesting.
Until now of course.
Today we have Sprint's two flagship Android smartphones: the HTC EVO 3D and the Motorola Photon 4G. Despite naming differences both support Sprint's 4G WiMAX network, have dual-core SoCs and boast 4.3-inch screens, but these two are far more different than you'd expect.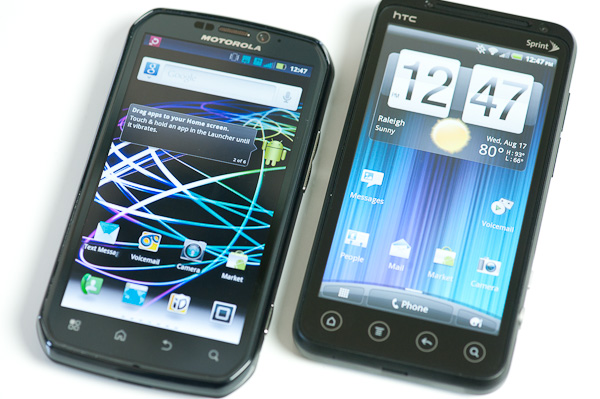 The EVO 3D uses a 1.2GHz Qualcomm Snapdragon S3 (MSM8660) and can capture/display 3D content. Meanwhile the Photon 4G is NVIDIA's debut phone on Sprint, featuring a 1GHz Tegra 2 and a high resolution 8MP rear camera sensor.
Before we get too far down the internal comparison, let's talk about the hardware itself first.
Sprint EVO 3D vs. Photon 4G
EVO 3D
Photon 4G
Height
127 mm
126.9 mm
Width
66.0 mm
66.9 mm
Depth
11.9 mm
12.2 mm
Weight
170g
158g
SoC
1.2GHz dual-core Qualcomm Snapdragon S3 MSM8660
1GHz dual-core NVIDIA Tegra 2
GPU
Qualcomm Adreno 220
NVIDIA ULP GeForce
System Memory
1GB
1GB
NAND
4GB NAND internal
8GB SanDisk class 4 microSD preinstalled

16GB NAND internal
microSD slot up to 16GB

Display
4.3" 3D qHD - 960 x 540
LCD
4.3" qHD - 960 x 540
RBGW PenTile LCD
Display Output
HDMI via MHL
microHDMI
Front Camera
1.3MP
0.3MP
Rear Camera
2 x 5MP 3D w/ Dual LED Flash
8MP w/ Dual LED Flash
Battery
Removable 6.57 Whr
Removable 6.3 Whr
Shipping Android Version
2.3.3
2.3.4
Contract Price
$199 ($549 off-contract)
$199 ($549 off-contract)
The physical comparison boils down to personal preference. The Photon has a lighter and more plasticky feel while the EVO 3D feels more dense and higher quality. Both are awkwardly large thanks to their 4.3" screen size, but the matte and textured finish of the EVO 3D actually does make it easier to hold than the Photon.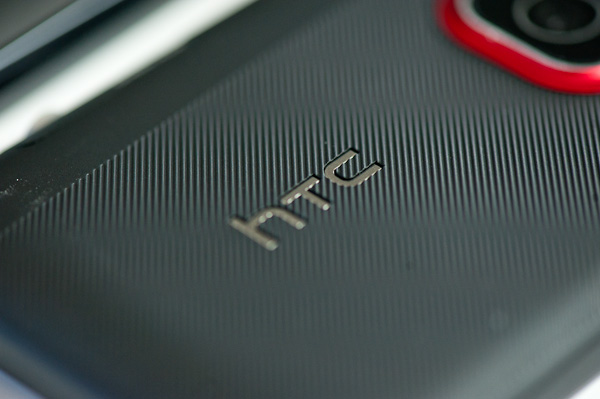 Where the Photon starts winning back points is with its kickstand. I've always been a fan of integrated kickstands and the Photon's is no exception. It's convenient for anyone that keeps their phone on a desk, uses it as an alarm clock or watches a lot of movies on it. Although I can't bring myself to spend two hours staring at a smartphone screen (even a large one), I know it's something that people do and the kickstand can be quite useful for those folks. Unfortunately you can't control the angle of the kickstand, so if you're super tall and seated in coach it may not be all that convenient.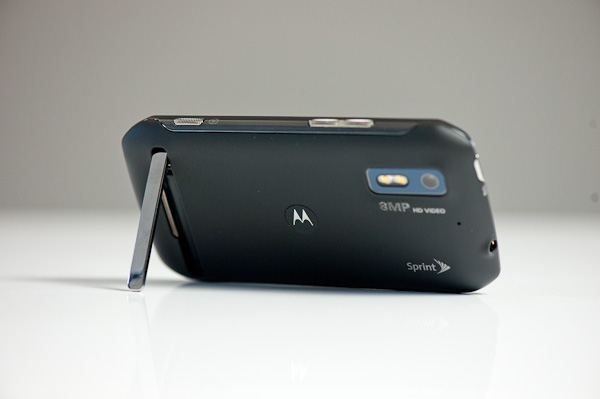 Stylistically the EVO 3D takes a more conservative but well received approach, while the Photon tries something new with its long-octagon shape. There's nothing gained by Motorola chopping off the corners of the Photon, it's just different.
The Photon's atypical styling extends to the volume rocker as well. While the power/lock button is fairly standard, the volume rocker is textured with horizontal slits. Button presses are not firm but not mushy either.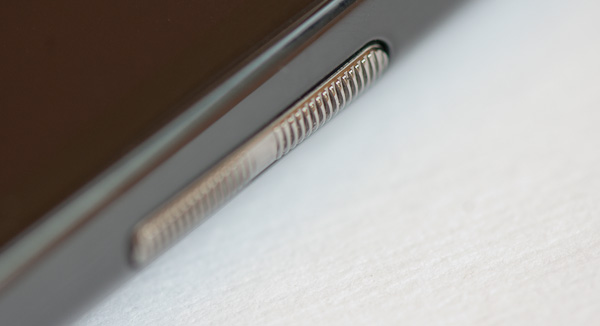 The EVO's buttons by comparison are more traditional but extremely low profile. The obvious exception being the massive camera shutter release button, which feels good but not as great as you'd expect. It's also slightly disappointing that unlike on a WP7 device, hitting the camera button doesn't automatically bring the phone out of sleep and drop you into the camera app. If the EVO is unlocked and awake however, the button does just that.
To play up the 3D gimmick make it easier to switch between 2D and 3D shooting modes there's a physical toggle switch on the EVO 3D, next to the shutter release button. You only need the toggle for capture, when playing back content the display automatically switches between 2D and 3D modes.
Pulling off the back cover is far easier on the Photon. The EVO 3D makes you pull a little too much and some of the notches don't seem like they want to let go. Unlike some more recent HTC phones, the EVO 3D doesn't include any antennas in the rear cover - everything is baked into the body of the phone.
Both phones feature a removable battery. The EVO 3D has a 6.57 Wh unit while the Photon 4G's battery weighs in at 6.3 Wh. Behind the battery is a microSD card slot (with an 8GB card) on the EVO 3D. The Photon 4G on the other hand comes with no microSD card installed (but 16GB of NAND on-board) in addition to a SIM card. The Photon 4G includes a Qualcomm MDM6600 that gives it HSPA+/GSM support. The full list of supported networks and frequencies is below:
Network Support
Total System Power
WiMAX
CDMA
WCDMA
GSM
HTC EVO 3D
2.5 - 2.7GHz
800/1900MHz
N/A
N/A
Motorola Photon 4G
2.5GHz
800/1900MHz
850/1900/2100MHz
850/900/1800/1900MHz
If you're in need of a phone that can be used overseas, the Photon 4G is your only option of these two. The EVO 3D can only work on Sprint's CDMA and WiMAX networks.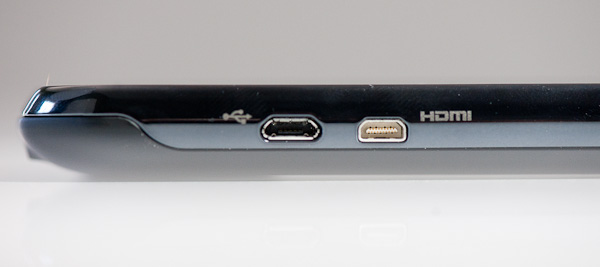 The EVO 3D and Photon 4G both support HDMI out but through very different approaches. Motorola uses a standard micro HDMI connector, while HTC uses a MHL USB connector. When used with a standard USB cable the MHL USB connector acts like a normal micro USB port for charging and data transfer. If you've got an MHL to HDMI cable however you can get HDMI out of the phone. Unfortunately neither company ships their phone with the appropriate cable to get video output. With the right cable both phones support mirroring over HDMI.