I dropped by Broadcom during CES, and while we've already covered most of what they had to show off, one of the things which immediately caught my eye was a demonstration of VoLTE running on an as-of-yet unannounced LTE baseband of theirs. I've been hearing endless rumbling about Broadcom's LTE baseband being in both testing and validation, and it made its first appearance in a rather coy form at CES 2013. The demo showed off a VoLTE implementation running AMR-WB working on an LTE test box running Band 13 LTE (Verizon), and a good 3.9 (out of 5) MOS (Mean Opinion Score) voice quality score through a Metrico test box. This just demonstrates good voice fidelity through their system and that frames aren't being lost.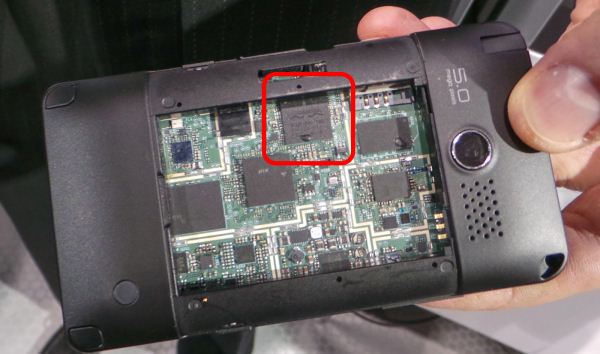 Broadcom's LTE baseband ensquared in red
Broadcom showed off a reference design powered by their own dual core A9 SoC which they claim has been in testing and validation at major operators in the US such as Verizon and AT&T. The platform is entirely Broadcom - SoC, WiFi/BT/GPS combo, baseband, and RF. Broadcom isn't announcing a specific part, and declined to tell me any further specifics such as 3GPP Release (you can draw your own conclusions - it is clearly at least Rel. 9), UE Category on LTE, other supported air interfaces (other than 2G, 3G, and 4G LTE), bands, or platform. There are some interesting photos however of the solution being compared in a rather direct fashion to the MDM9x15 and RTR8600 combination in the iPhone 5 where Broadcom claims 37 percent smaller package size (ostensibly for transceiver and baseband), along with support for envelope tracking (driving the power amplifiers intelligently) VoLTE support, and better coexistence with its own combo chips.
I expect to hear an official announcement with further details at MWC.