A few days before the big show, Samsung announced updates to their notebook line, including a new Series 7 ultrabook and a redesigned Series 7 Chronos. As someone who uses a current-generation Series 7 Chronos in day-to-day life, I was naturally very interested in getting some hands on time with the new notebooks. Advance apologies for the unevenly lit images - Samsung always seems to have a lighting setup designed for the specific purpose of making my life difficult.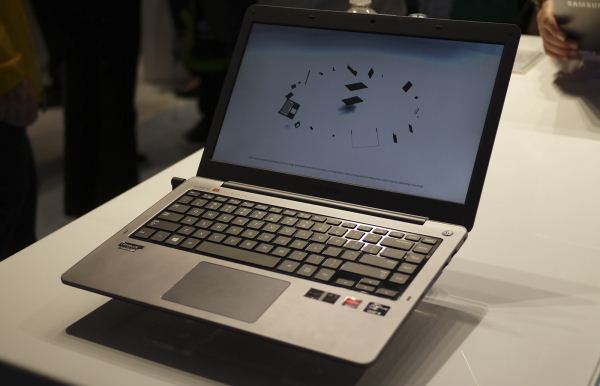 After debuting the Series 5 Ultra at CES last year, Samsung has given it a makeover for 2013, now with a slimmer aluminum chassis and a touchscreen. This is a pretty big improvement from the first Series 5 Ultra, which felt a bit plasticky and had some definite build quality issues. This is a much cleaner design that should be much higher quality - the single piece aluminum interior panel is a great start, with less flex and a more premium feel that's better matched to the excellent Series 7 and Series 9 notebooks. The keyboard is now backlit, and the S5U continues to be very well equipped in terms of port selection - three USBs (only one of which is USB 3.0), Ethernet, HDMI, DisplayPort, and an optical drive (still tray loading, unfortunately).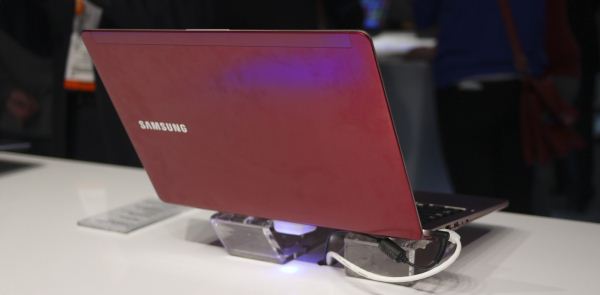 The S5U occupies the midrange segment, with two SKUs at the $749 (i3 ULV/4GB) and $899 (i5 ULV/8GB) price points. In the US, the S5U will be offered with a touchscreen and integrated graphics only, while overseas, a matte-screened non-touch model will be available along with an optional Radeon HD 8750M dGPU. Sadly, resolution is limited to 1366x768. There's also a range of colours on offer in the US: Ebony Black, Garnett Red, and Pebble Blue, all of which should be familiar from the Galaxy S III.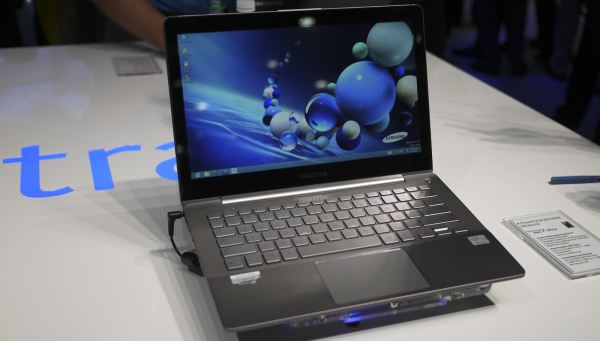 The most interesting product at Samsung's booth for me was the Series 7 Ultra, which is very high on my list for next-notebook-purchase. Why is that? It's got a 13.3" 1080p PLS touchscreen, Radeon HD 8570M, i5 and i7 ULV processors, SSD-only storage, a full aluminum chassis, a claimed 9 hour battery, and a total weight of 3.25lbs. I'm sold. This is literally exactly what I want in a notebook, it's like Samsung built a notebook specifically for me. There's no optical drive, but other than that, the port selection is identical to the S5U. This means, unfortunately, only one USB 3.0 port (disappointing, especially for 2013) - the lone quibble I have with the hardware on paper. As with the previous S7 models, build quality seems to be quite good. The 13" Ultra is meant to take over for the previous 14" Series 7 Chronos in the Samsung notebook lineup, and pricing is expected to be similar or slightly below where the 14" was.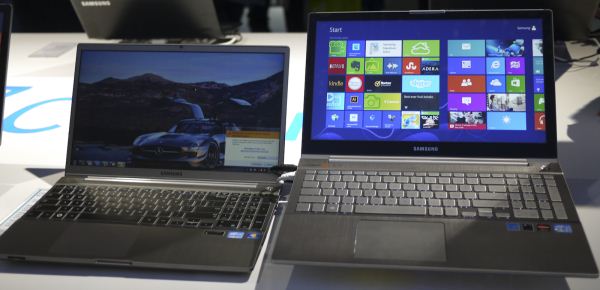 The updated Series 7 Chronos, too, was something I was pretty interested in looking at. I had my Series 7 on me when I went to the Samsung booth, so I got a pretty good feel for the hardware differences side by side. (It also had a confused Samsung engineer asking where I got the older Series 7 from, since there shouldn't have been one anywhere on the show floor.) The biggest change here is the 1080p PLS touchscreen panel, and a slight amount of added thickness to go with that. There's also a matte non-touch display, but that's only TN and 1366x768 and will likely not be offered in the US. (The previous Series 7 Chronos has a matte TN 1600x900 panel.)
The excellent backlit keyboard is still there, now in silver instead of black. Graphics have been bumped from the Nvidia GT 640M to the AMD Radeon HD 8870M with a gig of VRAM, and there's still a 45W IVB i7 quad here, so performance should be pretty solid. The claimed 11 hours of battery seems...unrealistic, but if it's true, it'll be absolutely fantastic. There's 4 USB ports (two USB 3.0), HDMI, VGA, SD, and Ethernet. I'd expect pricing to go up from before, due to the much more expensive panel.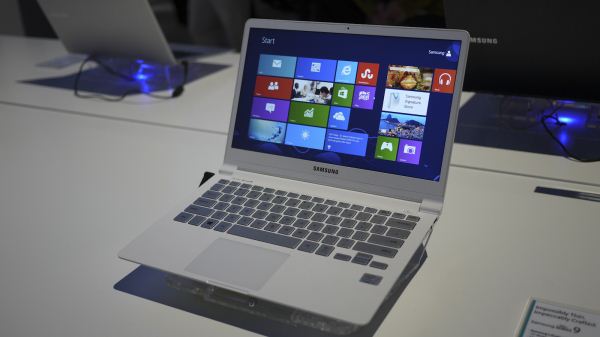 The Series 9 was also back on the show floor, this time in a couple of new colours - a very MacBook Air-esque silver as well as an impossibly gorgeous pearl white one that I want with every fibre of my being. Having a matte 1080p PLS display (non-touch) also counts as a distinct win in my book. Other than the new display, the Series 9 is exactly as before. The new colours are unfortunately just concepts, but could make it to production if the public response is adequate.
It seemed like Samsung was keeping most of its mobile announcements for MWC and beyond, so the only new device on hand was the Verizon LTE-enabled Galaxy Note 10.1" tablet. It's basically identical to the WiFi Galaxy Note 10.1", except with an MDM9615 baseband and Android 4.1.2. The Jelly Bean update will likely hit the WiFi Note 10.1" soon. The only other Android products on the show floor were the Galaxy S III, Galaxy Note II, and Galaxy Camera, all of which we've seen before.
Availability for all of the new Samsung notebooks is expected to be around March, similar to what we saw last year, while the Note 10.1" should hit Verizon shelves sometime later this month.