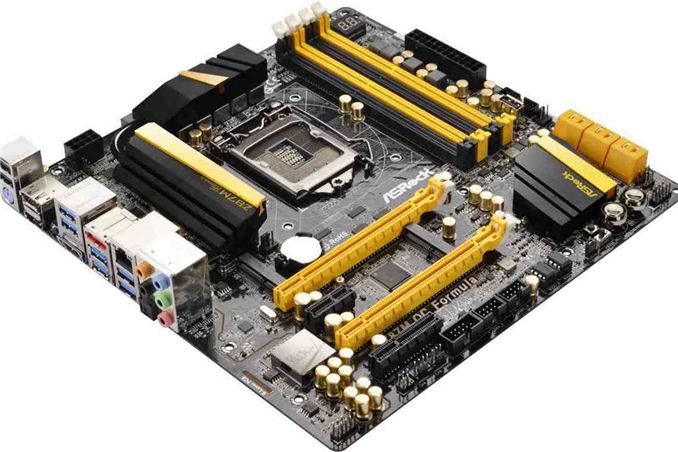 ASRock Z87M OC Formula Review
The typical mainstay for the overclocker is the ATX size, with ample room for large coolers and multi-GPU setups. Is micro-ATX up to scratch? ASRock thinks so at $190 with the Z87M OC Formula, offering direct competition to the ASUS ROG Gene models.
After reviewing the Z87 OC Formula, the full sized ATX ASRock OC SKU, I was hoping almost for a renaissance from ASRock at the $190-200 segment for overclocking. As I mentioned in the ATX review, for Ivy Bridge at $240 we had the Z77 OC Formula which was, in my own words, 'the best ASRock motherboard I have ever tested'. For around 25% cheaper on Haswell our board is smaller, but still built on the same principles envisaged by NickShih, ASRock's in-house overclocker. The question comes whether the reduction in size cripples our functionality compared to the previous platform, or if it really is the cost effective solution against the Z87 OC Formula or something in the same price bracket, such as the Gigabyte Z87X-OC which is at $200. This latter motherboard will be the focus of a later review for sure.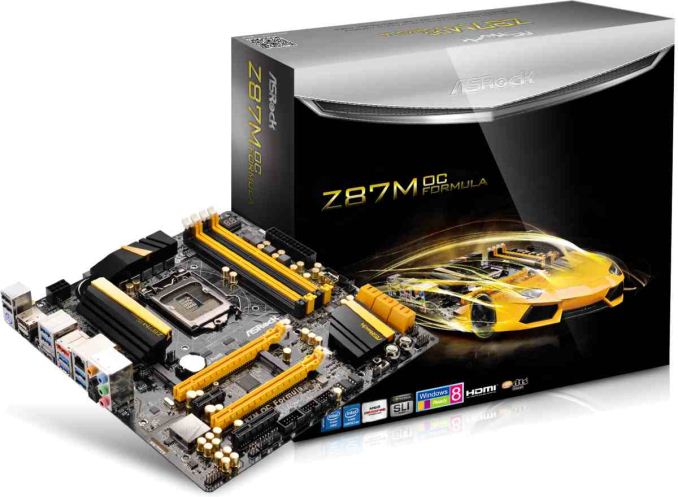 ASRock Z87M OC Formula Overview
Typically I write these reviews after testing. As I test the motherboard, make note of my results/comments/issues, and then sit down to write either the day after or during the next few days if possible. The path of the Z87M OC Formula takes a slightly different turn, as during my testing I was in constant contact with fellow overclockers discussing the pros and cons of the motherboard while they were using it for the professional overclocking league cup. ASRock seeded almost every team that requested a sample, taking a different philosophy to most other manufacturers – ASRock handed out boards to any professional that requested one at launch to get feedback.
This is in contrast to most manufacturers who rely on HQ or regional offices that will seed a handful of teams or local users in exchange for posting overclocking scores, forum reviews, or help debug/advise with user experience. All ASRock wanted with the Z87M OC Formula was the professionals to use it, give feedback, and post scores if they manage to get any. ASRock are comfortable with the fewer sales of an already niche product if enough power users can help improve the system. I have asked my fellow overclocking team-mate and UK Overclocker K404 to write his experiences for AnandTech to aid our readers in understanding what goes through a competitive overclocker's head when they get a new motherboard as a comparison to my mainstream analysis. This will feature at the end of the review.
As mentioned above, the main competition to the Z87M OC Formula comes from the Gigabyte Z87X-OC, another overclocking motherboard available at $200. For the green, the M-OC Formula is kitted out with a few overclocking features – a Slow Mode switch, an LN2 Mode switch, a BIOS Select switch and the same power delivery system as the full-size ATX OC Formula. The main bulk of overclocking features are in the BIOS and software, featuring an almost identical set to the bigger brother.
Aside from the six SATA ports and eight USB 3.0 ports, ASRock have fitted this board with an mSATA (shared with a SATA port), an eSATA (shared with a SATA port), a mini-PCIe (for WiFi cards), and single-latch memory slots. In terms of the new features from the A-Style series ASRock is promoting, we get HDMI-In, Home Cloud and Purity Sound. ASRock also likes to promote their use of an 8-layer PCB with micro-ATX, and inclusion of a higher quality thermal paste (GELID GC-Extreme) with the package to help users with their overclocks.
The main issue from a home-user standpoint for me is ASRock's issue with MultiCore Enhancement. ASRock cannot decide whether to have it enabled by default or not, and will happily supply reviewers with media BIOSes that enable it by default, but then supply public BIOSes with it disabled. This artificially inflates multithreaded scores for stock benchmarks if a reviewer stays with the media BIOS. ASRock asked me for my suggestion on which motherboards in their range should have this feature enabled by default – I replied that any Extreme ATX should (Extreme3 and up) as well as the OC Formula (ATX and mATX) motherboards. Anything below this is a cost sensitive platform where the extra energy/heat used by the feature might not be appropriate. We will see the results in due course, and as a result I tested our CPU portion of our benchmarks with MCE both enabled and disabled so ASRock can see the enhancements. The GPU benchmarks are with MCE disabled, for 'out-of-the-box' performance on BIOS 1.30, the latest public version at the time of testing.
For performance, with MCE disabled, the ASRock cannot keep up with its bigger brother in the multithreaded tests due to the MHz deficit, but with MCE enabled it is comparable to the Z87 OC Formula in most tests. The ATX model had the upper hand in some memory-limited benchmarks, but the mATX wins outright in power consumption.
For most home users, the mATX model will be sufficient. Despite this the Z87 Extreme6/AC which we reviewed at launch can be found for $10-$20 more. For that price difference we get a full ATX, more USB/SATA, HDMI-In and essentially the same every day experience. In most 24/7 overclocking tests on our Haswell CPU we are more limited by the CPU, and both the Extreme6/AC and the M-OC Formula offer similar experiences (with albeit more options on the M-OC Formula). For extreme overclocking, the micro-ATX is certainly worth a look (K404 was very happy with his), but for a daily machine, the Z87 Extreme6/AC which we gave a silver award might be preferable in terms of bang-for-buck.
Visual Inspection
Using the yellow/black livery of the OC range, the M-OCF follows a straightforward layout for a micro-ATX motherboard designed for multi-GPU action. The VRM solution similar to the normal OCF is used, although our cooling heatsink is air only this time and does not have a fan, despite the $240 model in the last generation having this addition. Users will notice that the motherboard does not have a matte black coating like other motherboards in the price range from other manufacturers – ASRock believe placing this bill-of-materials cost of the motherboard in other components instead.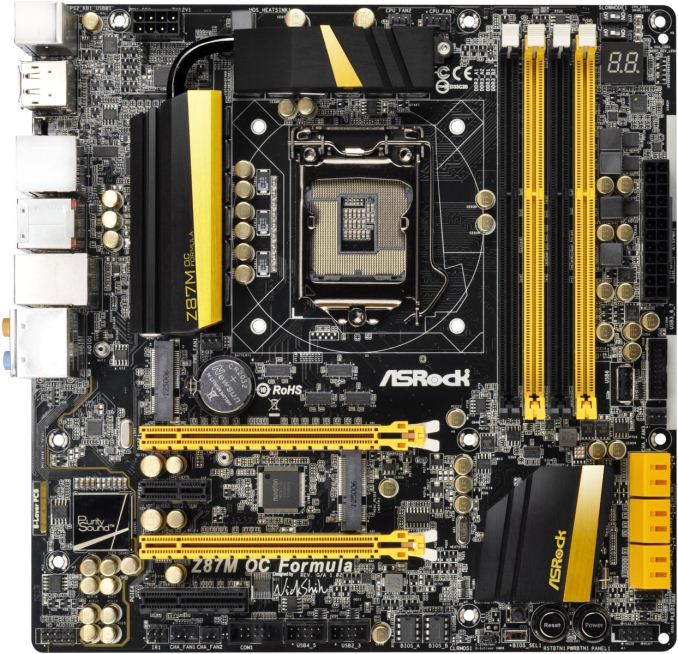 The M-OCF has six fan headers in total, four within reach of the socket. The two CPU fan headers (one 4-pin, one 3-pin) are just above the power delivery heatsink, a 3-pin PWR header is below the heatsink next to the battery and a 3-pin CHA is between the SATA ports and the USB 3.0 header on the right hand side. (This 3-pin header seems like it would be awfully close to a long bulky GPU if one was installed, meaning users should attach fan headers before the GPU.) The final two headers are on the bottom of the board, featuring one 4-pin and one 3-pin towards the bottom left.
Unlike the full sized ATX OCF, here we do get single sided DRAM latches, which help when large GPUs are in place but also in general (I feel) make it easier to install memory. Moving around clockwise we have a two digit debug alongside two overclocking switches – one for LN2 mode and the other for Slow mode. Normally in this place we get voltage check points on a full size ATX, but the mATX is too small on this occasion to include any. Below the 24-pin ATX power connector is a USB 3.0 header (from the chipset) and a USB 2.0 port on the motherboard. This extra USB sticking out of the motherboard is a server feature that ASRock are placing on some of their mainstream models, and are used for in the past for software that requires a USB dongle as a license. With the dongle inside a server or a case, it is safe and cannot be moved easily. In the consumer space we rarely see USB dongle licenses, but overclockers can use these headers to take results from the system without the trouble of reaching around to the rear IO and potentially disrupting their setup.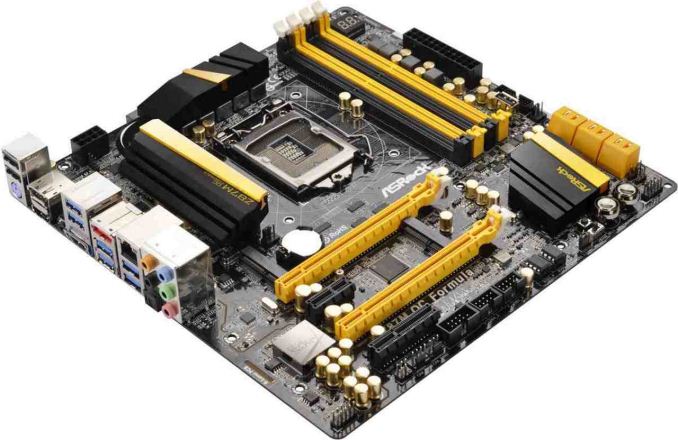 Due to the size of the motherboard we only have six SATA 6 Gbps ports, all of them from the chipset. The chipset heatsink has no controllers to deal with, keeping its size relatively small. I would like to note that on the Z77 OCF at $240 we had ten SATA ports – six from the PCH and two additional controllers.
On the bottom of the board we get our front panel audio header, IR header, two of the aforementioned fan headers, a COM header, two USB 2.0 headers, two removable BIOS chips, a Clear_CMOS button, a BIOS select switch, power/reset buttons and a front panel header.
The audio solution is part of ASRock's A-Style program – Purity Sound. Here we get the latest Realtek ALC1150 codec, which is capable of 115 dBA SNR on two channels (but 98 dBA on the others). ASRock separate the analog and digital signals on board into separate sections to reduce interference as well as using a EM shield on the codec itself and numerous filter caps. A TI NE5532 amp is also used on the front audio panel for support of headphones up to 600 ohms.
The PCIe layout is regular for a multi-GPU mATX motherboard, giving two full length PCIe slots for x16 or x8/x8 operation. There is also an x1 and an open ended PCIe 2.0 x4 from the chipset. This results in two way SLI or up to three way CFX support (with single slot cards, two-way with dual slot).

The rear IO panel has two USB 2.0 ports, a PS/2 keyboard port, a DisplayPort, HDMI-In, HDMI-Out, a Clear_CMOS button, six USB 3.0 ports (two PCH, four ASMedia), an eSATA port, an Intel I217V NIC and audio jacks.
Board Features
ASRock Z87M OC Formula
Price
Link
Size
mATX
CPU Interface
LGA-1150
Chipset
Intel Z87
Memory Slots
Four DDR3 DIMM slots supporting up to 32 GB
Up to Dual Channel, 1066-3000 MHz
Video Outputs
HDMI-Out
HDMI-In
DisplayPort
Onboard LAN
Intel I217V
Onboard Audio
Purity Sound (ALC1150)
Expansion Slots
2 x PCIe 3.0 x16 (x16, x8/x8)
1 x PCIe 2.0 x4
1 x PCIe 2.0 x1 1 x mini-PCIe
Onboard SATA/RAID
6 x SATA 6 Gbps (PCH), RAID 0, 1, 5, 10
1 x mSATA (shared with SATA3_4 port)
1 x eSATA (shared with SATA3_1 port)
USB 3.0
4 x USB 3.0 (PCH) [2 backpanel, 1 header]
4 x USB 3.0 (ASMedia 1041) [4 backpanel]
Flex IO
x+y+z = 18

| | |
| --- | --- |
| SATA 6 Gbps | 6 |
| USB 3.0 | 4 |
| PCIe 2.0 | 8 |

Onboard
6 x SATA 6 Gbps
1 x mSATA 6 Gbps
1 x mPCIe
1 x USB 3.0 Header
2 x USB 2.0 Headers
1 x USB 2.0 Port
6 x Fan Headers
Power/Reset/Clear_CMOS Switches
Two Digit Debug
Slow Mode Switch
LN2 Mode Switch
BIOS Select Switch
Front Audio Header
Front Panel Header
Power Connectors
1 x 24-pin ATX Connector
1 x 8-pin CPU Connector
Fan Headers
2 x CPU (4-pin, 3-pin)
3 x CHA (4-pin, 2x 3-pin)
1 x PWR (3-pin)
IO Panel
2 x USB 2.0 Ports
1 x PS/2 Keyboard Port
HDMI-In
HDMI-Out
DisplayPort
2 x USB 3.0 (PCH)
4 x USB 3.0 (ASMedia)
1 x eSATA
1 x Intel I217V NIC
Audio Jacks
Warranty Period
3 Years
Product Page
Link
My direct comparison here is going to be with the ASRock Z87 Extreme6/AC, which is ~$20 more, but has 802.11ac, is a full size ATX model, more SATA ports, more Intel NICs and more video outputs on the rear IO. By comparison the Z87M-OCF has LN2/Slow mode switches, a more substantial VRM, NickShih oriented options in the BIOS and an mSATA.