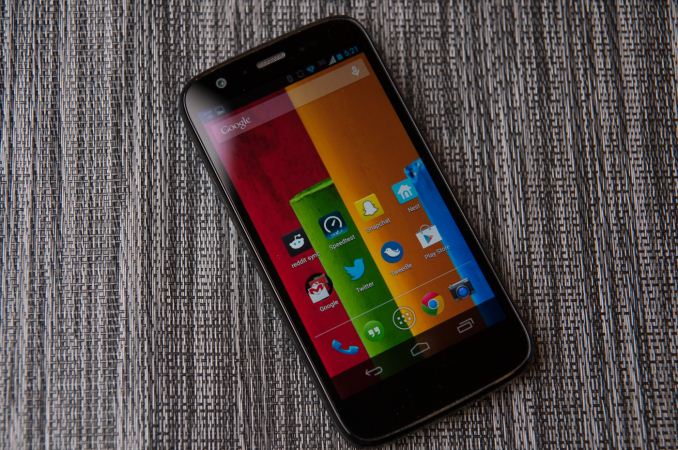 I like what the new Motorola is doing. It seems like an eternity ago, but I remember when phone launches with Motorola meant a variety of variants all with their own idiosyncrasies. Since re-launching itself, Motorola has launched just two new lines of device – the higher end Moto X, and its mass-market cousin, the Moto G which we're taking a look at. That's a bit of a simplification, as Motorola is still selling five Droid-branded handsets, but it's a huge consolidation that's much easier to follow.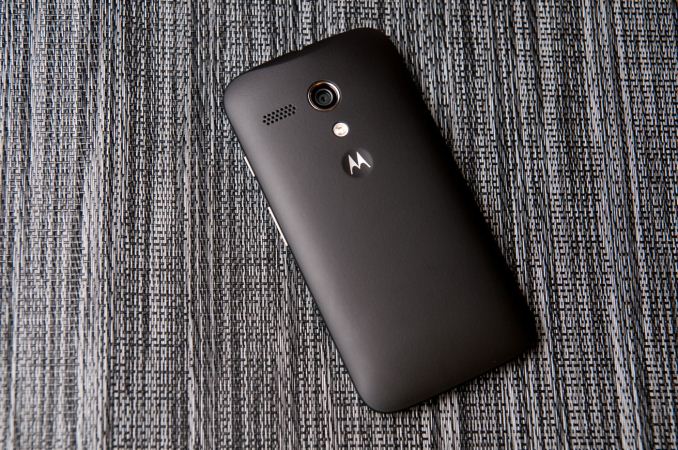 The Moto G's goal is pretty simple – to deliver an affordable smartphone experience that doesn't make any sacrifices in something close to the Moto X's form factor. It's an ambitious goal that goes right after some of the largest growth segments for smartphones internationally. There's a ton of competition at the top, it's somewhere in the middle that's arguably more interesting right now.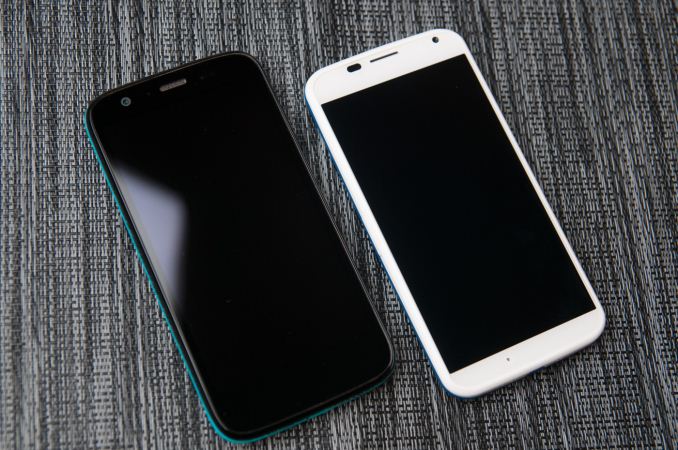 Moto G (Left), Moto X (Right)
G is a popular character right now, LG was arguably first to lay claim to it with its Optimus G, G Pro, G2, and now G Flex brands, so it's kind of interesting to see Motorola also lay claim to G with the Moto G. Absent any guidance what G actually stands for, I'm going to take a nod from lens reviewer Ken Rockwell and say that G stands for "Gelded" since the Moto G is really a pared down Moto X, but I wouldn't attach any real negative connotation to the word. The form factor is largely the same, where the Moto G moves down a notch versus the X is in its camera, display size and tech, cellular connectivity, size (it's slightly bigger), and of course the lack of active display or always on voice activation features. Like any product, it's just a different set of tradeoffs, this time more optimized for cost.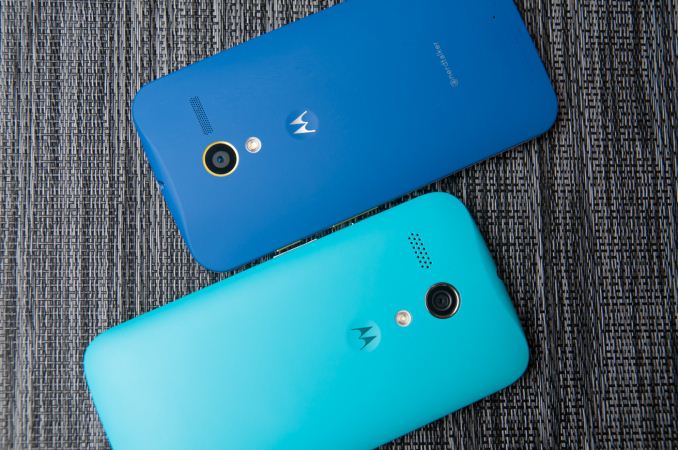 My T-Mobile Motomaker Moto X (top), Moto G with turquoise back shell
Before I started working on the Moto G, I switched back to the Moto X for a while to refresh my comparison point, right after it got the 4.4 update. Motorola let me build a blue with yellow accents Moto X from Motomaker since I recently switched to T-Mobile and my previous device was locked to AT&T. The comparison point helped me really feel out the physical differences between the Moto X and Moto G. You can tell that the Moto G is slightly thicker almost immediately, the changes in width, height, and mass don't really stick out as much. I can't put my finger on it but the curve of the G seems slightly less pronounced as well, although the G is still comfortable to hold. I won't bore you any further, but the dimensional differences really aren't that noticeable between the two, I don't feel like the Moto G's in hand feel is a regression at all versus the excellent Moto X.
Moto X
Moto G
SoC
Qualcomm Snapdragon S4 Pro (MSM8960Pro)
2x Krait 300 at 1.7 GHz
Adreno 320 at 400 MHz
Motorola X8 System (SoC+NLP Processor+Contextual Processor)
Qualcomm Snapdragon 400
(MSM8x26)
4x ARM Cortex A7 at 1.2 GHz
Adreno 305 at 450 MHz
Display
4.7-inch AMOLED (RGB) 1280x720
4.5-inch LCD (RGB) 1280x720
RAM
2GB LPDDR2
1 GB LPDDR2
WiFi
802.11a/b/g/n/ac, BT 4.0
802.11b/g/n, BT 4.0
Storage
16 GB standard, 32 GB online, 2 years 50 GB Google Drive
8/16 GB, 2 years 50 GB Google Drive
I/O
microUSB 2.0, 3.5mm headphone, NFC, Miracast
microUSB 2.0, 3.5mm headphone
OS
Android 4.4
Android 4.3, 4.4 Early 2014
Battery
2200 mAh, 3.8V, 8.36 Whr
2070 mAh, 3.8V, 7.9 Whr
Size / Mass
65.3 x 129.3 x 5.6-10.4 mm, 130 grams
65.9 x 129.9 x 6.0-11.6 mm, 143 grams
Camera
10 MP Clear Pixel (RGBC) with 1.4µm pixels Rear Facing
2 MP 1080p Front Facing
5 MP w/AF, LED Flash
1.3 MP front facing
Price
$199 (16 GB), $249 (32 GB) on 2 year contract
$179 (8 GB), $199 (16 GB) no contract
If you've held the Moto X, the Moto G is immediately familiar. For those that haven't, the two share what's probably the best balance of size and form factor among Android handsets right now – Moto G is just a bit thicker around the waist.
On the front the Moto G eschews the "magic" fused glass-plastic top layer. For those unaware, one of the standout features of the Moto X was this seamless (well, relatively seamless) transition from glass to plastic along the edge, which really did make it more comfortable to use. Moto G uses the more pragmatic lip and sunken glass approach, and the sample I was provided has a bit of a gap between the two where dust can gather and show. Not a big deal but worth noting as one of the few visible differences. The Moto G still does have some nice lips that prop the display up so you can lay it display-first on a flat surface without worrying about scratching the display.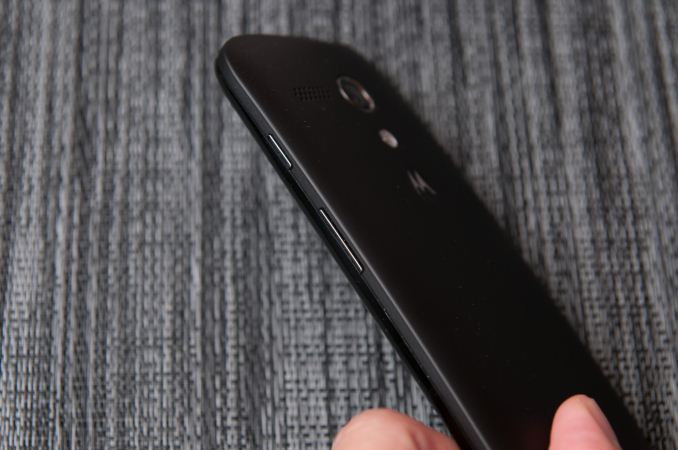 The Moto G uses the same button and port placement as the Moto X, which I won't go over. The buttons feel nice and solid as well, not cheap and flimsy. The speakerphone grille moves to the opposite side, but camera and flash positions remain unchanged. The motorola logo and accompanying dimple also don't go away.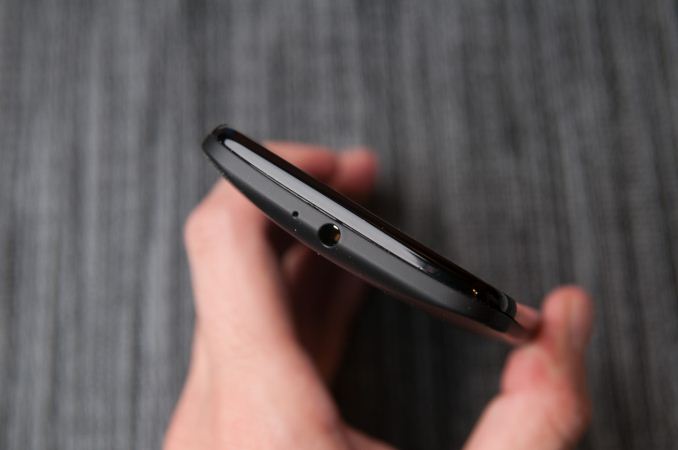 Impressively, Moto G also doesn't eschew dual microphones for in-call background noise cancelation. There's a primary microphone at the bottom, and secondary up top. Moto X had a bottom front, bottom back, top side arrangement, so technically Moto G has one fewer microphone, but having dual mic noise suppression is a noteworthy feature at this price point.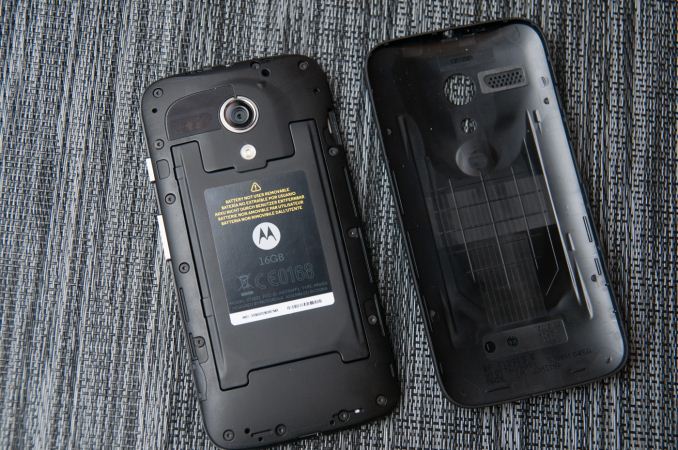 The most dramatic change between the two of course is the removable back door, which doesn't work so much as a door for the battery as it does gate access to the microSIM slot and add an opportunity for adding a touch of customization with a colored or flip shell. As an aside, it's odd to me that the Moto X embraced nanoSIM (4FF) yet the Moto G that launches after it goes with microSIM (3FF). It's possible some of the operators or markets Motorola has in mind for the Moto G haven't yet made nanoSIMs readily available. There's a big sticker on the back noting that the battery isn't replaceable, I'm reminded of the Droid 4 which also included a removable back and a big sticker, but no removable battery.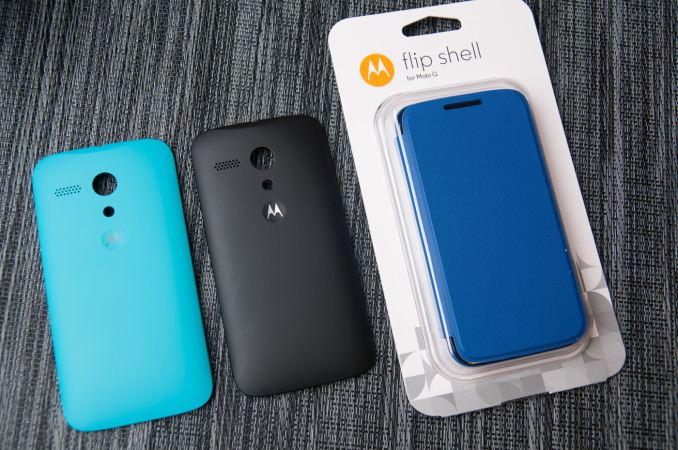 Motorola sent a turquoise colored snap-on shell in addition to a blue flip shell to check out on the Moto G. By default the phone comes with a black shell, but there are six different color shells you can choose from, in those two (flip and non-flip) varieties. I appreciate how much even something like this helps differentiate the Moto G versus competition that comes in at best maybe two or three colors. The materials, fit, and finish on the two snap covers I was sent seem excellent. I have no complaints, there's no creaks or gaps to speak of. Shells run $14.99, flip shells cost a twenty bucks more at $34.99.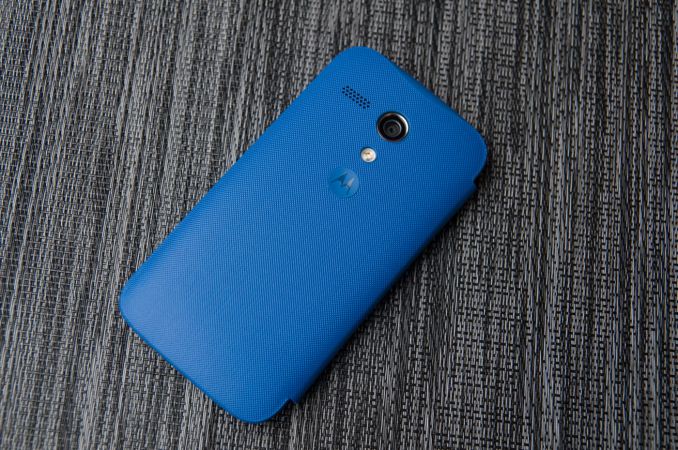 The flip cover nails it though, there's a magnet inside to both keep the cover shut and in place when closed, and another ostensibly for signaling open and closed status – Moto G turns on automatically when opened, and shuts off when closed. Those two features should be requisite for anyone even thinking of bundling a flip cover as a first party accessory at this point, and I'm impressed to see them on this device at that price point.
Inside the relatively small Moto G box you don't get much in the way of extra stuff. There's no bundled USB wall charger or pack-in headphones, just a USB cable. I'm awash with USB chargers so I don't mind OEMs saving the extra few dollars by not including an extra one, in the case of Moto G at least that savings seems to actually get passed on to the customer. I'll talk about it in the charging section but Moto G seems well behaved with a variety of USB power sources, thankfully.
Moto G doesn't try to push industrial design somewhere crazy, and obviously at the price point that it's coming in at, it can't really afford to. Solid execution which doesn't deviate a lot from Moto X and good overall construction are the real highlights.