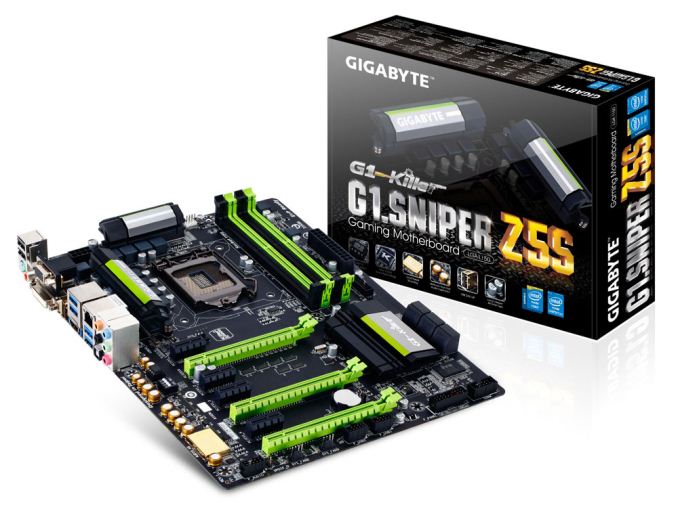 All the main motherboard manufacturers now have three distinct classes of motherboard to sell to the common home-build end user: the channel range, the overclocking range and the gaming range. GIGABYTE color codes their models such that the channel range is blue/black, the overclocking range is orange/black, and the gaming range is green/black. The gaming range from GIGABYTE has seen an explosion in terms of models available recently – initially for a couple of generations it was one or two models, but in 2013 we had the following:
GIGABYTE is a very market focused motherboard manufacturer, often designing product to match specific requests in various regions. To this end, over the course of the CES weekend we have the two first new 2014 G1.Sniper motherboards being released on the Z87 platform, aimed more at the mid-range gamer: the G1.Sniper Z5S and the G1.Sniper Z5.

Some of the 2013 innovations on the G1.Sniper range include the upgradable OP-AMP feature that lets audio enthusiasts change the operational amplifier to cater their music tastes better, AMP-UP which uses the high end Realtek ALC1150 codec in a tuned and configured environment (EM shield, filter caps, PCB separation of digital and analog signals), USB DAC-UP which provides clean USB power to one USB port to minimize potential fluctuations when using a USB DAC, and Gain Boost to adjust amplification modes depending on the output device. GIGABYTE wraps this up with a Killer network interface to optimize gaming traffic by bypassing the Windows Network Stack.
The G1.Sniper Z5S will be released first, with the Z5 in a few weeks. The Z5S will have most of the features listed above, and use the Z87 chipset in an x8/x4/x4 configuration for tri-CFX compatible setups or in x8/x8 for two-way SLI, along with AMP-UP, OP-AMP, USB DAC-UP, a Killer NIC, and GIGABYTE's updated BIOS/Software package for Z87.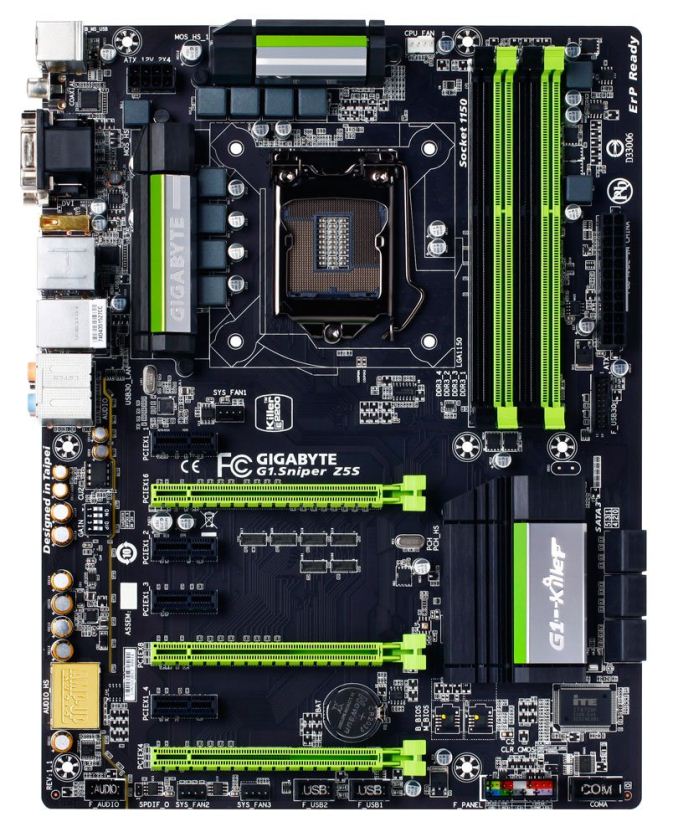 As these are mid-range motherboards, we have the six SATA 6 Gbps from the PCH and six USB 3.0 ports rather than additional controllers: the main selling point here is a basic motherboard improved through the Sniper series features. The main difference between the Z5S and the Z5 will be only two-way CrossFire on the Z5, with also fewer VRMs in the power delivery and the SATA ports at the bottom of the board rather than in the right-angled fashion we usually see. With these specifications they seem straddle the G1.Sniper Z87, which has more VRMs than the Z5 but the same two-way GPU layout than the Z5, as well as more gold plated connectors on the rear IO.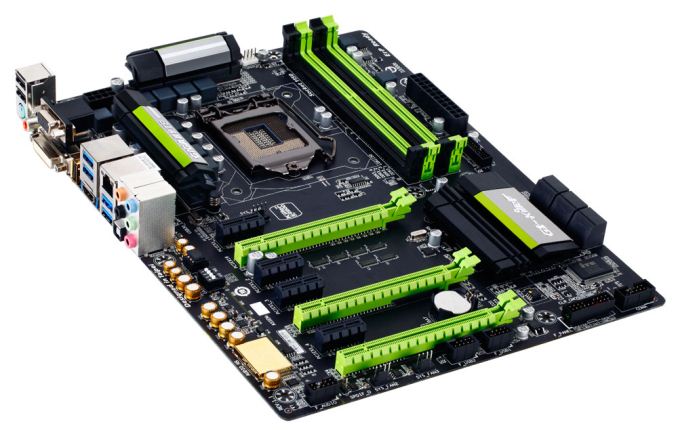 We are waiting for release dates and prices for both models, but we are told the Z5S will be on sale first. We have the G1.Sniper Z87, the middle one of the three, in for review in due course. Stay tuned for that!