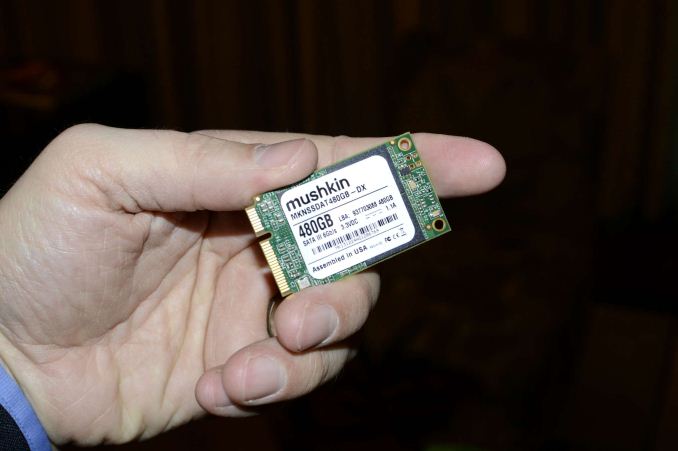 USB sticks and memory are fine, but the more interesting products at Mushkin are their upcoming SSDs. We've already discussed their new line of enterprise class SSDs, but Mushkin has plenty of other drives planned for the coming year. The big news is going to be all of the LSI SF-3700 drives that should show up in the coming months, and not surprisingly Mushkin has a full suite of planned drives. Of course there will be the usual 2.5" SATA SSDs, with the SF-3700 models launching under the Helix brand name; Helix will also be the brand for the M.2 2280 PCIe models. The M.2 Helix drives will ship in capacities up to 512GB while the 2.5" Helix drives will support capacities up to 2TB.
Other new drives are planned as well, with the Atlas line getting upgrade to 128Gb Micron NAND and thus supporting up to 512GB without any daughterboard on the Atlas II models. Mushkin will also be releasing the Scorpion II, which will hold up to 2TB of storage in a PCIe 2.0 x4 card solution. The Scorpion II as well as the 2.5" Helix at present are the only two options from Mushkin where eMLC NAND is also an option, likely for performance/endurance reasons. All of the upcoming SF-3700 SSDs from Mushkin can use either MLC or TLC NAND and have ONFi 2/3 and Toggle Mode 1/2 NAND support, so Mushkin will likely have a variety of drives targeting different price points depending on what NAND is most readily available, or what NAND will perform best. The drives will also have the standard SF-3700 feature set: DuraWrite, SHIELD Error Correction, RAISE Technology, and Dual AES-256 Encryption.
Performance is expected to be better than the existing SF-2281 SSDs, naturally, but Mushkin hasn't disclosed their performance targets yet. The PCIe-based drives should be faster, particularly in sequential transfer rates, but we'll have to wait and see what actually gets shipped. Pricing and expected release dates are not yet known.