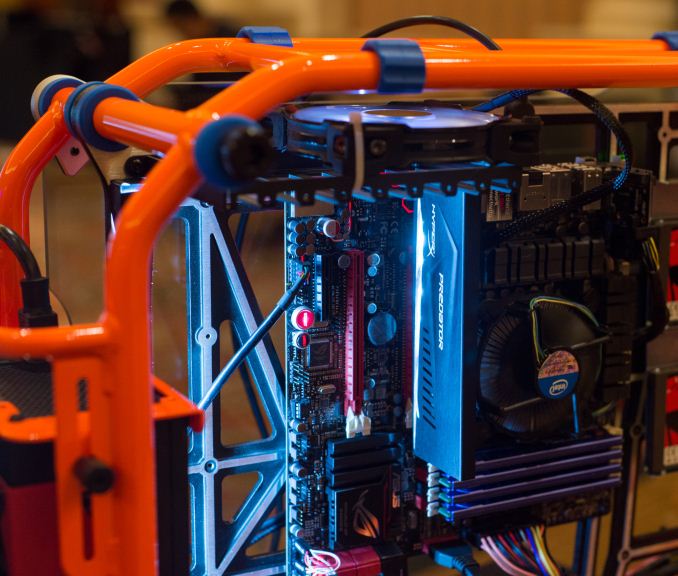 Kingston is among the handful of launch parters for LSI's new SF3700 PCIe/SATA SSD controller. The company had a semi-functional demo of SF3700 silicon at this year's CES in the form of its upcoming HyperX Predator SSD (pictured above).
The HyperX Predator is a half-height PCIe x4 card that implements LSI's SF3700 controller running in PCIe mode. LSI kept all of its partners on a short leash at the show, allowing limited public demonstrations. Kingston was among the few partners allowed to show performance, but only sequential read speeds. LSI seems quite concerned about showing incompressible write performance, I was escorted away from the test system while the Kingston demo operators prepared Iometer (which required 10GB of incompressible writes).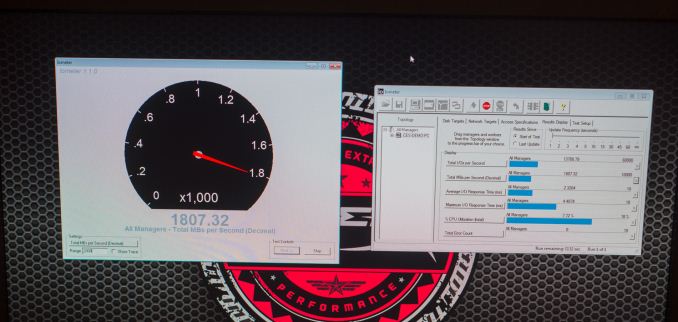 Peak sequential reads of 1800MB/s for a high-end desktop drive is just awesome. There's clearly a lot more to performance than peak sequential reads, but I figure at least one of the native PCIe controller makers is going to get it right this generation.
LSI's caution on talking about write performance is understandable, especially when you consider that SF3700 drives won't be shipping until the middle of the year (early Q3 I'm told). I'd expect more performance details closer to Computex in June.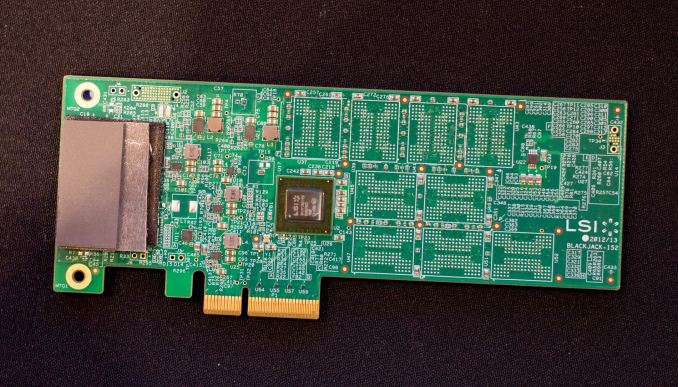 The HyperX Predator is particularly exciting because it will be among the first native PCIe SSDs truly aimed at the desktop enthusiast. Previous PCIe designs used silly on-board RAID with multiple SATA controllers, and generally offered no price (or performance) benefit over multiple SATA drives. Native PCIe makes a lot more sense and it can deliver an incredible amount of performance.
The Predator will ship in AHCI mode. Kingston expects to deliver NVMe support (lower overhead communication protocol rather than just running the SATA protocol over PCIe) via a firmware update before the end of the year. The upcoming Haswell E platform (due out around September) may coincide with NVMe driver availability.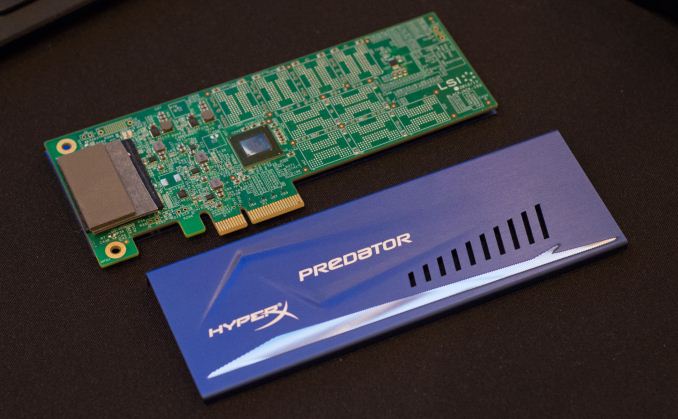 Kingston expects to have 240GB, 480GB, 960GB and 1.92TB versions available at launch. The drives will feature Toshiba's 19nm 2bpc MLC NAND. We've seen many 3rd party SSD makers transition to Toshiba's 19nm MLC NAND given the short supply of Micron/Samsung NAND, and Hynix's insistence on bundling controller + NAND together. The Micron/Samsung NAND seems to be used by Micron and Samsung for their respective 1st party SSDs.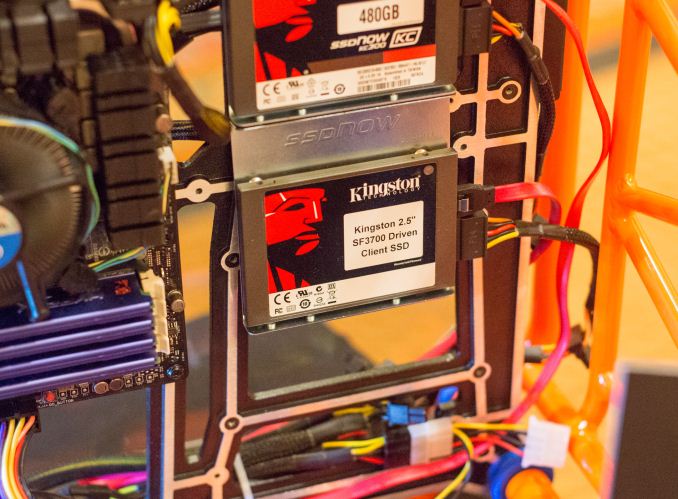 Kingston will also be building a 2.5" SATA drive using the SF3700. Obviously performance will be far more limited in this version. We will also see M.2 PCIe versions, although it's unclear whether they will be x2 or x4.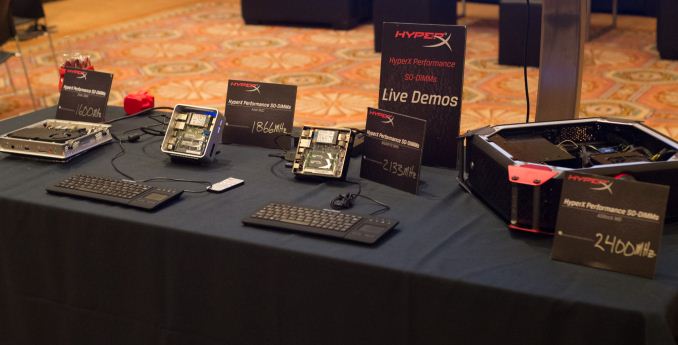 Kingston also had a lineup of HyperX performance SO-DIMMs at the show. Speeds ranged from DDR3-1866 all the way up to 2400. Given the increasing popularity of Intel's NUC as well as other small form factor designs, high performance SO-DIMMs make a lot of sense.