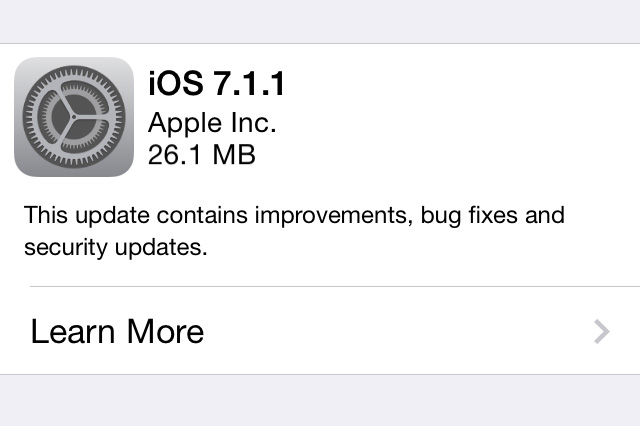 Hot on the heels of the major 7.1 release, Apple released a new update for iOS on iPod Touch, iPhone, and iPad. The iOS 7.1.1 update focuses primarily on fixing the remaining issues with Apple's latest major release of their mobile operating system, iOS 7.
iOS 7 was launched in October of last year and received both praise directed at its shift away from the aging design of the previous version, as well as criticism directed at its seemingly rushed release and significant software issues. In March of this year Apple released its first major update which added new features like support for Apple's new CarPlay system for vehicles with built-in displays. It also improved performance across Apple's device lineup and fixed many of the bugs that persisted since the initial release of iOS 7. The update brought with it a substantial reduction in memory related crashes on 64-bit iOS devices as well as an improvement to UI rendering issues present on those devices since their launch.
iOS 7.1.1 hopes to fix outstanding issues that still exist after the release of iOS 7.1. The details for the update states that it further improves Touch ID recognition on the iPhone 5s, fixes a bug that could impact keyboard responsiveness, and fixes issues while using Bluetooth keyboards with VoiceOver enabled. The update is available for all devices that run iOS 7 and varies between 15 and 30MB in size depending on which device you are using.
An overview of the changes and bug fixes in iOS 7.1.1 can be found here on Apple's support website. A link to Apple's support page detailing the security content of the update is provided along with the change log but it appears that the section for this latest update is not yet live.
Source: Apple