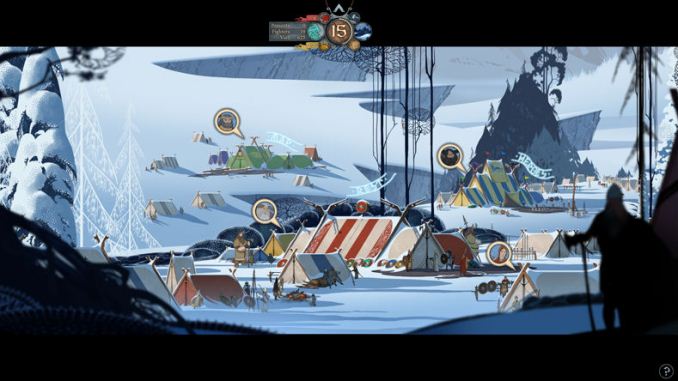 The next update to Humble's 14 Days of Bundles brings us RPG mixed with tactical combat, all wrapped up in a crunchy Viking shell. This is a bit of an interesting bundle as the core game – The Banner Saga: Factions – is actually Free to Play, which of course means it's supported by micro transactions or other forms of monetization. The core content is "name your price", so for as little as one penny you can get the Starter Pack (normally $1.99) along with a collection of artwork from the game. That might not seem like much, but at least it's (potentially) only a penny, though you can always pay more if you're being generous. Beating the average price will also get you the Variations Pack (normally $9.99), while a donation of $15 or more will get you the full Banner Saga game (normally $24.99).
I need to clarify what you're really getting, though. The Banner Saga: Factions game (67%, 02/2013) is actually multi-player only and involves you fighting against other humans in tactical battles. I tried it briefly – it's free, after all – and depending on your feelings for PvP battles it could be a nice way to pass the time. Me, I'm a bit of a gaming recluse these days and like my games to be single-player affairs, so it's not really my thing. That means the core package doesn't do me much good, as the Starter Pack just unlocks four rank 1 units. The Variations Pack isn't any use either, as that's merely 12 variations on each advanced class that you can use when you promote them, again for the Factions portion of the game. So the real draw here would be for the Banner Saga single-player game (80%, 01/2014), which means you have to donate at least $15. At least the game has received decent reviews from the gaming critics, with many comparing it to a Norse variant of Game of Thrones.
The story of how the Banner Saga came to be is also somewhat interesting, as it came to life as part of a Kickstarter project back in April, 2012. With an initial goal of $100,000, developer Stoic more than reached that target with $723,000+ raised during the funding period. Stoic consists for just three people, with a background in game design that includes credits like The Old Republic. There's one developer and two artists, and with their combined talents they were able to crank out the single-player game in just under two years. The graphics largely consist of comic-style art with some rather nice backgrounds, as you can see from the screen shots.
Short summary: today's Banner Saga bundle is a good way to get into the single-player game for $15 instead of the usual $25, which means you're only paying $5 more than the early Kickstarter backers for the game. The Factions aspect doesn't seem to be well populated from what I've seen, though this Kickstarter might add some new players to the mix, and personally I didn't find much there to keep me playing. Most people seem to feel the same, given that the current average price is currently $10.91 with over 3000 copies sold, so it looks like buyers are going for the $15+ donation. If you need something else to occupy your time, check out Humble's Weekly Bundle, which includes several platforming games.
Source: Humble Bundle