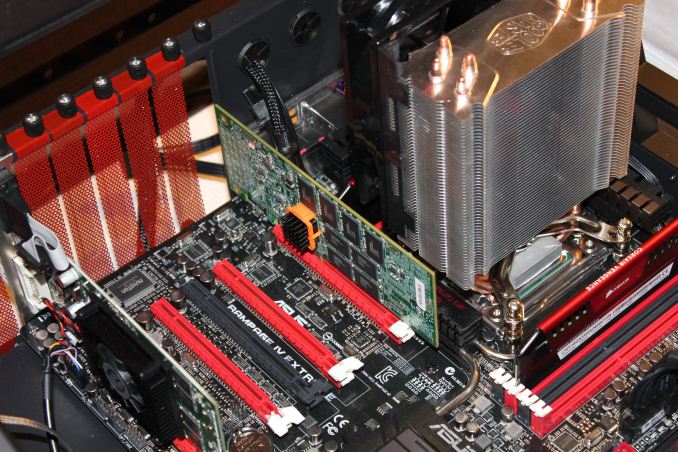 One of the key things I have been looking forward to at Computex is hearing more about the third generation SandForce controller i.e. the SF3700. I just stopped by at LSI's suite and finally have some new information to share. First off, LSI said that the controller will be shipping to OEMs in H2'14 but ultimately product releases will depend on the OEMs' schedules. I believe we might see some products shipping in Q4'14 but I'm afraid that most OEMs won't have their drives ready until early 2015 (CES?).
The firmware development is still ongoing and LSI told me that they have just started optimizing the write performance of the firmware. In other words, it's not even ready for final validation, which means that the OEMs can't fully validate their products yet because the firmware is not final. That's why I doubt we'll see any retail products shipping this year and none of the manufacturers I've talked to so far have given me any timing for their SF3700 products.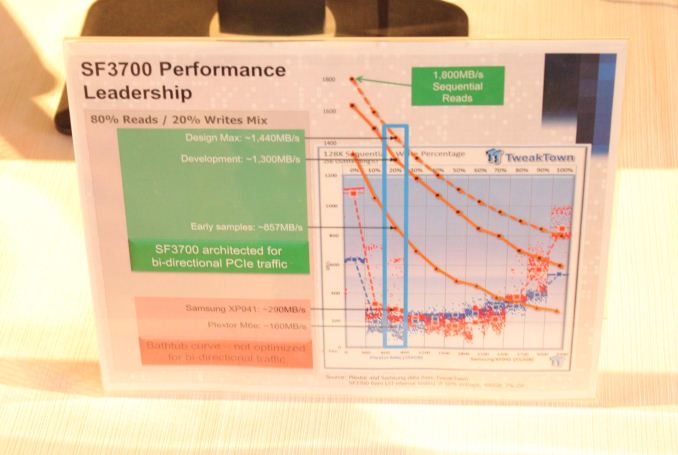 Performance wise LSI is focusing on mixed read/write performance. While the PCIe drives shipping today (like the Samsung XP941) provide great read and write performance, they aren't optimized for workloads that consist of both reads and writes. In other words, the drives are more optimized for benchmarks as those usually test one or the other, whereas real world workloads will always have both. This is an area we definitely need to investigate more -- we've been doing this for the enterprise for a while but we will likely be bringing it to the client side soon as well.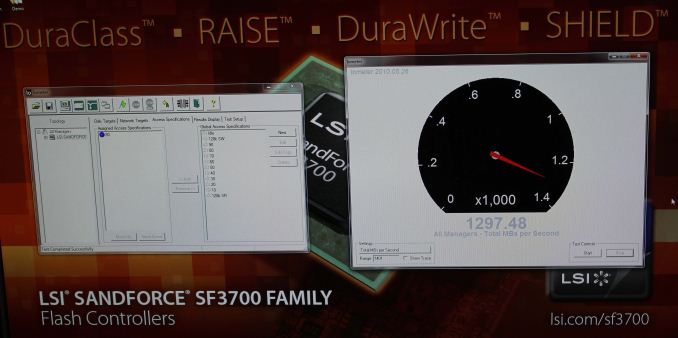 LSI showed me a live demo of the SF3700 with 128KB 80/20 read/write configuration. This time there wasn't any secretive or fishy stuff going on like at CES when Kingston had a live demo of the drive and we were allowed to see Iometer in action along with all the preparations (well, there wasn't any to be honest, they just clicked start). Based on the graph in the previous picture, SF3700 is clearly the highest performing PCIe SSDs when it comes to 80/20 read/write as the Plextor M6e and Samsung XP941 are only hitting ~250MB/s. Obviously this doesn't show the big picture and there are a lot of other variables when it comes to testing but the performance is certainly looking promising.
Furthermore, the SF3700 should bring much improved performance with incompressible data. I wasn't able to get any details other than that LSI is implementing an option to disable compression so the drives will perform the same regardless of the data type. While I think compression definitely has its advantage (higher performance, more over-provisioning...), I can see this being a big deal for some OEM customers who need their components to perform consistently in all workloads.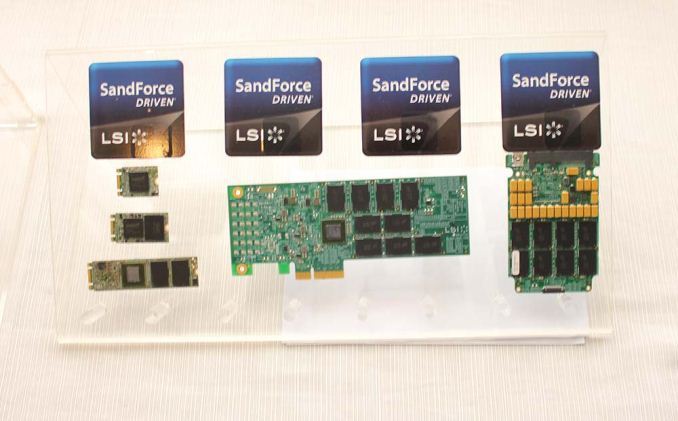 Lastly, the last week's acquisition. As it's still so recent news, there aren't much details to share. LSI did say that the acquisition won't change the state of SF3700 at all and it will be licensed to OEMs like all previous SandForce controllers but the future after that is still up in the air.