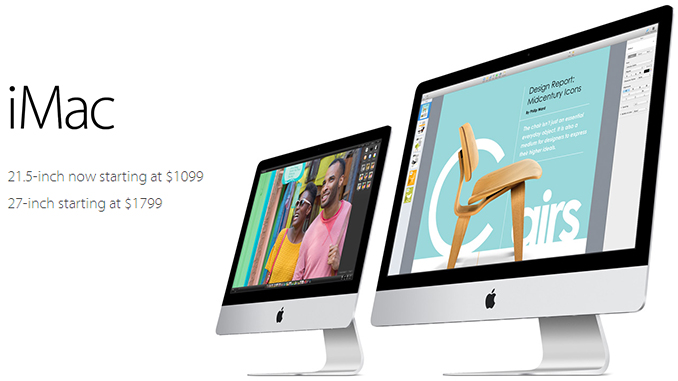 Today Apple released a new model in their line of iMac computers. The new model slots in below the original entry model 21.5" iMac with less powerful specifications but also a smaller price tag. With Apple's Mac Mini not having been updated since 2012, the new 21.5" iMac is a new way to access Apple's desktop ecosystem at a lower price than Apple's more powerful solutions without having to go with an older Sandy Bridge based hardware platform. Below the new 21.5" iMac is compared to the previous entry level model which still remains priced at $1299, as well as the upgraded 21.5" model in the iMac line.
Apple 2014 iMac Line
Configuration
21.5-inch Base Model iMac
21.5-inch Mid-Range iMac
21.5-inch Flagship iMac
Display
21.5-inch 1920 x 1080 IPS
21.5-inch 1920 x 1080 IPS
21.5-inch 1920 x 1080 IPS
CPU (Base/Turbo)
Intel Core i5-4260U Dual Core + HT (1.4GHz/2.7GHz)
Intel Core i5-4570R Quad Core (2.7GHz/3.2GHz)
Intel Core i5-4570S Quad Core (2.9GHz/3.6GHz)
GPU
Intel HD 5000
Intel Iris Pro 5200
NVIDIA GeForce GT 750M (1GB GDDR5)
RAM
8GB LPDDR3-1600
8GB DDR3-1600
8GB DDR3-1600
Storage
500GB 5400RPM
1TB 5400RPM
1TB 5400RPM
WiFi
802.11ac
I/O
4 x USB 3.0, 2 x Thunderbolt, 1 x GigE, SDXC reader, headphone jack
Starting Price
$1099
$1299
$1499
The most immediately noticeable change with the new entry level iMac is the CPU. Apple has moved from the quad core i5-4570R used in the $1299 iMac which originally served as the entry level model to the dual core i5-4260U. This is the same CPU used in Apple's 13" Macbook Air and so users can expect a similar experience regarding performance, although the iMac is likely to be able to sustain turbo clock speeds for longer periods of time due to it being less thermally constrained than the Macbook Air. Single threaded performance should be pretty decent given the 4260U's ability to turbo up to 2.7GHz. Remember that these are roughly the same individual cores that are used in the higher end iMacs - there are just fewer of them. With the move to a Haswell ULT part there is also a sacrifice in GPU performance with the new iMac running Intel's HD 5000 integrated graphics rather than the Iris Pro 5200 used in what is now the mid-range iMac model. When we looked at HD 5000 performance in the MacBook Air we determined that the performance gains from moving to Haswell GT3 in a 15W part were limited by thermals. I suspect the iMac's chassis may allow the ULT part to stretch its graphics performance a bit more.
With the mid-range iMac sporting a quad core i5 and Iris Pro graphics the CPU is likely going to be the deciding point for users choosing between the new entry level iMac and the mid-range model. In addition to the CPU changes, the hard drive sees a drop in capacity from 1TB to 500GB compared to the previous entry level model.
Aside from the changes to the CPU and the hard drive the new entry level iMac retains all the other hardware that ships in the other 21.5" iMac models. It still includes the 1920x1080 IPS display which was found to perform quite favorably, 8GB of RAM, and all the I/O connectors including four USB 3.0 ports, two Thunderbolt ports, 1 gigabit ethernet port, an SDXC reader, and a 3.5mm headphone jack.
Looking at the new iMac, it seems like a product that has the business and education market in mind. Users who intend to do anything performance intensive are much better served by the mid-range model. But in an office environment or in schools the performance reductions may not be much of a concern when the computers are needed for simple web browsing and working with documents. For those markets the $200 savings on each computer will be quite significant when ordering in large amounts.
The new entry level 21.5" iMac is shipping today for $1099 in the United States, $1149 in Canada, and £899 in the United Kingdom
Source: Apple PR