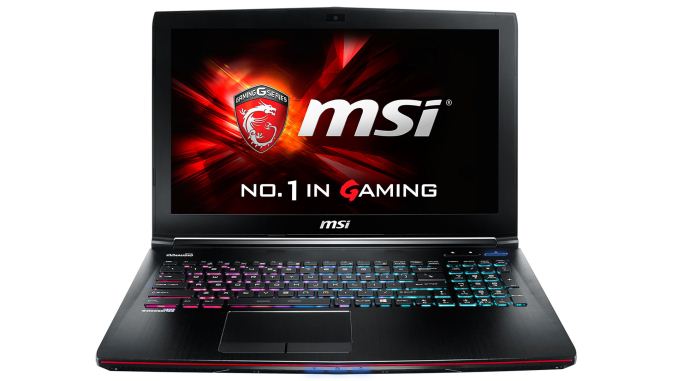 After reviewing the GT72 Dominator Pro last year, I wondered how long it would take to see some of the updated industrial design elements make their way into other MSI notebooks. The answer: not too long at all. In an interesting move, MSI will be phasing out the current GT60 chassis, replacing it with the GE62. It appears that the GT72 will continue to be the halo gaming notebook from MSI, along with the upcoming GT80 Titan (more on that soon!), with the GE and GS series being a step down in performance. The GS series is also MSI's "thin" platform, while the GE series tends to go after the more value minded laptop gamers. With the updated designs, though, GE may be moving up in the world.
Briefly covering the design changes, the LCD and cover are now a bit thicker and more rigid, which was one of my complaints with the previous GE series offerings. The hinges have also been reworked to help improve build quality, and in the time I spent checking out the notebooks the changes seem to have worked. Other than the hinges and cover, most of the appearance remains similar to the last generation GE products, with a few refinements that help with the overall aesthetic. In terms of internals, there have been other changes that improve the overall package as well, with the GE line now sporting dual cooling fans and improved airflow. The result should be a potent gaming notebook that may not match the raw performance of the GT72, but it also shouldn't cost as much.
In terms of the hardware, pricing, and availability, I don't have any clear specifics on the latter but I can say that the version of the GE62 being shown still uses a Haswell processor, the i7-4720HQ. The display on the GE62 is an IPS panel, which is great to see, and while some might complain about the 1080p resolution I actually don't mind 15.6" 1080p IPS instead of 3K/4K, especially if it means a lower price point. The graphics card has not been announced yet, so we'll have to hold off on publishing any details for that element for a few more days, but it should be something faster than the GTX 860M.
As for the GE72, that notebook appears to be a bit further out, as the engineering sample being shown still has a TN panel and MSI is working on finalizing the specs. It ends up looking very much like the GT72 but with a slightly lighter and slimmer chassis and a bit less cooling performance. Specifications should otherwise be quite similar to the GE62, with the only real difference being the larger screen and chassis.
Source: MSI Notebooks