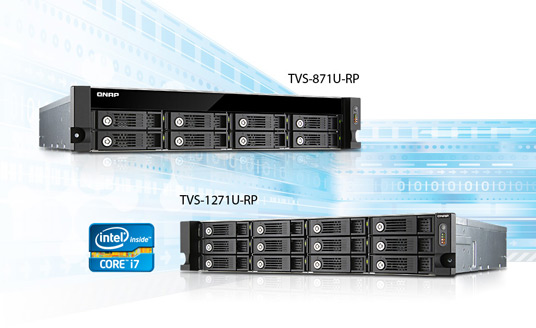 At CES, QNAP had the TVS-x71 series of NAS models in the tower form factor. Bay counts ranged from 4 to 8. Users had a choice of four different Intel Haswell processors (Pentium, Core i3, Core i5 and Core i7). The units also featured upgradable RAM capacity and a free PCIe slot for expansion cards.
Yesterday, QNAP announced 2U rackmount units with platforms based on the same set of processors. The TVS-x71U comes in 8 and 12-bay varieties. In addition to all the features available in the TVS-x71 series, the rackmount platform has the following updates:
Availability of two mSATA ports for SSD caching
Availability of two additional RAM slots (allowing up to 32 GB of memory)
Two additional USB 2.0 ports and one additional USB 3.0 port
Redundant / hot-swap power supplies
Support for rackmount expansion units
The list of removed featuers are provided below. These are completely justified given the target market and form factor of the rackmount units.
Removal of LCD screen and buttons for basic PC-less management
Removal of the USB one-touch backup feature
Unfortunately, the RAM (which is now the regular DIMM variety and not SO-DIMM) remains non-ECC. Consumers looking for 12-bay solutions have to go for the rackmount units, while those looking at 8-bay solutions have either the tower form factor or the rackmount at their disposal. The various models in the lineup that QNAP is bring to the market are listed in the table below.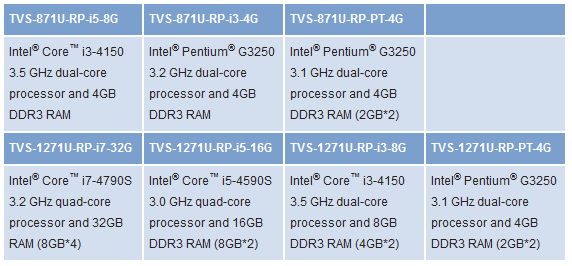 QNAP claims speeds of over 3.3 GBps and 162K IOPS for the 12-bay solution. The rackmount RAID expansion enclosures REXP-1600U-RP and REXP-1200U-RP can be used for additional capacity. However, the expansion support is not native, and will need the SAS-6G2E-U module in one of the free PCIe slots. Pricing information is not available yet.
Source: QNAP