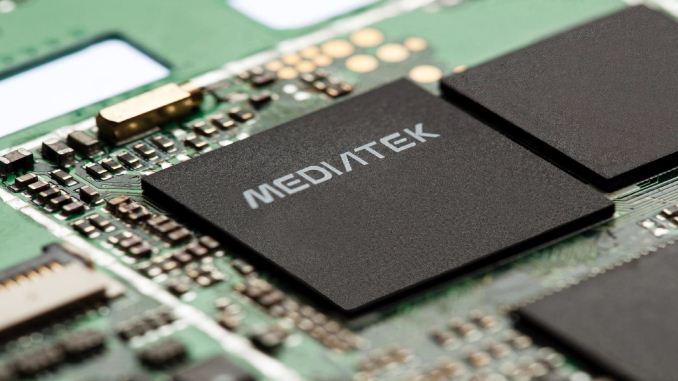 Yesterday MediaTek announced the successor to last year's Helio P10. The Helio P10 was announced back in June with devices being announced and released in the following months. Even though the SoC is only 8 months old it still looks like MediaTek is keeping up the pace and looking forward with the new P20.
MediaTek 2016 H1 Lineup
SoC
MediaTek
Helio X20
(MT6797)
MediaTek
Helio X10
(MT6795)
MediaTek
Helio P20

MediaTek




Helio P10




(MT6755)

CPU
4x Cortex A53 @1.4GHz

4x Cortex A53 @2.0GHz

2x Cortex A72
@2.5GHz
4x Cortex A53 @2.2GHz

4x Cortex A53 @2.2GHz
4x Cortex A53
@?GHz

4x Cortex A53 @2.3GHz

4x Cortex A53




@1.1GHz





4x Cortex A53 @2.0GHz

Memory
Controller
2x 32-bit @ 933MHz
LPDDR3

14.9GB/s b/w
2x 32-bit @ 933MHz
LPDDR3

14.9GB/s b/w
2x 16-bit @1600MHz
LPDDR4X

or alternatively

1x 32-bit @ 933 LPDDR3

12.8GB/s or 7.4GB/s
b/w

1x 32-bit @933MHz


LPDDR3

7.4GB/s b/w
GPU
Mali T880MP4
@700MHz
PowerVR G6200
@700MHz

Mali T880MP2




@900MHz

Mali T860MP2




@700MHz

Encode/
Decode
2160p30 10-bit
H.264/HEVC/VP9
decode

2160p30
HEVC w/HDR
encode
2160p30 10-bit
H.264/HEVC/VP9
decode

2160p30
HEVC
encode
2160p30
H.264 & HEVC
decode

2160p30
H.264
encode

1080p30




H.264 & HEVC




decode





1080p30




H.264




encode

Camera/ISP
Dual ISP
32MP @ 24fps
21MP single or
16MP + 8MP dual
24MP single or
13MP + 13MP dual

21MP single or




16MP + 8MP dual

Integrated
Modem
LTE Cat. 6
300Mbps DL
50Mbps UL

2x20MHz C.A.
(DL)
LTE Cat. 4
150Mbps DL 50Mbps UL
LTE Cat. 6
300Mbps DL
50Mbps UL

2x20MHz C.A.
(DL)

LTE Cat. 6




300Mbps DL




50Mbps UL





2x20MHz C.A.




(DL)



Mfc. Process
20SoC
28HPM
16nm FinFET
28HPC+
Going over the specifications what we see is a slight increase in frequency on the 8 Cortex A53 cores. Although we currently lack details on the clocks of the efficiency cluster, we can disclose that the performance cluster is now clocked in at 2.3GHz instead of 2.0. On the GPU side the Mali T860MP2 has been upgraded to a T880MP2 and clocks have been raised 200MHz to 900MHz.
Due to the lack of a big core CPU cluster or wide GPU configuration, it seems clear that the P20 is still aiming at more conservative and low-power performance targets while trying to keep the cost of the SoC down.
An interesting addition is the integration of a new memory controller which is capable of LPDDR4X memory. LPDDR4X is a new standard which was finalized late last year and represents an evolution over LPDDR4 promising to improve power efficiency. This is done by lowering the VDDQ voltage of the memory down to 0.6V, which more than halve the output driver power and cuts overall total memory power by 20%.
The multimedia blocks see some enhancement in their capabilities and can now decode and encode in 4K, although the encoder is still limited to H.264 and thus lacks HEVC capability. The ISP has also seen upgrades and now has more processing power to support up to 24MP single cameras or 13+13MP dual cameras.
Finally, the biggest news here is that the P20 is manufactured on a 16nm FinFET node. The last weeks has seen a flurry of mid-range FinFET SoCs announced and this now marks MediaTek as the third vendor after Qualcomm and Samsung LSI to release a mid-range product on a high-end manufacturing process. Here at MWC we were able to have a chat with Executive Vice President and Co-Chief Operating Officer at MediaTek Jeffrey Ju and we were told to expect some 'outstanding' power efficiency from the P20.
Commercial devices with the P20 are reported to start shipping in the second half of 2016.