Ultra Budget GPUs
Looking at the cheapest discrete graphics cards available, there are a ton of overlapping product names and it is extremely easy to get confused. Not only do you have overlapping product names, but you also have a lot of different clock speeds and architectures, making it even more difficult to determine which options are the best. We are looking to keep prices in the Ultra Budget category under $75, but we will actually look at two price brackets: cards that cost under $50 and cards that cost between $50 and $75. The less expensive cards will be good for people that just need any graphics card, either because they want a DVI port, other features not available with integrated graphics, or perhaps because they just want a good overclocking motherboard and there are more such options available if you aren't looking for IGP.
Looking at the sub $50 graphics cards, most of the least expensive options support either the Radeon X300 SE HyperMemory or the GeForce 6200 LE TurboCache graphics chip. The X300 comes with four pixel shaders and two vertex shaders - twice as many as the Radeon Xpress 1100 - and a stock clock speed of 325/400 MHz core/RAM. Nearly all of the X300 chips are going to have a 64-bit memory bus with 64MB of memory onboard and the ability to share up to 256MB of system memory. The 6200 TurboCache parts are very similar, with four pixel shaders and three vertex shaders, a 64-bit memory interface, and 64MB of onboard memory with the ability to use up to 256MB of system memory. Clock speeds are slightly faster than the ATI X300, at 350/700 core/RAM. You also get Shader Model 3.0 support with the NVIDIA parts, making them a slightly better overall option out of these two chipsets (not that they're fast enough to play any SM3.0 games anyway).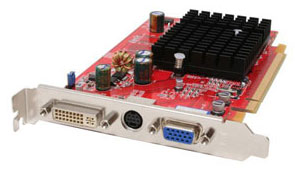 For only a few dollars more, you can also start to find the ATI Radeon X550 HyperMemory, which has 128MB of onboard memory and the ability to use up to 512MB of system memory, as well as slightly higher clock speeds relative to the X300: 400/500 core/RAM. This GPU is basically a slightly faster version of the X300 with an otherwise identical feature set. Coming closer to the $50 mark, we begin to see some of the X1300 HyperMemory cards. The good news is that not only do you get slightly faster clock speeds than the X550, but you also get SM3.0 and AVIVO support. On the NVIDIA side, the 7100 GS and the 7300 LE are both available for close to $50. The 7100 GS really isn't much better than the 6200 TurboCache, as it has the same core clock speed, but the 7300 LE improves performance slightly by running the core at 450 MHz. None of these cards are particularly fast, so if you want the absolute cheapest option we would recommend a 6200 TurboCache card, while if you are willing to pay slightly more for performance we would suggest trying to get one of the X1300 cards. The ASUS EAX1300/TD/128M would be our choice if you're trying to keep costs as low as possible but still get a bit more in the way of performance and features.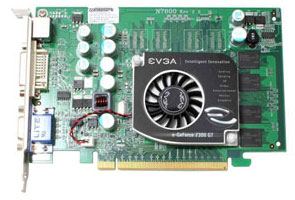 As we move up to the $75 range, we start to see 7300 GS, X1300 LE, a few older cards like the GeForce 6600 LE and 6600, and near the top of the price limit there are a few Radeon X1300 Pro and GeForce 7300 GT cards. The 7300 LE and GS are both pretty anemic when it comes to performance, and the X1300 (along with the LE and Pro variants) is definitely going to be faster. However, the 7300 GT actually turns the tables and begins to offer reasonable budget gaming performance, particularly if you get one of the factory overclocked models. For end-user overclocking, the 7300 GT is also going to be a good choice, at least relative to the X1300 Pro. There are a few games where the X1300 Pro might be a bit faster compared to the stock 7300 GT, but overall we would give the edge to the NVIDIA GPU. If you still prefer ATI hardware and are considering the X1300 Pro, you would probably be better off spending an extra $10-$15 to get an X1600 Pro instead, which will basically match the performance of the 7300 GT when looking at a large selection of games. If we stick to a strict $75 budget, however, the best of the more expensive Ultra Budget offerings would be the EVGA 256-P2-N443-LX GeForce 7300 GT for $75. That particular 7300 GT has a 64bit memory interface, however, so we would suggest spending $85 to get the factory overclocked Biostar V7302GT21 7300 GT (400/700 core/RAM) that comes with a 128bit memory bus.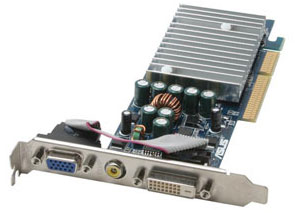 Taking a quick look at the AGP side of the market, at the extreme low end of the price spectrum there are a few Xabre and Volari cards that cost under $25. We would take the Chaintech SLV3-128 Volari V3 128MB for around $28 as the cheapest AGP card with a DVI port that we can find. Just don't count on driver support and gaming compatibility being all that great. Not surprisingly, there are a lot of older GPUs still available on the AGP platform, but we wouldn't recommend most of them. Radeon 9600 parts are basically the same as the X300 PCI-E parts in terms of performance, so if you're not too demanding they might fit the bill. We would recommend staying away from the GeForce FX line as that series of GPUs never performed as well as we would like, but you can find a few GeForce 6200 and 6600 LE cards priced under $75. If you're stuck looking for a better performing AGP graphics card, you might look at trying to pick up something like a used Radeon 9800 Pro instead, rather than spending more money for less performance on a new card. If you haven't noticed already, when compared strictly on price PCI-E definitely offers more bang for the buck than AGP these days.
For those wanting a quick rundown of all of the various GPUs available in this price range, here are the standard features, clock speeds, and estimated prices. (We won't include any AGP chips in this list.) We have organized this table in order of roughly estimated increasing performance, with the slowest cards at the top. Unfortunately, there are still a lot of cards that we aren't listing, due to variations in clock speed. Missing features (i.e. SM3.0) also come into play, so don't place too much weight on the rankings. This is merely a quick look at how we see things without regards to price, and we would generally focus on the GPUs we've specifically recommended above.
Budget GPUs
GPU
Pixel
Shaders
Vertex
Shaders
ROPs
Core
Speed
RAM
Speed
Memory
Interface
Price
X300 SE
4
2
2
325
400
64bit
$38
6200 TC
4
3
2
350
700
64bit
$38
X300 LE
4
2
2
325
400
128bit
$70
7100 GS
4
3
2
350
667
64bit
$49
X550 HM
4
2
2
400
500
64bit
$47
X550
4
2
2
400
500
128bit
$60
X700
8
6
4
400
700
128bit
$75
7300 LE
4
3
2
450
667
64bit
$52
7300 GS
4
3
2
550
800
64bit
$59
X1300
4
2
4
450
500
128bit
$52
6600 LE
8
3
4
300
550
128bit
$66
X1300 Pro
4
2
4
600
800
128bit
$75
X1600 Pro
12
5
4
500
800
64bit
$85
7300 GT
8
4
4
350
667
128bit
$75