Introduction
Try as we might, it's often difficult to get all of the products that we would like to review sent our way. Case in point: LCDs. There are dozens of good quality LCDs available that we have not reviewed -- and plenty more low quality LCDs. It's not too surprising that some companies don't want to send us review samples. If you have a low quality product that can't compete anywhere but price, in-depth reviews might do more harm than good in terms of sales. This is not to say that the HP w2408 is a low quality product, but it does stand out from previously reviewed 24" LCDs in several areas.
Looking at the display market from the buyers perspective, there are several different types of users. On the one hand, you have people that simply want a display that will show them the usual computer stuff. It won't really matter whether a display is slightly brighter, offers better contrast, has extra inputs, or anything else; if it works with their computer and doesn't break, they will be content. For such people, looking at the least expensive LCDs in a particular size range makes a lot of sense. Somewhat similar to this group are those who don't care about the technical aspects of a display so much as the outward appearance. If a product fits in better with their office environment and decor, that may be reason enough to purchase it. Then there are the gaming enthusiasts that want better response times and higher refresh rates, home theater enthusiasts who want a better movie viewing experience, and imaging professionals that require the most accurate colors possible.
There's often overlap between the target markets, but it's rare to find a display that can meet the requirements for all areas. Displays with the best color accuracy are often much more expensive, as are those that target home theater enthusiasts. A display targeting gamers on the other hand may sacrifice color accuracy in order to improve response time -- many users will actually prefer displays that have less accurate colors.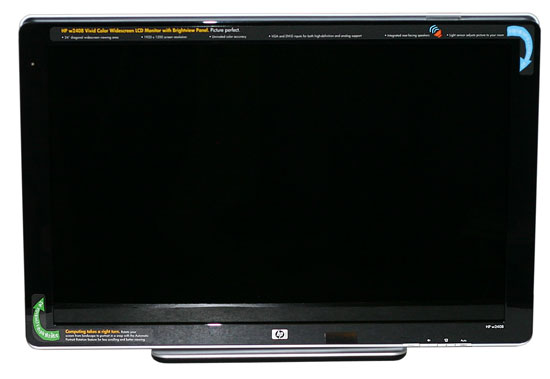 So where does the HP w2408 fit in the above list? With a price of $570, it's less expensive than many competing models, but at the same time it's hardly inexpensive. One of the reasons we like many of the 24" LCDs on the market is that they offer a great selection of features, and many have higher quality LCD panel technology than what's available in 22" LCDs. The w2408 appears to be a step backward in this respect, as feature wise it's simply an inflated HP w2207. Where Dell, Gateway, Samsung, and others use (or at least used) S-PVA panels, the w2408 is one of a growing number of 24" LCDs that uses a TN (S-TN) panel - it might be the best-looking TN panel to enter our test lab to date, but it's still a TN panel.
24" LCDs with TN panels definitely have a place in the market, but many of these models cost $400 or less where higher-quality S-PVA panels start around $600. That puts the HP w2408 in a difficult position, and the primary selling point appears to be an industrial design that sets it apart from other offerings. Is that enough, or are there other selling points for the w2408? Let's take a closer look and see exactly what it things to the table.