Dell's Latitude Gets Rough and Ready
First, the smaller update: the Dell Latitude E6420 ATG is a basic refresh of their previous E6410 ATG. The E6420 benefits from an update to Sandy Bridge hardware in a 14" chassis. The ATG line is for Dell's semi-rugged notebooks, and the E6420 is already available with 2nd Gen Intel Core i5 or i7 processors, Intel's HD 3000 integrated graphics, and up to 8GB of DDR3. The E6420 ATG starts at $1,949.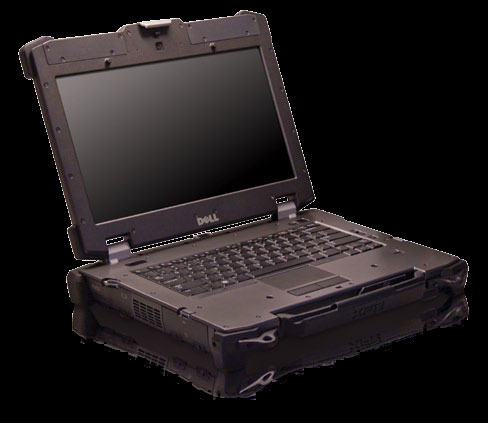 Pardon the poor image; it's all we had to work with.
Next is the E6420 XFR. Dell's XFR offerings are true ruggedized notebooks, designed to withstand a six foot drop and the harshest of climates. The E6420 XFR is designed from a specialized polymer called PR72, a composite Dell claims is stronger, lighter, and less expensive than the traditional magnesium alloy. Additionally, the E6420 XFR uses a special emulsion process for the glass, has a fully-enclosed fan, and the media bay is hot-swappable: you can swap in an optical drive, another battery, another hard drive, or even a legacy port cluster.
The E6420 XFR has been updated to run Sandy Bridge processors, offering an Intel Core i5-2520M or i7-2620M. The 14" impact-resistant screen keeps the nominal 1366x768 resolution, but is outdoor viewable and can be configured with a touch-sensitive surface. Graphics duties are handled by Intel's integrated graphics, but an optional upgrade to NVIDIA Quadro NVS 4200M graphics with 512MB of DDR3 is available. It's worth mentioning that Dell's E6420s are internally compatible with images from their non-rugged Dell Latitude line to make them as easy to service as possible.
The E6420 XFR starts at $4,432, but while that may seem rather high it's pretty typical for fully ruggedized laptops.
Finally, Dell is also offering a fully-ruggedized tablet, the XT2 XFR. The XT2 XFR still runs using Intel's aging Core 2 Duo SU9600 (and corresponding GMA 4500MHD), but if you need a tablet that's built for punishment, the XT2 XFR is the one. In our conversation with Dell they did mention that an update to an XT3 XFR was already planned for next year. The XT2 XFR starts at $3,069.
As an interesting tidbit brought up in our conference with Dell, they pointed out that these ruggedized notebooks are designed largely for military and law enforcement purposes. That means that in order to consistently be able to service units in theatres of war, Dell has multiple parts depots set up in the Middle East as well as technicians on hand. After all, if a computer is mission critical it's not like our troops can just wait while it gets shipped back to the States. We thought this was a cool bit of information worth sharing with the rest of you.