Introduction
The emergence of the digital economy has brought to fore the importance of safeguarding electronic data. We have discussed the 3-2-1 data backup strategy before in the piece where we covered ioSafe's Indiegogo campaign. The strategy involves keeping three copies of all essential data, spread over at least two different devices with at least one of them being off-site or disaster-resistant in some way. It is almost impossible to keep a copy of large frequently updated data sets current in an off-site data backup strategy. This is where companies like ioSafe come in.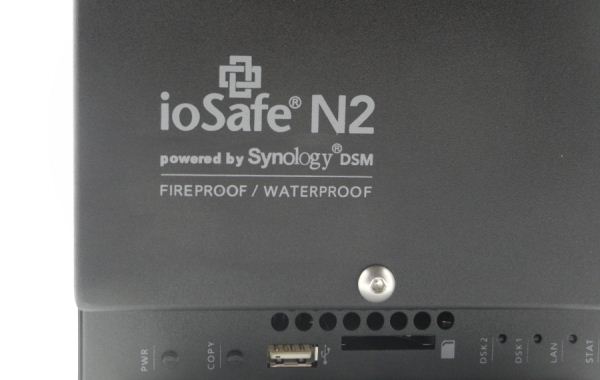 We had reviewed ioSafe's SoloPRO, a disaster-resistant external hard drive last year. External hard drives are good enough for daily backups, but entirely unsuitable for large and frequently updated data. The latter scenario calls for a network attached storage unit which provides high availability over the local network. The SoloPRO's chassis and hard drive integration strategy made it impossible for end users to replace the hard disk while also retaining the disaster-resistance characteristics. Though I don't have any data to back me up, my guess is that the data in a device like the SoloPRO is more likely to be lost due to a hard drive failure rather than a disaster. ioSafe provides data recovery in either case, but it would be simpler for users to be able to replace the drive themselves while retaining the disaster-resistance characteristics. A disaster-resistant RAID-1 NAS with hot-swap capability would be an ideal solution in this case. ioSafe's N2 is a solution designed with these issues in mind.
Synology is one of the well-respected brands in the NAS market. Their current 2-bay lineup consists of the DS213, DS213+ and the DS213air. For the N2, ioSafe took the hardware and software platform of the DS213 and designed their disaster resistant chassis around it. Readers interested in the full hardware and software specifications of the ioSafe N2 can take a look at our initial coverage of the unit.
In the rest of this review, we will take a closer look at how ioSafe is able to provide hot-swap capability with user-replaceable hard disks while also retaining the unit's disaster-resistance characteristics. We will also take a look at the other components which protect the hard disks from fire and water.
Testbed Setup
The review also presents single and multi-client benchmarks under both Windows and Linux. For this purpose, we use the SMB / SOHO NAS testbed described earlier.
AnandTech NAS Testbed Configuration
Motherboard
Asus Z9PE-D8 WS Dual LGA2011 SSI-EEB
CPU
2 x Intel Xeon E5-2630L
Coolers
2 x Dynatron R17
Memory
G.Skill RipjawsZ F3-12800CL10Q2-64GBZL (8x8GB) CAS 10-10-10-30
OS Drive
OCZ Technology Vertex 4 128GB
Secondary Drive
OCZ Technology Vertex 4 128GB
Tertiary Drive
OCZ RevoDrive Hybrid (1TB HDD + 100GB NAND)
Other Drives
12 x OCZ Technology Vertex 4 64GB (Offline in the Host OS)
Network Cards
6 x Intel ESA I-340 Quad-GbE Port Network Adapter
Chassis
SilverStoneTek Raven RV03
PSU
SilverStoneTek Strider Plus Gold Evoluion 850W
OS
Windows Server 2008 R2
Network Switch
Netgear ProSafe GSM7352S-200
Thank You!
We thank the following companies for helping us out with our NAS testbed:
We will conclude the piece with a discussion of the power consumption and a few other miscellaneous aspects.