Western Digital's Windows Storage Server based DX4000 has been very well received by SMBs. However, its desktop form factor restricted the target market. After listening to feedback from customers and resellers, WD has decided to release a rackmount form factor version, the RX4100.

The RX4100 is a 1U-form factor four-bay machine. The DX4000 came with either two or four bays populated, while the RX4100 ships with all bays populated and pre-configured in RAID-5. The two network ports are bonded in active-backup mode. The RX4100 is still based on the Intel Atom D525 (WD says that the D2700 differs from the D525 only very slightly in clock speed and supports a HDMI output port - not very important for the RX4100's target market). The presence of Windows Storage Server 2008 R2 and being ready to use out-of-the-box indicate that this unit is geared towards small businesses without full time IT staff.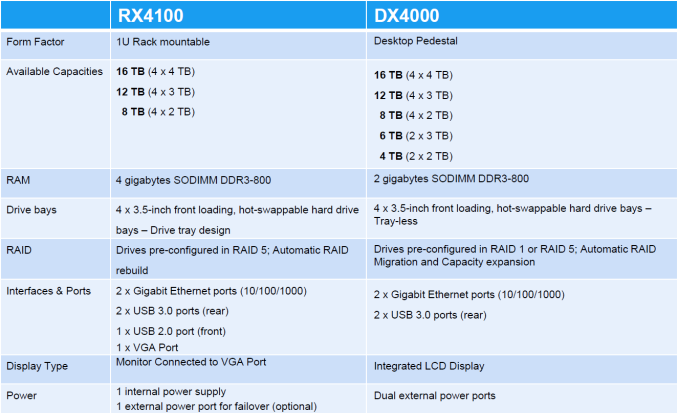 The bundled enterprise grade hard drives are currently of the WD Re variety, but WD expects to move to the WD Se after production ramps up. WD has also tied up with KeepVault to provide off-site backups for the RX4100 customers. 105 MBps reads and 95 MBps writes are the claimed performance numbers. The WD Guardian services provide for hardware support and parts replacement for the duration of the plan. The standard warranty is three years, and the Guardian service come in three tiers (Express / Pro / Extended Care) with different features.
The 8 TB, 12 TB and 16 TB variants are being launched with MSRPs of $1899, $1999 and $2349 respectively.