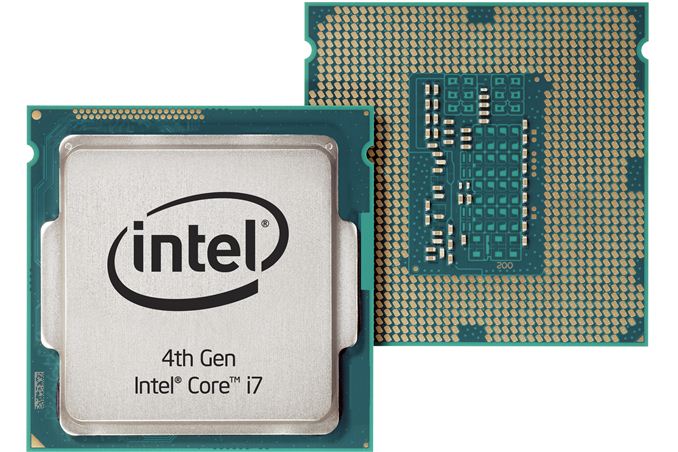 Intel's Haswell is here, or at least the first salvo of quad-core parts has arrived. Just like we saw with Sandy Bridge and Ivy Bridge, Intel will be releasing Haswell in stages, starting at the high-end and trickling down from there. Today, we can tell you about the quad-core desktop and mobile parts, and we have several other articles going into greater detail on the performance and features you'll get. These two Pipeline posts are going to strip out all the other stuff and just focus on the processors being launched today. We'll have a few short tables showing the currently-announced quad-core SKUs for desktops and mobile, and we'll have another similar post covering the dual-core parts when those are officially announced.
Intel 4th Gen Core i7 Desktop Processors
Model
Core i7-4770K
Core i7-4770
Core i7-4770S
Core i7-4770T
Core i7-4770R
Core i7-4765T
Cores/Threads
4/8
4/8
4/8
4/8
4/8
4/8
CPU Base Freq
3.5
3.4
3.1
2.5
3.2
2.0
Max Turbo
3.9 (Unlocked)
3.9
3.9
3.7
3.9
3.0
Test TDP
84W
84W
65W
45W
65W
35W
HD Graphics
4600
4600
4600
4600
Iris Pro 5200
4600
GPU Max Clock
1250
1200
1200
1200
1300
1200
L3 Cache
8MB
8MB
8MB
8MB
6MB
8MB
DDR3 Support
1333/1600
1333/1600
1333/1600
1333/1600
1333/1600
1333/1600
vPro/TXT/VT-d/SIPP
No
Yes
Yes
Yes
No
Yes
Package
LGA-1150
LGA-1150
LGA-1150
LGA-1150
BGA
LGA-1150
Price
$339
$303
$303
$303
$303
Starting at the top of the product and performance stack, we have the desktop Core i7 parts. All of these CPUs feature Hyper-Threading Technology, so they're the same quad-core with four virtual cores that we've seen since Bloomfield hit the scene. The fastest chip for most purposes remains the K-series 4770K, with its unlocked multiplier and slightly higher base clock speed. Base core clocks as well as maximum Turbo Boost clocks are basically dictated by the TDP, with the 4770S being less likely to maintain maximum turbo most likely, and the 4770T and 4765T giving up quite a bit more in clock speed in order to hit substantially lower power targets.
It's worth pointing out that the highest "Test TDP" values are up slightly relative to the last generation Ivy Bridge equivalents—84W instead of 77W. Whether that reflects a change in how they determine TDP or if it's simply to give more headroom to the top performing parts isn't clear. On the desktop, this is probably not particularly important—7W in TDP could often end up being just 1-2W in practice—so we're not really concerned. Mobile TDPs are a different matter, and as we'll discuss elsewhere they're all 2W higher, but that could also be thanks in part to the higher performance iGPU.
Nearly all of these are GT2 graphics configurations (20 EUs), so they should be slightly faster than the last generation HD 4000 in graphics workloads. The one exception is the i7-4770R, which is also the only chip that comes in a BGA package. The reasoning here is simple, if flawed: if you want the fastest iGPU configuration (GT3e with 40 EUs and embedded DRAM), you're probably not going to have a discrete GPU and will most likely be purchasing an OEM desktop. Interestingly, the 4770R also drops the L3 cache down to 6MB, and it's not clear whether this is due to it having no real benefit (i.e. the eDRAM functions as an even larger L4 cache), or if it's to reduce power use slightly, or Intel may have a separate die for this particular configuration. Then again, maybe Intel is just busily creating a bit of extra market segmentation.
Not included in the above table are all the common features to the entire Core i7 line: AVX instructions, Quick Sync, AES-NI, PCIe 3.0, and Virtualization Technology. As we've seen in the past, the K-series parts (and now the R-series as well) omit support for vPro, TXT, VT-d, and SIPP from the list. The 4770K is an enthusiast part with overclocking support, so that makes some sense, but the 4770R doesn't really have the same qualification. Presumably it's intended for the consumer market, as businesses are less likely to need the Iris Pro graphics.
Intel 4th Gen Core i5 Desktop Processors
Model
Core i5-4670K
Core i5-4670
Core i5-4670S
Core i5-4670T
Core i5-4570
Core i5-4570S
Cores/Threads
4/4
4/4
4/4
4/4
4/4
4/4
CPU Base Freq
3.4
3.4
3.1
2.3
3.2
2.9
Max Turbo
3.8 (Unlocked)
3.8
3.8
3.3
3.6
3.6
Test TDP
84W
84W
65W
45W
84W
65W
HD Graphics
4600
4600
4600
4600
4600
4600
GPU Max Clock
1200
1200
1200
1200
1150
1150
L3 Cache
6MB
6MB
6MB
6MB
6MB
6MB
DDR3 Support
1333/1600
1333/1600
1333/1600
1333/1600
1333/1600
1333/1600
vPro/TXT/VT-d/SIPP
No
Yes
Yes
Yes
Yes
Yes
Package
LGA-1150
LGA-1150
LGA-1150
LGA-1150
LGA-1150
LGA-1150
Price
$242
$213
$213
$213
$192
$192
The Core i5 lineup basically rehashes the above story, only now without Hyper-Threading. For many users, Core i5 is the sweet spot of price and performance, delivering nearly all the performance of the i7 models at 2/3 the price. There aren't any Iris or Iris Pro Core i5 desktop parts, at least not yet, and all of the above CPUs are using the GT2 graphics configuration. As above, the K-series part also lacks vPro/TXT/VT-d support but comes with an unlocked multiplier.
Obviously we're still missing all of the Core i3 parts, which are likely to be dual-core once more, along with some dual-core i5 parts as well. These are probably going to come in another quarter, or at least a month or two out, as there's no real need for Intel to launch their lower cost parts right now. Similarly, we don't have any Celeron or Pentium Haswell derivatives launching yet, and judging by the Ivy Bridge rollout I suspect it may be a couple quarters before Intel pushes out ultra-budget Haswell chips. For now, the Ivy Bridge Celeron/Pentium parts are likely as low as Intel wants to go down the food chain for their "big core" architectures.
For those interested in the mobile side of things, we've broken out those parts into a separate Pipeline article.