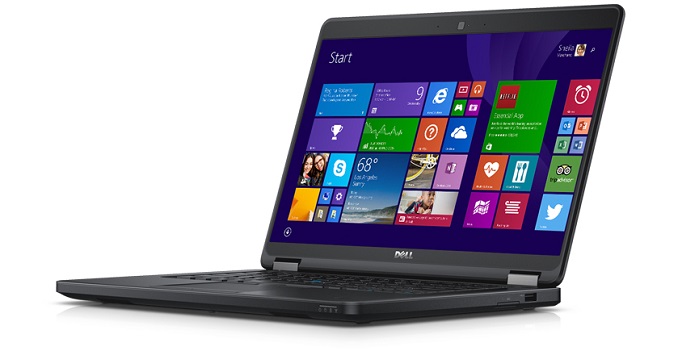 Dell sells the Latitude line as business class notebooks, and the 5000 series that we received is the mainstream line for business. The Latitude 12 is the smallest model offered, with a 12.5-inch 16:9 display in a fairly small form factor. This is no ultrabook though, with a starting weight of 3.44 lbs (1.56 kg) and a thickness of 0.9-inches (22.7 mm) but the thickness and mass lend the device to being stronger, and unlike ultrabooks, connectivity in the office is easier due to the inclusion of a full Ethernet port and a docking port. Business class devices generally differ from consumer lines with added functionality such as docking ports as well as a higher build quality and better manageability. In this instance the Latitude 12 fits the bill. The build quality is very good, and the inclusion of more robust parts such as a magnesium backed LCD increase overall weight, but the end result is a very sturdy feeling laptop.
Dell offers a large range of customizations as well, with 4th Generation Celeron or Core i3/i5 processors, as well as 5th generation Broadwell Celeron and Core CPUs up to the i7-5600U beginning later in January. Operating system choices are broad as well, with a choice of Windows 7 Professional 32/64-bit, Windows 8.1 64 bit, Windows 8.1 Pro, or even Ubuntu 14.04 in 64 bit. Memory options give two slots, with up to 8 GB of RAM in the Haswell based products, or 16 GB of RAM in the newer models with Broadwell, of which one slot is populated by default in both cases.
The base LCD is a 1366x768 with anti-glare, or you can choose a 1920x1080 model with Corning Gorilla Glass and an anti-fingerprint coating. There is a selection of storage options, from a 500 GB 7200 rpm HDD, 1 TB 5400 rpm HDD, and 128 GB to 256 GB SSDs. As this is for business, many of the drives support OPAL encryption as well, and the hard drives feature Dell's Fast Response Free Fall Sensor and HDD Isolation. The Latitude offers quite a few security features, including a FIPS certified Trusted Platform Module (TPM 1.2), optional fingerprint readers, smart card readers, FIPS certified Hardware Crypto Acceleration (HCA) among others.
These laptops are often offices on the go, so the Latitude 12 5000 offers an optional noise reducing microphone array, and HD or FHD webcams. Being on the go means working off of the battery, and the 2014 Latitude offers a 38 Whr 3-cell battery, a 51 Whr 4-cell battery, or a 'Long Life' 51 Whr 4-cell battery. The 2015 model will also offer a 62 Whr battery in Spring 2015.
Dell Latitude 12 5000 Series Specifications
Processor
Intel Core i3-4030U (2C/4T, 1.9GHz, 3MB L3, 15W)
Intel Core i3-5010U (2C/4T, 2.1GHz, 3MB L3, 15W)
Intel Core i5-4310U (2C/4T, 2.0-3.0GHz, 3MB L3, 15W)
Intel Core i5-5200U (2C/4T, 2.2-2.7GHz, 3MB L3, 15W)
Intel Core i5-5300U (2C/4T, 2.3-2.7GHz, 3MB L3, 15W)
Intel Core i7-5600U (2C/4T, 2.6-3.2GHz, 4MB L3, 15W)
Chipset
Haswell-ULT for 4xx0U
Broadwell-ULT for 5xx0U
Memory
4 GB DDR3L-1600 (1x4) 1 slot free
8 GB DDR3L-1600 (1x8) 1 slot free
Graphics
Intel HD Graphics 4400 (4th Gen CPU)
(20 EUs at 200-1100 MHz)
Intel HD Graphics 5500 (5th Gen CPU)
(23 EUs (i3) or 24 EUs (i5-i7) at 300-950 MHz)
Display
12.5" anti-glare 16:9 1366x768
Optional 1920x1080 IPS with Touch (LGD0436)
Storage
250 GB 7200 rpm
500 GB 7200 rpm
1 TB 5400 rpm
500 GB Hybrid 8 GB
128 GB SSD
256 GB SSD
512 GB SSD
128 GB mSATA SSD
256 GB mSATA OPAL encrypted SSD
500 GB 5400 rpm FIPS encrypted
500 GB Hybrid 8 GB FIPS encrypted (Spring 2015)
Optical Drive
N/A
Networking
10/100/1000 Ethernet
Dell Wireless 1707 802.11n single band (1x1:1)
Intel Dual Band Wireless-AC 7265 802.11ac (2x2:2)
Audio
Stereo Speakers (bottom)
Headset jack
Battery/Power
3 cell 38 Wh
4 cell 51 Wh
4 cell 51 Wh Long Life
4 cell 62 Wh (Spring 2015)
65 watt AC Adapter
90 watt AC Adapter
Left Side
Headset Jack
Kensington Security Slot
Smart Card Slot
Right Side
Mini DisplayPort
1 x USB 3.0 w/sleep charge
SD Card Slot
Back Side
2 x USB 3.0
HDMI
Power Adapter
Ethernet Jack
Front Side
Power/Activity LED
Operating System
Windows 7 Professional (32/64-bit)
Windows 8.1 64-bit
Windows 8.1 Pro 64-bit
Ubuntu Linux 14.04 LTS 64-bit
Dimensions
12.2" x 8.4" x 0.9" (WxDxH)
310.5 mm x 212.8 mm x 22.7 mm
Weight
3.44 lbs / 1.56 kg (3 cell, no touch)
Extras
720p or 1080p Webcam
Intel vPro with compatible processor
Docking Connector Fingerprint Reader
Smart Card Reader
Colors
Matte Black
Pricing
$820-$1500
There is quite a selection of choices. We bolded the options we received in the above table, so we're looking at a Core i5-4310U Haswell based processor, a 51 Whr battery, Windows 8.1 Pro, FHD display with touch, and a Smart Card reader. The 8 GB of memory is sufficient, but unfortunately it is 1x8 rather than 2x4 so performance will not be as high as it could be with dual-channel memory. We also received a 128 GB SSD, which is a Samsung model PM851 mSATA model.
We received this model just before Christmas, so it is still the Haswell version. As of January though Broadwell based models are now available which should give a bit more performance (especially on graphics) and better battery life. If we can get a Broadwell one from Dell, we can do a mini review to show the changes.