Introduction
Back in late October, we had the chance to head out to NVIDIA's headquarters to see some demonstrations of their upcoming products. Most of those products officially launched in November, though many ended up being slightly delayed from the initial release schedule. Others have been "available" since mid-November, but actually getting one for testing has been difficult. The GeForce 8800M GTS/GTX graphics chips fall into the latter category, with various notebook enthusiast companies only now beginning to ship systems.
WidowPC contacted us just before Christmas and gave us the chance to do an exclusive first review of their latest gaming notebook, the Sting 517D2. Needless to say, we jumped at the opportunity to review their notebook, since we have been trying - unsuccessfully - to get an 8800M laptop for testing and benchmarking in-house since we first heard about it in October. They asked us what sort of system we would like to review, and we took the opportunity to go through their online configurator and put together the type of gaming notebook that we would want to use. While the final price tag is definitely not for the faint of heart, when you look at what you get the package is extremely attractive.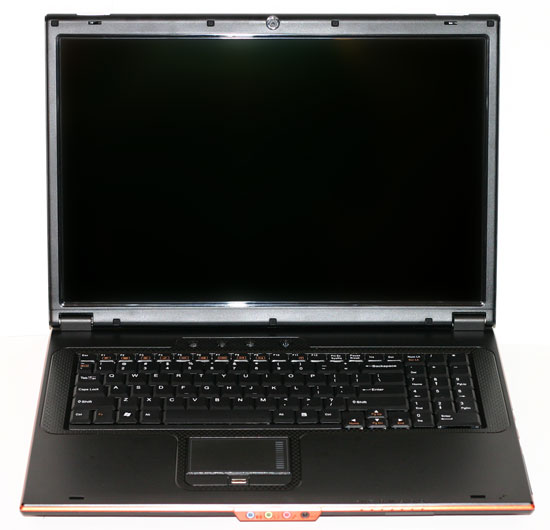 We started out by choosing the second fastest Core 2 Duo processor, the T7500. Running at 2.2GHz, it's plenty fast for gaming, as even with the 8800M GPUs most games are still going to be graphics-bound. You could also opt for the 2.0GHz T7300 to shave another $100 from the price, or you could upgrade to 2.4GHz - though we find it difficult to justify spending $$275 more to go from the T7500 to the T7700. WidowPC didn't offer the 8800M GTS, but that's fine as we would rather stick with the extra shader processing power of the GTX anyway. Other than the CPU and graphics, the next most important component is memory - not necessarily in terms of getting faster or slower memory, but in terms of quantity. We asked WidowPC if they could install Vista 64-bit with 4GB of memory, to create a gaming notebook that's truly ready for future requirements. They said that wasn't a problem, so we had them load up the memory and ship out our first 64-bit enabled review notebook.
The remaining components are typical. While WidowPC does offer Mtron's ultra-fast (and ultra-expensive) SSD as an option, we figured there was no need to spend over $1000 on 32GB of storage. Instead, we opted to grab the largest 7200RPM drive on tap, a 200GB Seagate 7200.2 Momentus ST9200420AS unit. Somewhat surprising to us is that WidowPC did not have Blu-ray or HD-DVD as an upgrade option for the optical drive, so we stuck with the standard DVD+/-RW. We selected a 1920x1200 ClearView Super Bright LCD as an upgrade, though 1680x1050 might be better in terms of gaming as the demands aren't quite as high. We left all of the other options at their default values. The final price as configured comes to $3400, including a standard 1-year warranty. As we recently discussed, however, when you're spending this much money on a mobile computer, we would definitely pay extra for an extended warranty. $200 will get you an extra year of coverage, or $400 will provide a 3-year warranty.
Here's a detailed breakdown of the laptop WidowPC shipped us. They got everything put together and shipped out in the midst of the holiday season so that we could bring you this review. The package arrived from FedEx on Christmas Eve morning, so naturally we wrapped it up and stuck it under the tree to for "unwrapping" the following morning. [Ed: What can we say? The chance to find a shiny new gaming laptop under the tree from Santa was too good to pass up!]
WidowPC Sting 517D2 System Configuration Options
Processor
Core 2 Duo T7100, T7300, T7500, T7700
Chipset
Intel PM965 + ICH8-ME
FSB Speed
667 MHz
Memory Speed
DDR2-667, DDR2-800
Memory Slots
(2) x SO-DIMM, up to 4GB RAM
Graphics
NVIDIA GeForce 8800M GTX 512MB
Dual-Link DVI supported
Display
17" WSXGA+ (1680x1050)
17" WSXGA+ ClearView (1680x1050)
17" WUXGA ClearView (1920x1200)
Expansion Slots
1 x ExpressCard/54
Hard Drives
1 x 2.5" HDD bay
40GB-250GB 5400RPM
80GB-200GB 7200RPM
Mtron 32GB SSD
Optical Drive
CD-RW/DVD Combo
DVDR SuperMulti
Networking/Communications
Integrated 10/100/1000 Ethernet and V.90 56K Modem
Intel 4965AGN (802.11A/B/G/N) Wi-Fi
Bluetooth v2.0
Audio
Realtek HD Audio with Stereo Speakers
Left Ports
HD DVD Optical Drive
Kensington Lock
Right Ports
1 x Gigabit Ethernet
2 x USB
1 x mini-FireWire
1 x ExpressCard/54
Flash reader (SD, MS/Pro, MMC, xD)
TV-Input
Front Ports
Line-out, Mic, Headphone, S/PDIF Out
(Supports 5.1 speakers)
Back Ports
DVI-D (Dual-Link)
2 x USB
TV-out
1 x COM
Power adapter
Keyboard
102 Key QWERTY (US) with 10 Key Pad
Extras
1.3MP Webcam
3 quick access buttons
Fingerprint scanner
Operating System
Windows Vista - 32-bit or 64-bit