Continued Support for Itanium
As we've mentioned in the past, Intel isn't going to be dropping Itanium or IA-64 anytime soon in spite of the misconceptions that are floating around. As a testament to their commitment to the technology, Intel was a bit more open with some of the future IA-64 products that will replace Itanium: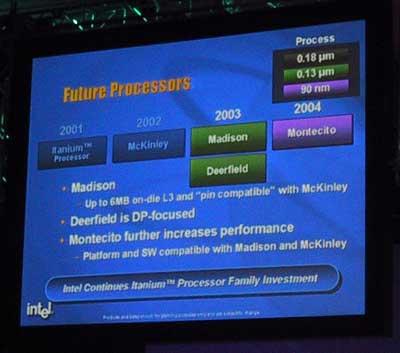 McKinley - The successor to Itanium is pretty well known already. McKinley has been in pilot systems since late last year and is already running at 1GHz. The CPU has a 3MB on-die L3 cache, an 8-stage pipeline, 2 additional issue ports more integer and load/store units, finally the CPU will have a 128-bit FSB running at 100MHz quad-pumped.
Madison - The move to 0.13-micron will occur in 2003 with Madison which will feature up to an incredible 6MB L3 cache located on-die. Madison will be pin-compatible with McKinley.
Deerfield - Also based on Intel's 0.13-micron process, Deerfield will have less L3 cache than Madison and will be aimed at the entry-level IA-64 market in dual processor configurations only. Deerfield will also be made available in 2003.
Montecito - In 2004 we'll see the first 0.09-micron IA-64 processor from Intel codenamed Montecito. Very little is known about it other than the fact that it will have improved architectural features while maintaining platform & software compatibility with McKinley and Madison/Deerfield.